How Twilio Flex "changes the game" for Shopify and its 1 million customers
Challenge
The company had outgrown its patchwork contact center for managing customer relationships and needed a custom, flexible, and scalable solution that could be easily updated.
Solution
Twilio Flex provides Shopify support agents relevant contextual information about their customers, enabling them to personalize every interaction and resolve user issues swiftly and with greater efficiency.
---
When customer relationships are the foundation of your business, ensuring you handle those relationships with the utmost care isn't just a goal: it's a requirement.
Being good stewards of those relationships took commerce platform Shopify from an online snowboard store in 2004, to the go-to platform for commerce across the world today.
By offering retailers a suite of services, including payments, marketing, shipping, POS capabilities and customer engagement tools to simplify the process of running a store online, offline and everywhere in between, Shopify has grown to support more than 1 million businesses in more than 175 countries.
That explosive growth wasn't without pain, though. As Shopify expanded, their legacy contact center for managing customer relationships just couldn't keep up. They were forced to use disparate tools in different systems, unable to deliver the level of customer service they knew they could—and needed—to provide.
So, the team started making plans to build their own. But then, in early 2018, they discovered Twilio Flex.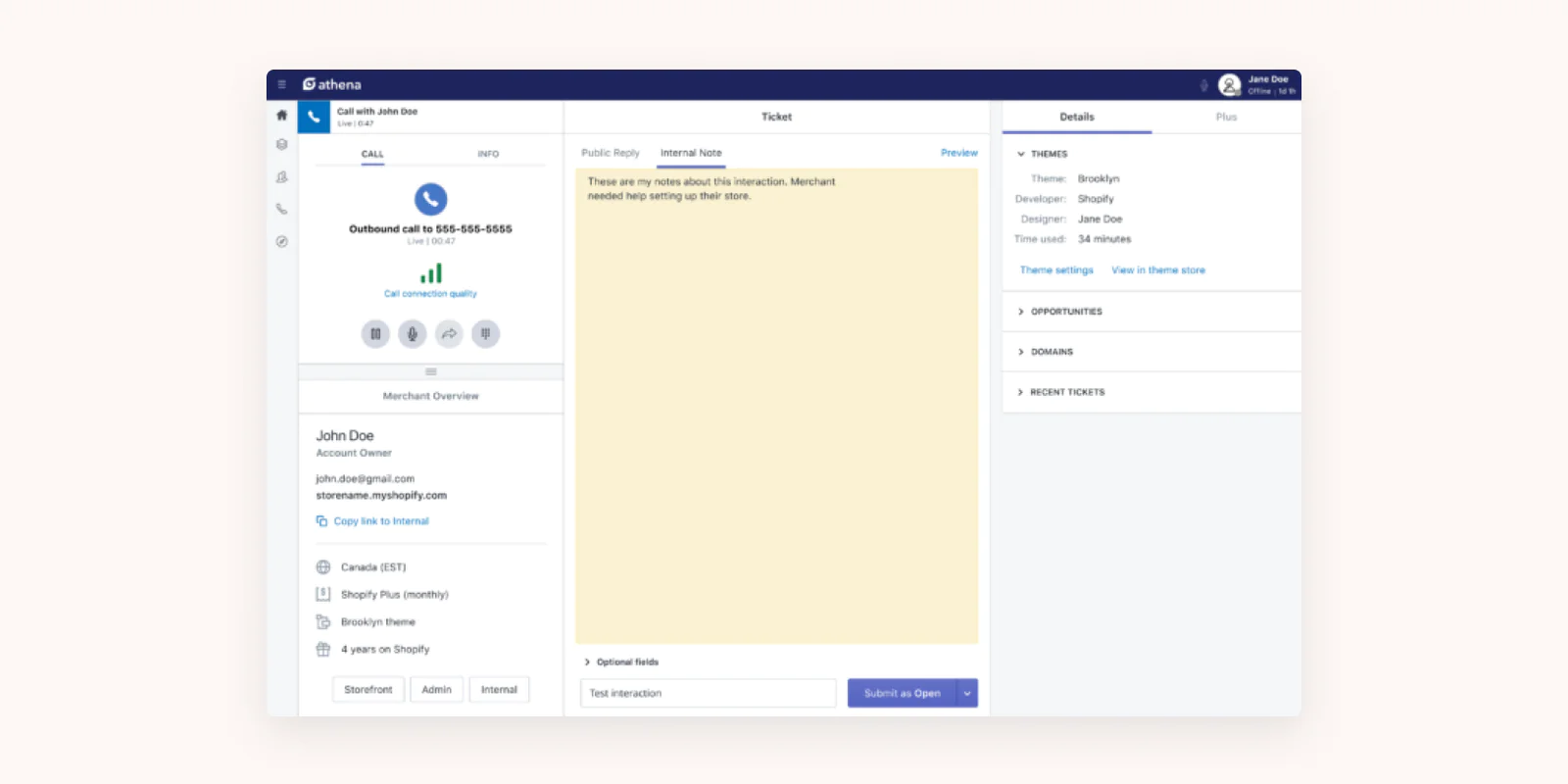 A shortcut to a custom solution
Chris Wilson, Director of Support Technology, said the team realized Flex provided exactly what they needed to build a custom contact center unencumbered by the restrictions plaguing their legacy provider. They didn't need to build their own in-house: Flex fit the bill perfectly.
The team allocated eight months to build out their Flex solution. As it turned out, they only needed four.
Three developers and two interns is all it took, in fact, to go from concept to prototype to full roll-out in just four months. The team rolled out the new Flex telephony system, routing engine, skill trees and Interactive Voice Response (IVR), as well as contextual pops that give agents contextual information about the customer they're connected to.
And, agents are able to easily integrate dozens of supporting apps and software, like Zendesk and others, to create a truly customizable approach for each customer relationship.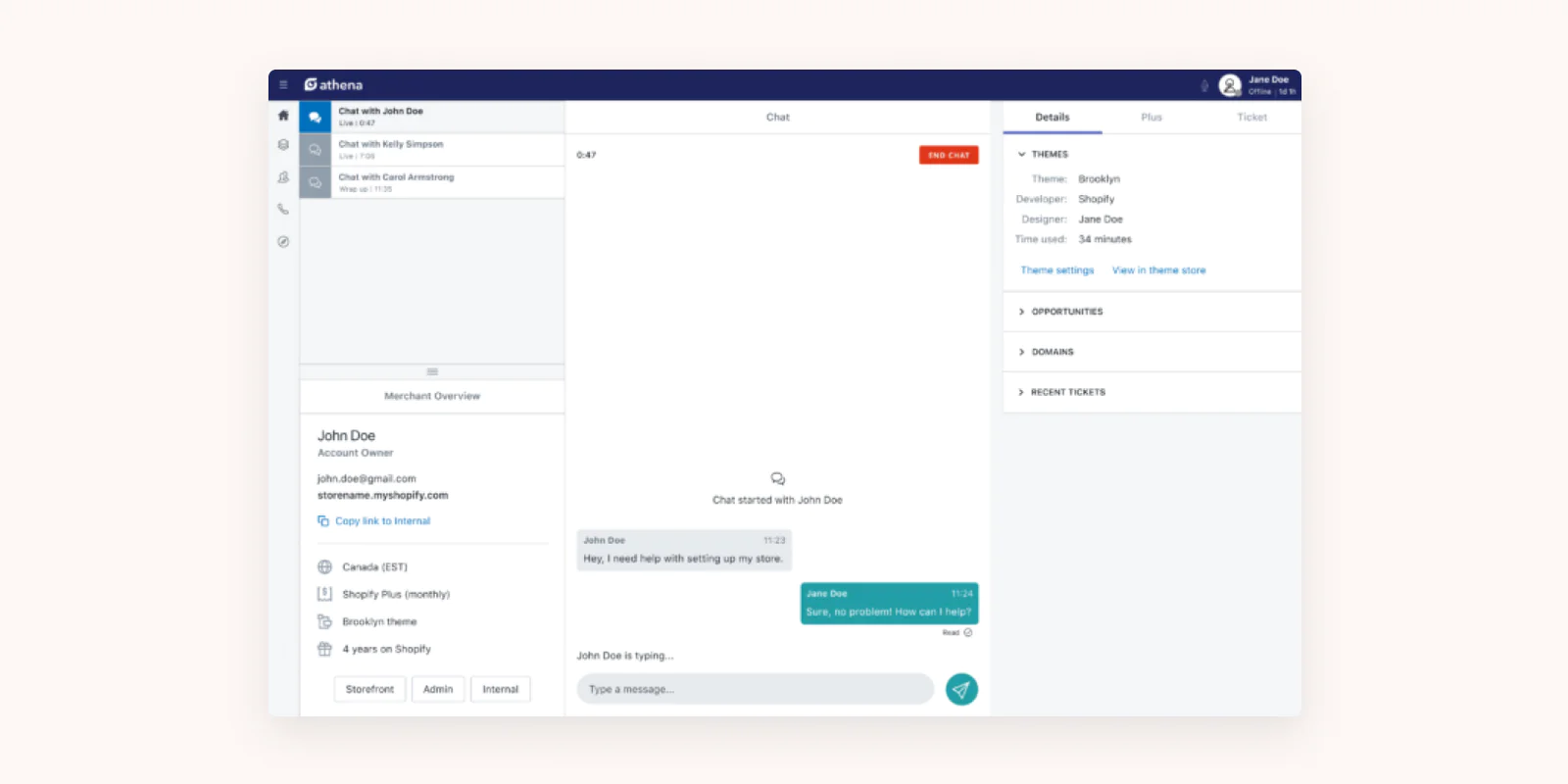 "Flex changes the game. It allows us to build an experience the way we want, without having to change our business. We can wrap Flex around Shopify, instead of having to wrap Shopify around Flex."
Empowering agents with everything they need
For Wilson and his team, the ability to create a completely custom solution is what sold them on Flex.
"Flex changes the game," he said. "It allows us to build an experience the way we want, without having to change our business."
"We can wrap Flex around Shopify, instead of having to wrap Shopify around Flex," he added.
That means the Shopify team of support agents are able to be leading stewards of their customer relationships, instead of just getting by as best they can.
With Flex, Shopify's support team can personalize their customer experience like never before. The build focused on further differentiating Shopify's unique support features, rather than hashing out core services and infrastructure.
Agents get relevant contextual information about the customers they're connecting with, such as their history with the company, and the issues they may have—regardless of channel—to personalize each conversation. They're routing efficiently and correctly, meaning merchants can get back to doing what they want to do: building their own business. Additionally, Flex allows Shopify to customize how they display the information based on the customer, so they can avoid information overload.
"With Flex, the biggest opportunity I have is to be able to give my team an opportunity to try things, to design an experience for our customers that they've probably always wanted to be able to actually do," said Marcie Murray, director of Shopify's global support team.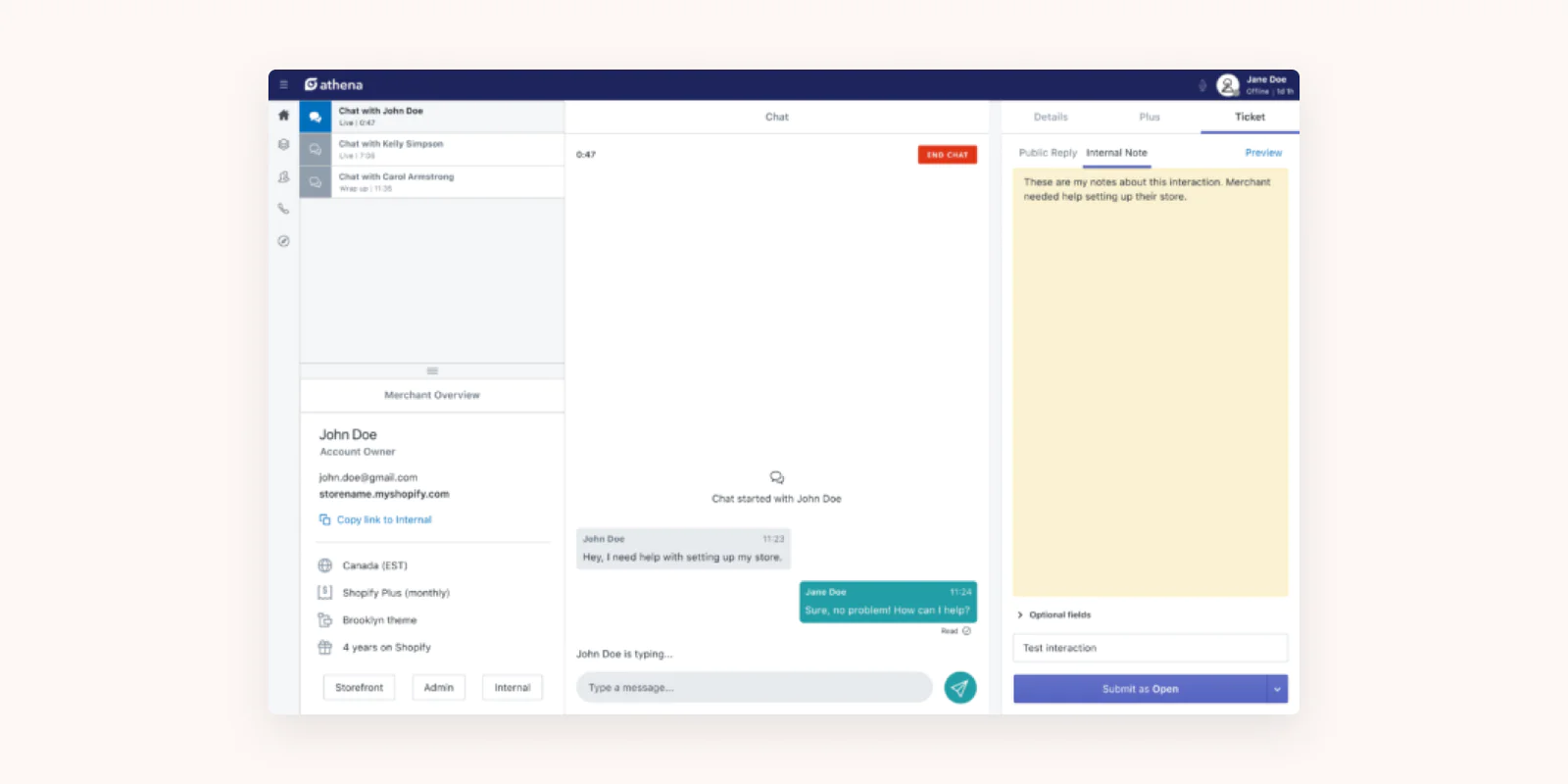 Inspiring and facilitating continuous innovation
Before Flex, the team had ambitious ideas for improving the customer experience, but no way to execute on them. That's changed, Murray said.
"We used to sit in a room and say, 'Wouldn't it be great if we could try this?'" she recalled.
"And we'd be like, 'Yeah… it would be.'" Murray continued, laughing. "And now [with Flex] it's, 'Yeah, let's try it. Fifteen minutes, see how it goes.'"
That kind of flexibility and speed means Shopify can continue to focus on creating better experiences for the merchants on their platform as they grow toward their next million users. They're also able to leverage their UX-focused team members to provide even deeper insight into how agents are using Flex, to make the platform more seamless and easier to use over time.
One such experience is the custom PIN system the team recently built and integrated into Flex, allowing merchants to call in, provide their PIN for rapid authorization, and immediately be routed to the correct place. That, Wilson said, saves upwards of three to five minutes per call.
The team is also working on integrating Twilio Chat channels into Flex, to create a truly omnichannel experience for agents and merchants, he added.
"Our goal is to have all of our one-to-one messaging, or all of our one-to-one conversations, at scale, in Flex," Wilson said.
"The customer experience is everything for us," he added. "And Flex is truly empowering where we want to go."
"Flex is truly empowering where we want to go."
Ready to get started with Twilio?