"A reverse franchise"—How Slice encourages customers to reorder from their favorite pizza shops
With traditional recipes hand-made with care, pizza just tastes better from your mom and pop shop. Part of the charm, but not always great for business—many local pizzerias still take orders with a landline and paper. Often, they don't have the same resources as large chains like Domino's, where 75% of orders are made online.
When customers have the option to order a pizza in just a few clicks, convenience often outweighs tradition. Witnessing this conundrum first hand among family pizza shops in New York City, Slice was born. Slice believes that anyone should be able to turn their passion into a profitable business—regardless of resources. This is why the pizza marketplace app provides more than 16,000 independent pizzerias with the digital tools they need to thrive in their communities.
Through its accessible marketplace, Slice links millions of consumers to nearby shops. The platform makes online ordering simple and engaging for end-customers, ultimately driving revenue for its partners so they can compete with large enterprises.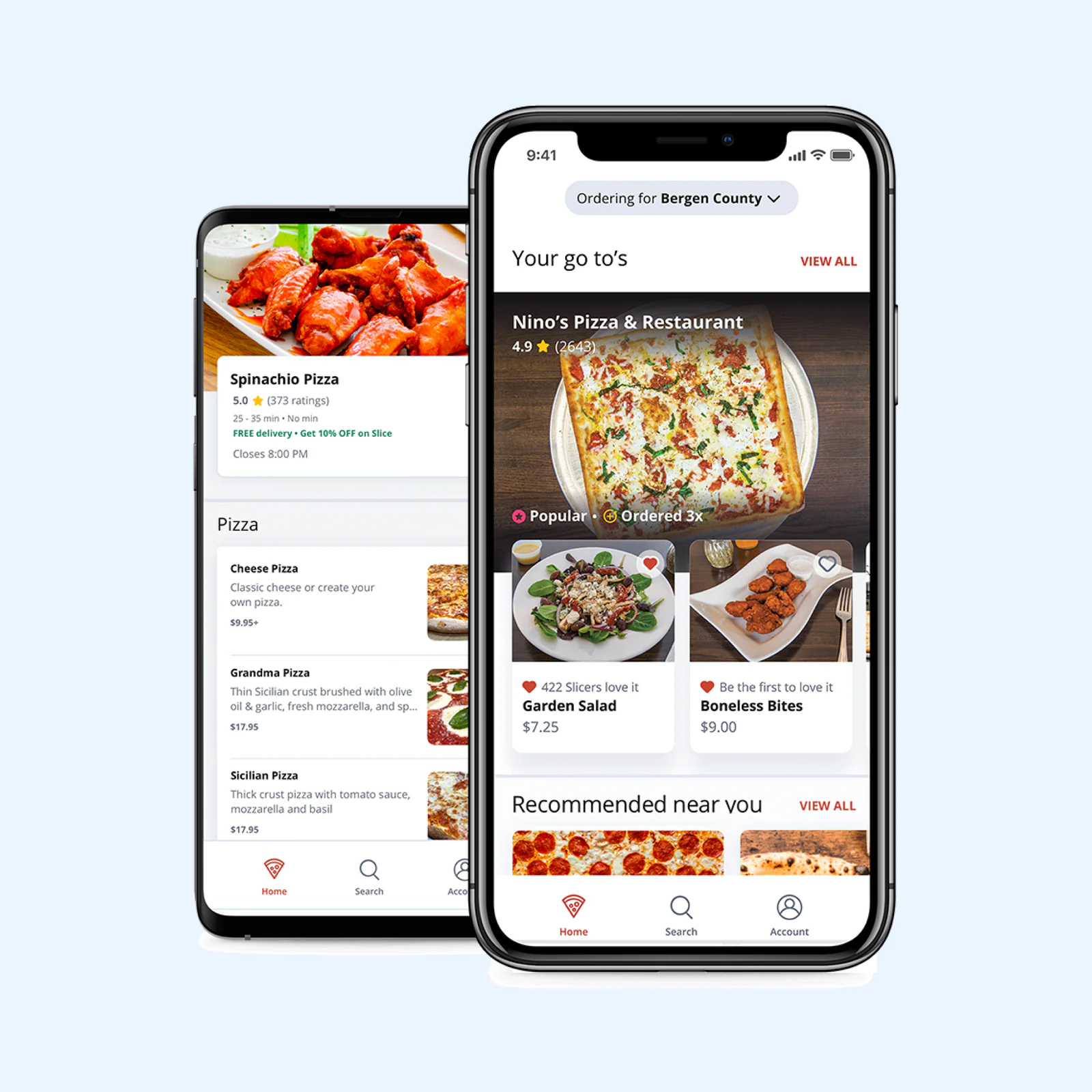 Transforming customer experience
"You can think of us as a reverse franchise for pizza shops," said Cara, Slice's Director of Content Marketing. "They're in business for themselves, but not by themselves. We give them the digital tools they need to get business they would potentially miss out on without online ordering."
Once customers place an order through Slice, the platform must dispatch timely order confirmations to keep them up to speed. When Slice first launched, its customer support team manually called in every order to pizza shops. Slice needed to automate its order confirmation at scale, Boban Ljubinoski, Sr. Product Manager at Slice, explained. "Before Twilio, we were the customer support machine. It just wasn't scalable," he said.
Slice chose Twilio Programmable Voice to build a channel for customers to click-to-call in orders on its website and app, and Twilio Programmable Messaging and SendGrid Email API to immediately notify customers with order confirmations via text and email.
With Twilio Programmable Messaging, Slice reaches customers directly with one-to-one communication. Automated texts trigger to alert customers about delays, and Slice's support agents use two-way texting to troubleshoot any issues that arise for restaurants, customers, and drivers. Slice can also easily send text message promotion text promotions at scale to help customers take advantage of pizza deals. Adding a texting channel has enabled Slice to achieve its highest customer satisfaction levels yet.
Using Twilio SendGrid Email API, Slice sends email digests that recap how much money customers have saved ordering through the platform. Customers see first-hand how their dollars have supported local businesses over time.
Operational efficiency is among the strongest impacts of adopting Twilio's platform, added Ljubinoski. "Twilio has automated our entire workflow, and we can manage way more orders with less people," he said. "The scalability and reliability of Twilio's platform has been really great over time."
Order confirmations are now dispatched to customers within two minutes, a 60% decrease from the 5+ minutes it took customer support to manually place orders. Slice has also achieved a 200% reduction in customer support headcount, all the while its order volume has doubled.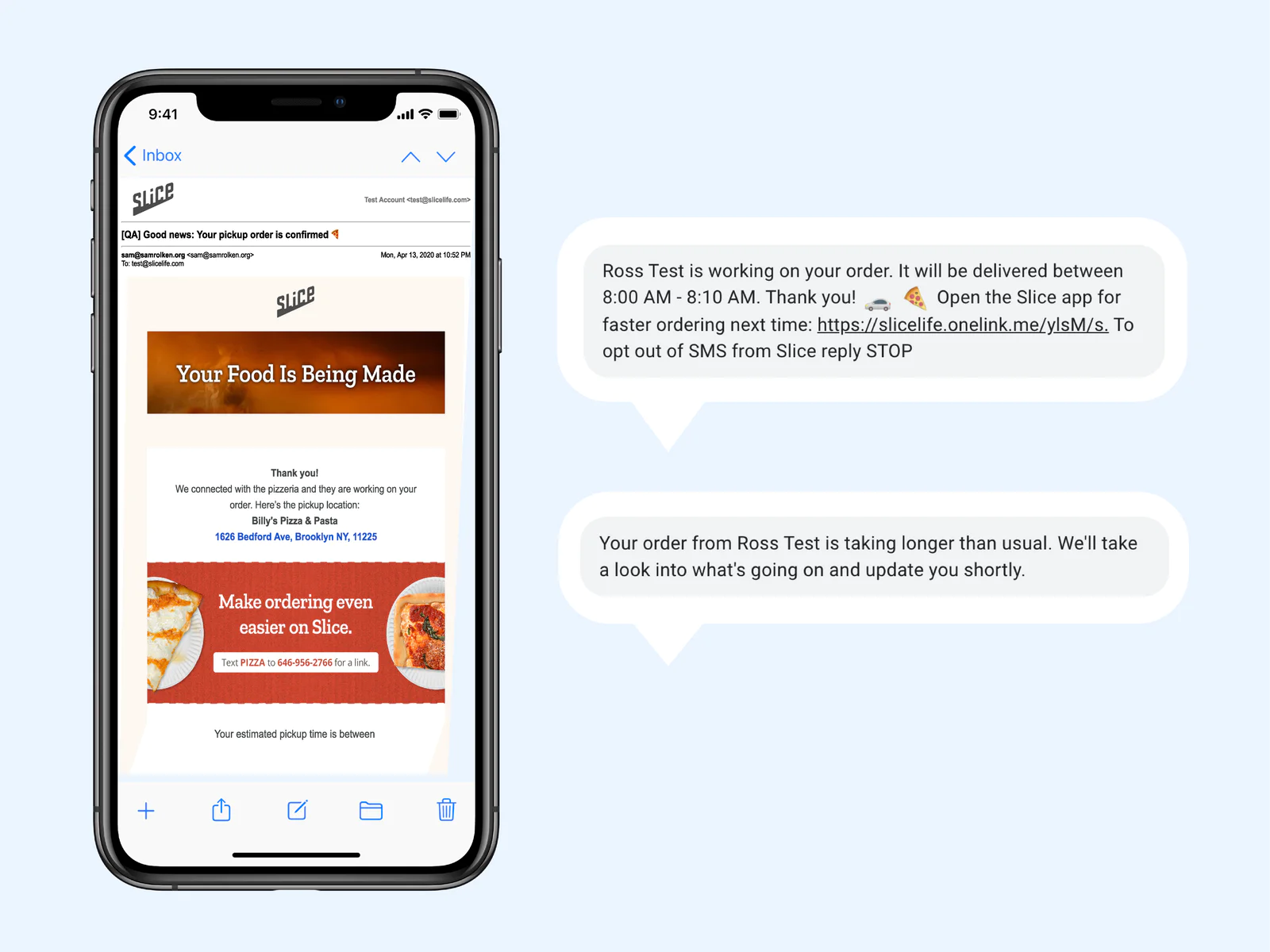 A secure support experience lets agents rest easy
With this major surge in volume, Slice needed to ensure a secure transactional support experience. Slice's account managers were fielding critical account changes for thousands of locations each day. The support team was asking customers security questions manually, which was painful at scale.
"Whenever we have a challenge, we always look to Twilio," said Ljubinoski. "Twilo has amazing documentation, which helps us operate faster at scale."
Slice was able to stand up Twilio Verify within a matter of days. The company uses Verify to confirm the identity of restaurant owners and help protect the user's personal information when they need to make account changes, like updating credit card information on file. This streamlines support operations while ensuring Slice protects the privacy of its customers.
"On a Friday night—the biggest night for pizza– we can actually sleep well knowing that, with Twilio, everything is handled and our customer support team members will be fine," said Ljubinoski.
"On a Friday night—the biggest night for pizza– we can actually sleep well knowing that, with Twilio, everything is handled and our customer support team members will be fine."
Encouraging customers to order a second slice
With digital communications channels securely in place, the Slice team turned to the data. The pizza marketplace is keenly focused on delivering a frictionless experience that brings customers back for repeat orders.
Slice needed a tool that would allow its teams to aggregate customer data, understand how users are navigating through the apps, and identify where they may have trouble. The team also needed a solution that would free up engineering resources and allow them to ingest data at scale without overburdening their infrastructure.
Slice decided to implement Twilio Segment Connections to collect data that provides a full view of the customer across its apps, support, payment and messaging experiences. And Segment Protocols allows Slice to clean and organize historical data, as well as enforce data governance across the business. Segment now enables the Slice product and data teams to power all its tools, including Twilio Programmable Messaging and SendGrid Email API, with the same clean, reliable data. Having Segment in place removed the burden of creating new integrations for each destination and significantly decreased the team's engineering time and expense.
"As a product manager, I can't imagine launching a new product without Segment," said Ljubinoski. I'm constantly using Segment to ensure we are getting the right data to better understand what customers are doing within our apps. Our product analytics give us really powerful insights that help us move the business forward."
Slice analyzes behavioral data streaming from text, emails, and calls to identify user problems, implement solutions, and then re-evaluate the data to assess the impact. Segment helps Slice uncover unexpected trends within Twilio's communication channel data, illuminating where there's room to improve its user journey so customers order a second slice.
"Our customer data flowing through Segment to our Twilio communication tools has greatly improved our ability to understand the customer journey from start to finish," said Anders Cassidy, Senior Director of Data Engineering at Slice. We now have visibility into how our customers are engaging with our brand which allows us to A/B test relevant ways of re-engagement. This has increased our overall LTV."
In addition, Slice chose to activate Segment's Data Lakes destination with the launch of its data warehouse, DataBricks. Segment Data Lakes sends Slice's customer data to its data warehouse in a format optimized to reduce processing time. The data teams can now leverage this complete dataset to derive richer customer insights much quicker than previously possible.
"The launch of our Data Warehouse in Databricks was accelerated greatly by the Segment Data Lakes destination," continued Cassidy. "From a Data Engineering perspective, Segment Data Lakes enabled us to move a product roadmap item forward by a full quarter."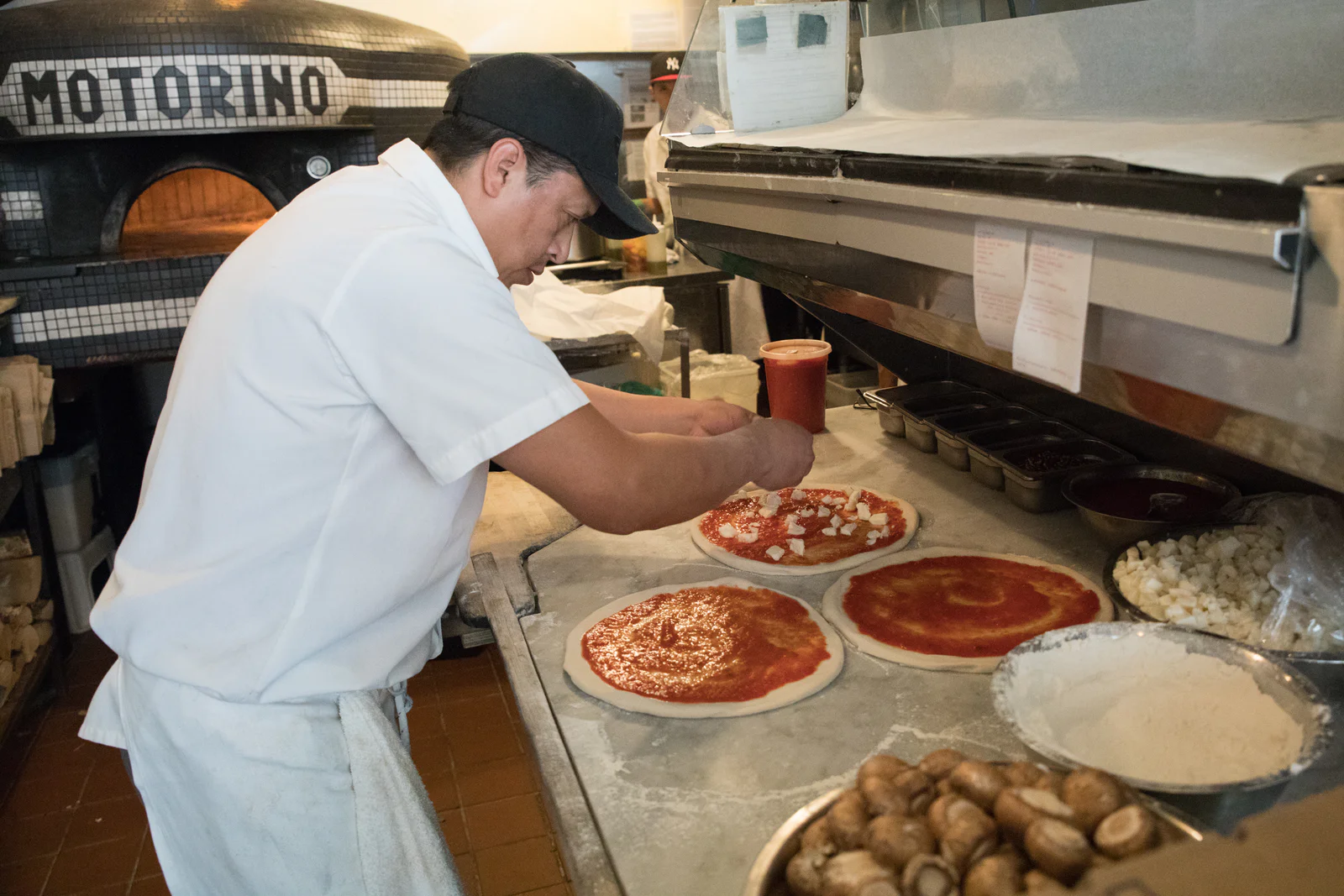 Digitally accelerating mom and pop pizza shops
With a host of Twilio APIs and Segment, Slice is now able to transform its customer journeys, scale a secure transactional support experience, encourage customers to reorder from their favorite pizza shops, and drive increased order volume. For Slice, the benefits of using Twilio and Segment include:
•200% decrease in customer support headcount
•60% decrease in order confirmation time
•2X order volume increase
•$250M saved for customers
Slice continues to digitally accelerate its customers' experience by exploring new, non-traditional channels like contact centers and creative ways of doing business. During the company's recent Pizza versus Pandemic project, Slice accepted donations from customers who wanted to send pizza to frontline workers and hospital workers. When local restaurants needed business to keep afloat, Slice was there. The platform benefited both local shops and the people working hardest on the front lines.
Ready to get started with Twilio?