From a team of 2 to $2 billion—Deliveroo's growth is fueled by customer service
Challenge 
Deliveroo needed to keep restaurants, customer service representatives, riders, and users informed about food orders and status while meeting a strict 30-minute-or-less delivery guarantee.
Solution 
Using Twilio Programmable Messaging and Twilio Programmable Voice, Deliveroo communicates with customers on their preferred channels. Plus, Deliveroo uses Twilio Verify to process payments and refunds securely.
---
What does it take for a company to go from a two-person team and a few London-based restaurants operating out of a flat in London, bringing hot meals to customers, to 80,000+ restaurants, 60,000+ riders, and delivery services in 14 markets in Europe in beyond—in just six years?
To hear Deliveroo's team tell its story, it takes a single-minded focus on exceptional customer experience, a focus that drives everything the London-based company does. That focus took Deliveroo to a $2 billion dollar valuation as it continues its expansion across Europe, APAC, and beyond.
Much of that growth was driven by the company's efforts to make all customer-related communication delightful, seamless, and fast. Without fast, reliable, enjoyable communication across all parties and touchpoints, the whole experience crumbles. That's why Deliveroo's customer-centric drive and communication-dependent model propelled them straight to Twilio.
Delivering a simple, seamless experience for everyone, hangry customers most of all
It seems simple. Open an app or web browser, find a restaurant. Pick a few food items, submit your order. Track the order's progress through the app, get a notification that your food has arrived, and viola: you're nomming on fresh, tasty eats, all in 30 or fewer minutes thanks to Deliveroo's speed guarantee and hand-selected restaurant partners.
But what appears as dead-simple to the user requires a smart, complex web of communications across restaurants, point-of-sale systems, customer service reps, delivery people, and of course, the customer.
Quality communication leads to happy customers. Deliveroo's customers are both web- and app-based, so the company puts a lot of effort into providing all customers, no matter their platform, up-to-date information and setting the right expectations around timing, availability, deliveries, and more. Because when you're hungry-bordering-on-hangry, knowing when you're food will arrive is pretty much the most critical piece of information out there.
Employing a wide array of Twilio products to enable secure, fast, reliable, and scalable comms
Deliveroo use Twilio globally for messaging services via programmable SMS, including order notifications, driver notifications, marketing messages, restaurant and driver re-engagement campaigns, and customer service.
"We want customers to be in channels that work for them and not to force them down certain channels," said Aimee Ruddy, a product manager at Deliveroo. "Some prefer Facebook Messenger, others ring us and some customers contact us on social channels. One of the advantages of Twilio is it makes it easier to scale and bring these channels into existing workflows."
They also use Twilio Programmable Voice for customer service and masked communications between drivers and customers. Using Twilio masked numbers to conceal the customer's real phone number means riders and customers can communicate safely without compromising their privacy.
"It's super powerful for us to be able to talk to our customers on whichever platform they happen to be using, which is why it's also useful for us to have access to Twilio's Programmable Voice to automate phone calls," said Deliveroo engineering manager Nik Wakelin. "I know some of us have relegated the phone app to the 99th page of our home screen, but it's still a good way to ensure that you speak with somebody right now because they're outside with your food. Programmable Voice lets us do this across the world while still maintaining the privacy and safety of our customers and riders."
Keeping money transactions safe is another critical point of trust for Deliveroo and their users, so they use Twilio Verify to process payments and refunds securely.
"You want to build these things on top of one another," he said. "Voice is always the base communication channel because it's really super reliable, unlike 3G in London, which can be spotty. And then we build push notifications on top of that, and then messaging on top of that, and then maybe Voice over IP, which you can do at super-cheap rates because it's just data."
While many of Deliveroo's regular users employ the Deliveroo app to order their favorite meal, 40 percent of first-time users place their first order through their website. Deliveroo's team realized they need a way to get delivery and order notifications to those users, but couldn't do so with the app. They turned to Twilio's WhatsApp integration to make it happen.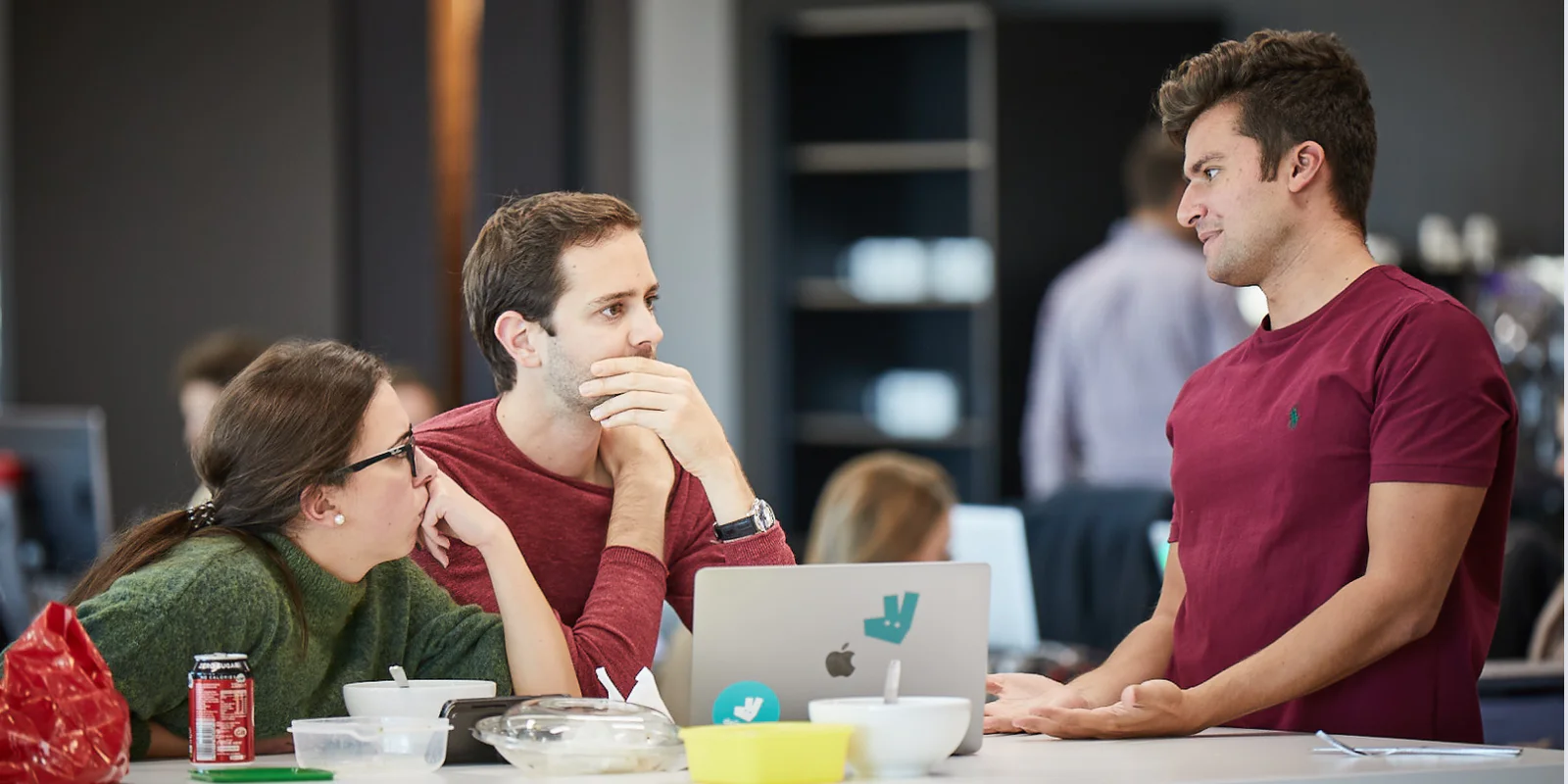 From scope to ship in two weeks—integrating Twilio WhatsApp
WhatsApp is used by more than 1.5 billion users worldwide, and users send upwards of 60 billion messages a day with it. When Twilio announced its WhatsApp integration, Deliveroo saw an immediate opportunity to integrate the Twilio WhatsApp API into its existing architecture of Twilio APIs, giving the company a way to communicate with web-based, first-time users quickly and on a platform they were already using.
In just two short weeks, the company's WhatsApp integration went from 'scoped' to 'shipped.' They were now able to get critical notifications to first-time users reliably and quickly. Opt-in rates for notifications hit upwards of 25 percent, too, a rate far better than average.
Anne Byrne, a backend engineer on the customer experience team at Deliveroo, said not only did the integration ship in a flash, and with minimal effort—it was done by a team of three, including a designer—it also fit perfectly with Deliveroo's backend architecture already flush with Twilio products.
"We use multiple Twilio products to differentiate our customer care," she said. "Twilio is a cost efficient and simple way to test the feasibility of new features. We ended up choosing Twilio's API for WhatsApp because it meant we could focus on the product, not on the complex requirements of WhatsApp's infrastructure."
"Twilio is a cost efficient and simple way to test the feasibility of new features. We ended up choosing Twilio's API for WhatsApp because it meant we could focus on the product, not on the complex requirements of WhatsApp's infrastructure."
Global expansion from a solid foundation
Deliveroo is eyeing expansion of its services across a broad range of markets, and in new languages, which opens up a whole slew of opportunities for new and better ways of communicating.
In the future, Wakelin said he sees Deliveroo rolling out Voice over Internet Protocol (VoIP) as another communication channel. The company is also exploring using AI translations to connect customers with riders who speak their native language. Wherever Deliveroo grows, their foundation in Twilio-based products means they're set to scale reliably and without constraint—worldwide.
Ready to get started with Twilio?