How Allergan Aesthetics relaunched its Allē loyalty program and generated $400 million
Challenge 
Allergan sold its products to healthcare providers who then re-sold them to end consumers. As a result, Allergan focused most of its marketing resources on healthcare providers rather than customers. Facing more competition, Allergan knew it needed to build better direct relationships with customers to continue growing.
Solution
With Twilio Segment and Twilio Programmable Messaging, Allergan created a centralized source of customer data, then connected directly with these customers through personalized text messages.
---
Allergan is a global pharmaceutical company that manufactures BOTOX® Cosmetic, along with a collection of other beauty products like JUVÉDERM® and LATISSE®, used by over 4 million people every year. Historically, Allergan had a B2B2C business model, selling its products to healthcare providers who then re-sold them to end consumers. As a result, Allergan invested the vast majority of its marketing focus on the doctors reselling its products, and much less energy on end consumers. Facing more competition, Allergan knew it needed to build better direct relationships with customers to continue growing.
Tory Brady, the Associate Vice President, Product, Engineering & Data at Allergan Data Labs, and his team, stepped up to build an intelligent customer engagement strategy to effectively nurture direct customer relationships. However, in order to do that, the team realized they needed to rebuild its tech stack, try new messaging tools, and create a centralized source of customer data. The team selected Twilio Segment to collect, unify, and connect its customer data and enable accurate user profiles, as well as Twilio Programmable Messaging to send transactional text messages to its loyalty program members in order to create seamless customer experiences.
This powerful new intelligent customer engagement architecture now allows Allergan to deliver the right message directly to its customers, and enabled the company to relaunch its personalized customer loyalty program, Allē, resulting in over $400M in sales driven in 2021 YTD by DTC.
Fragmented and disconnected legacy architecture
Allergan's legacy architecture had significant gaps; customer data was disconnected across its portfolio of brands and digital products, and the team was unable to tie together users across digital experiences. Mehrdad Hosnieh Farahani, Lead Principal Data Scientist at Allergan, explains these challenges, "there wasn't any cohesion throughout our different brands and digital entities from a marketing perspective, so there was a lot of lost opportunity. Because there wasn't a centralized golden record of a consumer, there wasn't an understanding of a consumer's journey from marketing channels, to registration, and treatment. There were key pieces missing in our data architecture."
The legacy architecture was unable to track "events," or actions taken by customers, which were critical to the team's ability to deliver more direct, personalized experiences.
Instead, Allergan streamed limited information about registrations and transactions from its website, iOS App, and Android apps to its Microsoft SQL server. Then, the data engineering team piped the data to a legacy CRM system, which the marketing team used to send generic customer emails and messages.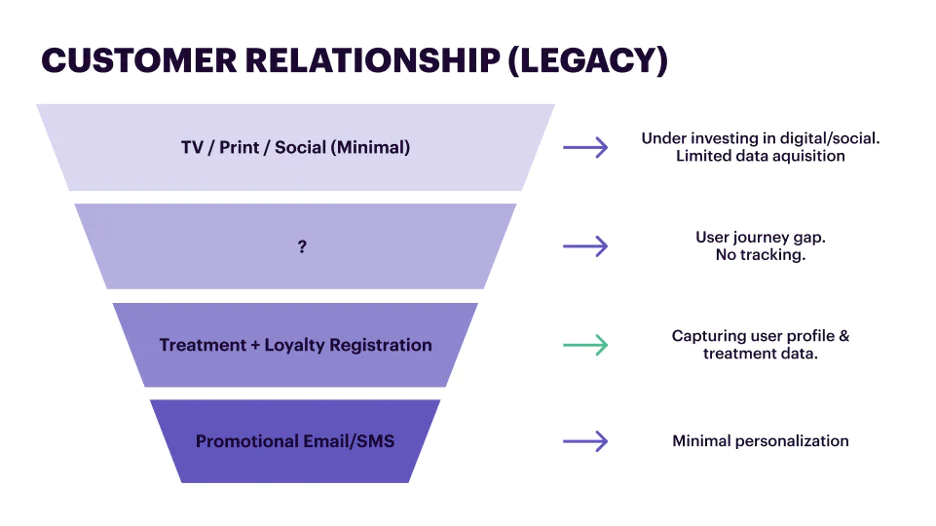 Implementing a best-in-class customer data platform
Fragmented data led to a generic, one-size-fits all legacy loyalty program app, Brilliant Distinctions. Half of the users in the program were added by their doctors and didn't know they were signed up. With only 2.6 out of 5 stars on the App Store, the team knew they needed to improve the user experience and engage with customers in more personal ways.
The Allergan team selected Segment to be the hub for its customer data. Segment captures and standardizes customer data, provides a single view of the customer with Personas, and automatically loads that data into Allergan's data warehouse, Snowflake. Using the Segment-enriched data in Snowflake, Tory and his product engineering team built out machine learning models to predict relevant offers, products, and content for each customer. They pipe these predictions into their applications and websites to deliver personalized content and increase engagement.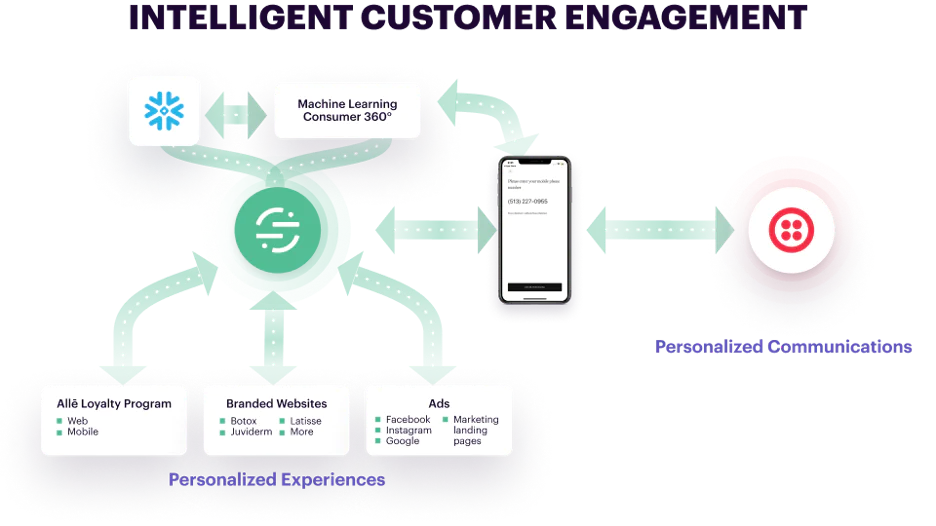 Connecting directly with users
Using Segment as the foundation, the Allergan team was able to replace Brilliant Distinctions and build a new, highly customized loyalty program to connect directly with end users, Allē. Christine Li, Allergan's Director of Marketing Technology, describes the program, "Allergan brands are rooted around our loyalty program that gives consumers rewards and benefits that serve the end user. With the Allē loyalty program, we want to empower customers to feel comfortable and confident throughout the process."
Armed with centralized, trusted customer data through Segment, plus machine learning models and AI based audiences built with Segment and Snowflake together, the team is able to deliver customized content, offers, and rewards directly to customers through Allē.
For example, Allergan leverages Personas to identify what types of content visitors engage most with in order to recommend the most relevant treatments. Similarly, the team is able to create audiences of users that searched for providers, but have not used any offers, then send unique coupons to those interested groups. Timely, relevant, and direct communication with customers accelerates product cross-sells, encourages repeat visits, and enhances the user's journey across Allergan's portfolio of products.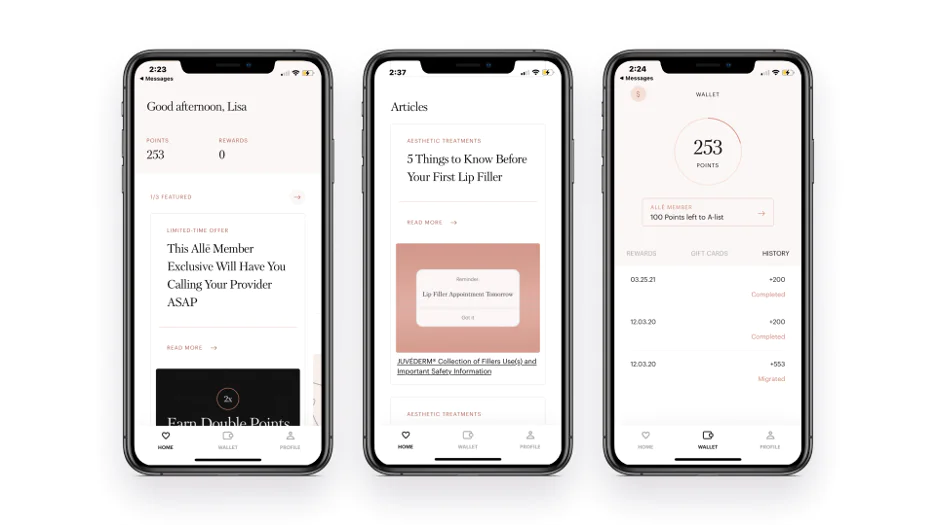 Communicating more intimately with users
A key component of making the Allē program more effective is communicating directly with customers in more intimate ways. The team implemented Twilio Programmable Messaging to easily connect with users via text message. With Twilio's Programmable Messaging API, Allergan delivers important notifications based on individual customer actions over SMS, creating a more seamless experience. With reliable and flexible messaging APIs the team was able to easily accommodate Allergan's existing Allē user base and will be able to scale to new volume thresholds as the Allē program reaches new users.
Christine, head of marketing technology, explains how the Twilio Programmable Messaging API improves the Allē experience, "the legacy loyalty program had been around for 10+ years. A part of the refresh was pivoting from an email address based system into a phone number based system. It's a lot easier to share your phone number with your doctor or practice. We wanted to focus on having phone numbers as a way to identify our consumers. SMS is also a more intimate way to communicate with our consumers. Choosing Twilio's developer-centric SMS solution was a no brainer. Twilio is the leader in the space, reliable and able to maneuver and grow with us."
Twilio's Programmable Messaging API handles the complexities of ever-changing telecom logic and carrier-specific rules to ensure messages are reliably delivered, so Allergan can focus on what matters most—providing an awesome customer experience with Allē. Allergan is now able to guide users through the Allē registration process, provide important account alerts and offers, and shepherd users through their journey with Allergan brands—all from the comfort of their cell phone. Text messaging has made the registration process significantly easier and more personal, resulting in an increase in new users, higher usage, and better user experiences across the Allē program.
The team is invested in building an intelligent customer engagement model that reaches users with timely messages on the communication channels they prefer. "The combination of Twilio and Segment will empower us to provide customer magic moments and communication that's highly relevant," describes Christine.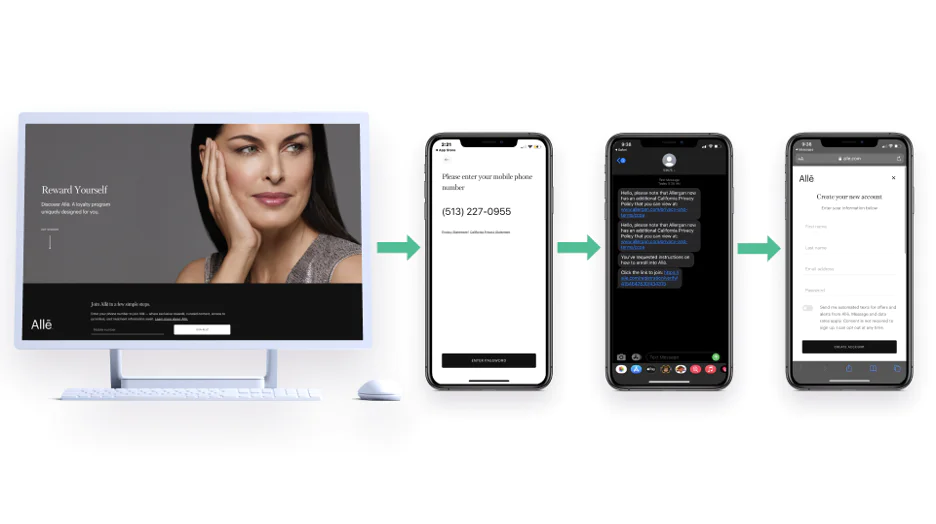 Stronger customer relationships with intelligent engagement
Allergan's new tech stack with Segment and Twilio has enabled Allergan to engage directly with customers in more meaningful, timely, and impactful ways, ultimately building stronger customer relationships and transforming Allergan's business into a direct-to-consumer business. By focusing on the customer and enabling personalized customer communications throughout Allē, Allergan generated $400M+ in new revenue.
Results:
•400M+ in sales driven in 2021 YTD by DTC
•4.9 out of 5 Allē App Store rating
•3M+ Allē loyalty users
•41% reduction in "completed a purchase" CPA
Segment and Twilio have made Allergan's MarTech stack more flexible, and customer-centric. Marketing can move faster and easily test new tools, and Product can build out new, user-focused features and functionalities quickly. In the future, Allergan plans to launch new digital products, like the Flash Rewards program. The innovative Flash Rewards program will send personalized offers when users enter the provider's office, blending the power of a personalized offer with a medical professional's in-person recommendation—a program made possible by Allergan's new stack.
Allergan also plans to continue growing its direct customer relationships by launching even more intelligent customer engagement throughout the buyer's journey. Twilio is a key component of providing relevant, timely communications to the end consumer. Christine explains how the team plans to double down on Twilio and Segment together moving forward, "we lean heavily on Segment today to identify our consumers and their profile traits, and what makes them them, and what kind of journey they are on. So, being able to have that integration with Twilio to be able to send communications to users based on their journey status is a pivotal piece of bringing those magic moments to life."
"The combination of Twilio and Segment will empower us to provide customer magic moments and communication that's highly relevant"
Ready to get started with Twilio?