How Vacasa achieves 3x more bookings with personalized campaigns
Challenge
Vacasa needed to better understand how to reach its customers with the right message through their preferred channels.
Solution
With Twilio Segment, Vacasa can now use reliable and actionable customer data to create highly personalized marketing campaigns.
---
Vacasa gets homeowners up and running faster and helps maximize their revenue. The company offers everything from advice on which amenities will earn five-star reviews to exclusive access to market their units to guests on Vacasa's website, app, or third-party channels.
On the guest side, Vacasa enables customers to search and find their ideal vacation unit. Virtual tours on the website make guests feel like they are browsing the units in person. A simple, clean search experience lets guests filter units based on dates, location, and unit-specific amenities. Pool or pet-friendly? Vacasa has it covered.
To bring its customers' dream vacations into reality, Vacasa needed to better understand what its customers are searching for and how to best reach them with the right message through their preferred channels.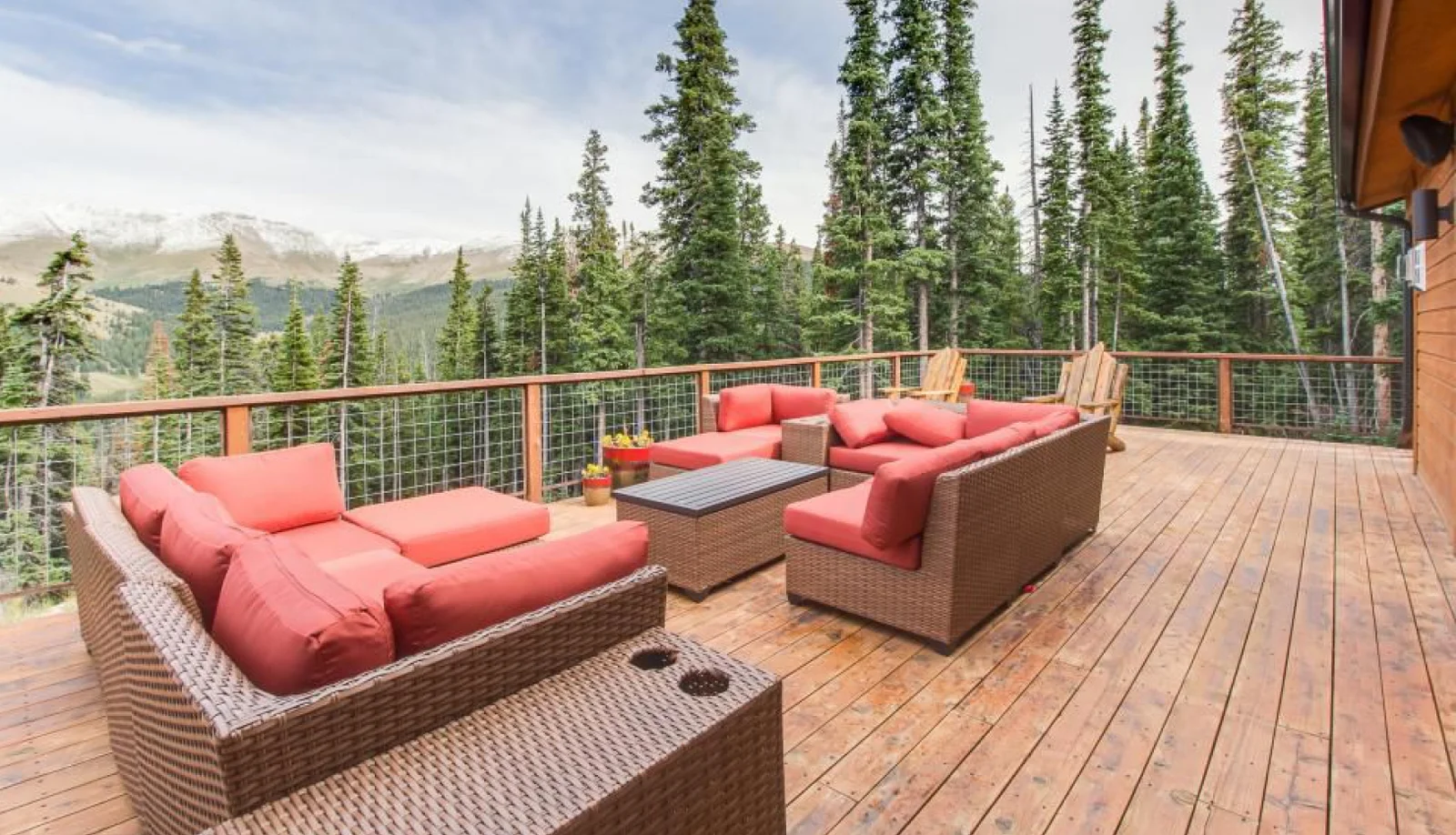 Data-powered decision making
In an industry with trends shifting towards local, within-driving-distance travel, Vacasa was looking for innovative ways to engage with its customers, while at the same time optimizing spend. Vacasa's nuanced user ecosystem— with short lead time bookings and cancellations— made it clear the team needed to adopt a strategy that put customer data at the center of all marketing and lifecycle campaigns to drive more predictable outcomes.
After a full technology review with these priorities in mind, the Marketing Analytics team found its existing web analytics service had limited data collection capability and provided little visibility into how customers were navigating the website. Vacasa did not have visibility into the customer journey to create effective marketing and lifecycle campaigns, nor did it have a concrete understanding of how current campaigns were performing within downstream tools.
Vacasa knew it needed a powerful customer data platform (CDP) that would illuminate how guests and owners interact with the website in real-time. It also required a solution that could easily connect to its own data warehouse and the team's downstream martech tools.
Segment's sleek interface and intuitive APIs drew in Vacasa's team of marketers, and they were ultimately convinced by Segment's ability to unify customer data across various touchpoints and provide a single source of truth for teams that need data to make strategic decisions. With a focus on increasing conversion rates, Segment CDP equipped Vacasa with the data they needed to understand its customers' journeys and campaign performance on a more granular level. For example, the data tells them when conversion rates decrease due to lack of unit availability— not because of a bad search campaign. It also lets them know when it's time to change things up—like adjusting bidding strategies around holiday weekends due to limited unit availability.
"We are now able to slice and dice raw data to inform tactical product decisions," added G Scott. "This has changed how we prioritize ad campaigns and warranted an investment in building out a guest app, which has proven to pay dividends."
"With Segment, we do a better job of making decisions. We've moved from 'I think this is how we should do it' to 'what's the data saying?"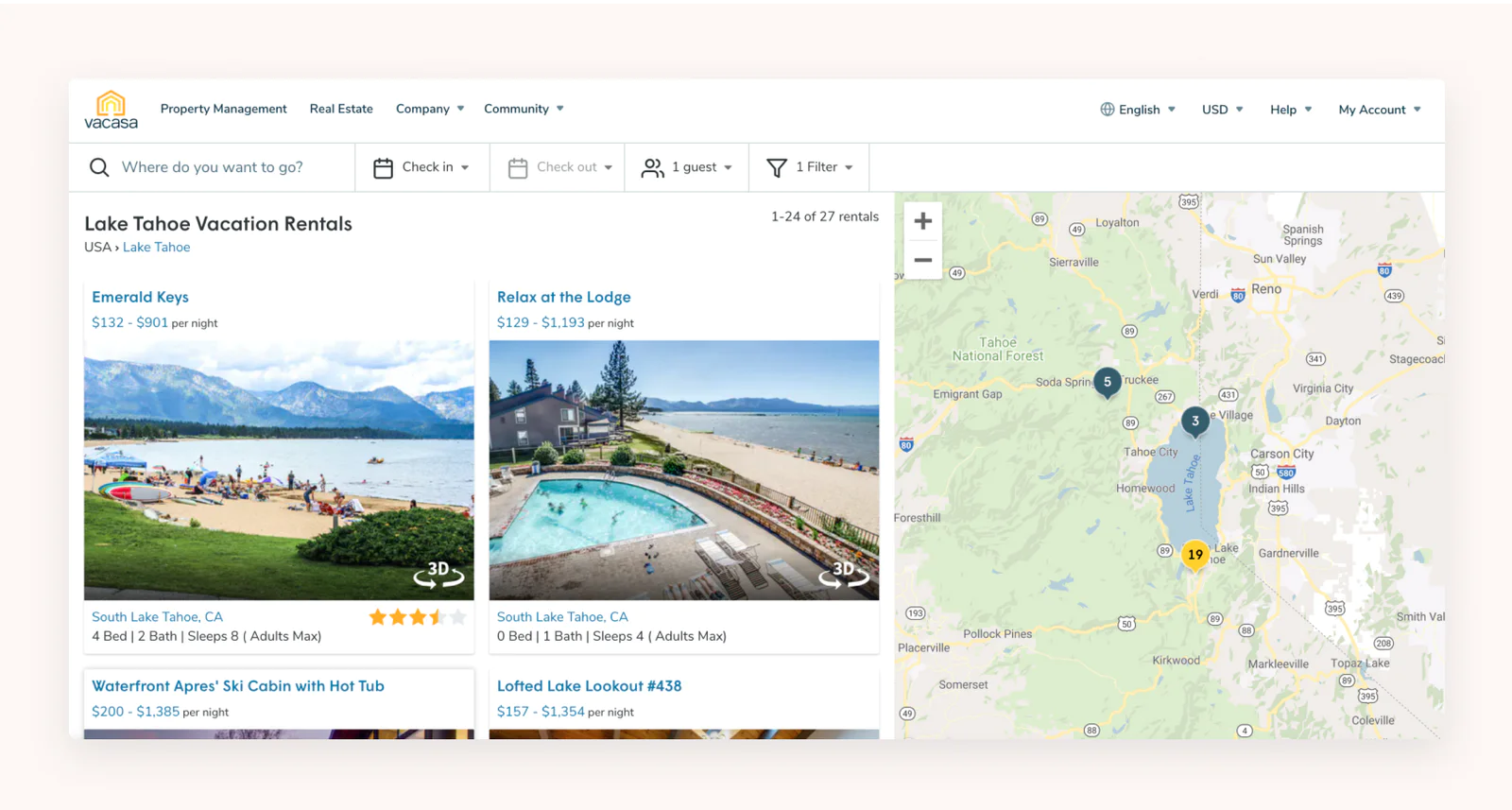 Removing friction from customers' vacation journeys with SMS
In addition to email, Vacasa decided to implement SMS to get important information into the hands of customers more directly. By adopting Twilio Programmable Messaging alongside the SendGrid Email API and Segment CDP, Vacasa created an intelligent multichannel welcome sequence to remove friction from the guest check-in process. The morning guests arrive, they receive a check-in email with smart lock entry codes. Then, just ahead of check-in time, Vacasa pulls from its customer data warehouse to trigger a corresponding text message with the entry code, saving guests from the hassle of scrolling through their inbox to retrieve it.
Vacasa also uses Twilio's Programmable Messaging API to send timely promotional messages. Prior to the reservations, the vacation rental company prompts guests over SMS to download the app, granting easy access to features like one-tap wifi-access and issue reporting. Guests are seamlessly welcomed into their vacation stays on the channel they prefer, with key check-in information right at their fingertips.
Additionally, Vacasa uses Twilio Programmable Messaging to enable high-volume communication to its internal field teams that care for units. The API enables two-way communication so field teams can easily text back and forth. With field teams distributed around the world, SMS helps Vacasa communicate important updates to its employees in real-time.
"We don't want our guests to remember a family vacation for that one thing that went wrong. We want to help guests make great memories, so our platform solves any need that might arise either before, during, or after their trip— especially making sure they have a smooth booking experience."
Building an intelligent email program with SendGrid and Segment
In addition to collecting and unifying the data with Segment, the Marketing Analytics team needed to activate this trusted, unified data to build more intelligent marketing and lifecycle campaigns. Segment enables Vacasa to build custom audiences based on specific data attributes, which then informs how Vacasa reaches its customers— both guests and homeowners — with highly personalized communication.
With the right CDP in place, the Marketing Analytics team needed an email platform that would help prove the value of an intelligent email program. The team evaluated providers and ultimately selected Twilio SendGrid for the task. Since then, Twilio SendGrid's marketing and transactional email solutions have become deeply implemented into Vacasa's technical messaging infrastructure.
"Capturing event activity with SendGrid webhooks, building a customer data pipeline in Segment, then passing it into our data warehouse to create an accessible schema has been a complete game changer—it allows us to get communication out to customers within a few hours rather than a few days. We can get an exact look at event history to see whether we need to send emails to people that have received the alert email, but didn't open or take any action."
Vacasa uses Marketing Campaigns to power retention campaigns to homeowners. SendGrid's intuitive UI has allowed Vacasa to easily create cohesive branding for its email and send single-send awareness campaigns to customers.
Additionally, the Email API supports Vacasa's transactional email program, like reservation confirmations and check-in reminders—even providing guests extra touches like Wifi password reminders to make sure they get the most from their stays. The vacation rental company also uses the Email API as a sending vehicle for its promotional guest email.
"SendGrid is awesome because it allows for the underlying infrastructure to be incorporated into a tech stack that can be customized pretty much any way we want," said Andy McCutcheon, Vacasa's Email Program Manager. "We use SendGrid Marketing Campaigns and have a few internally built email tools— SendGrid's Email API is great at being the end point of delivery out of those systems."
With more than 30,000 properties across the United States, Central America, and Canada, on any given day Vacasa needs to communicate essential alerts to users regarding travel restrictions for health and safety reasons like a global pandemic or wildfires in high-risk regions.
"Segment allows us to connect the dots and fill in the blanks. With just a traditional email reporting funnel, you're missing the opportunity to capture the full value that an email program provides. SendGrid empowered us to prove the value of investing in our email program. We are getting bookings we may not have gotten otherwise."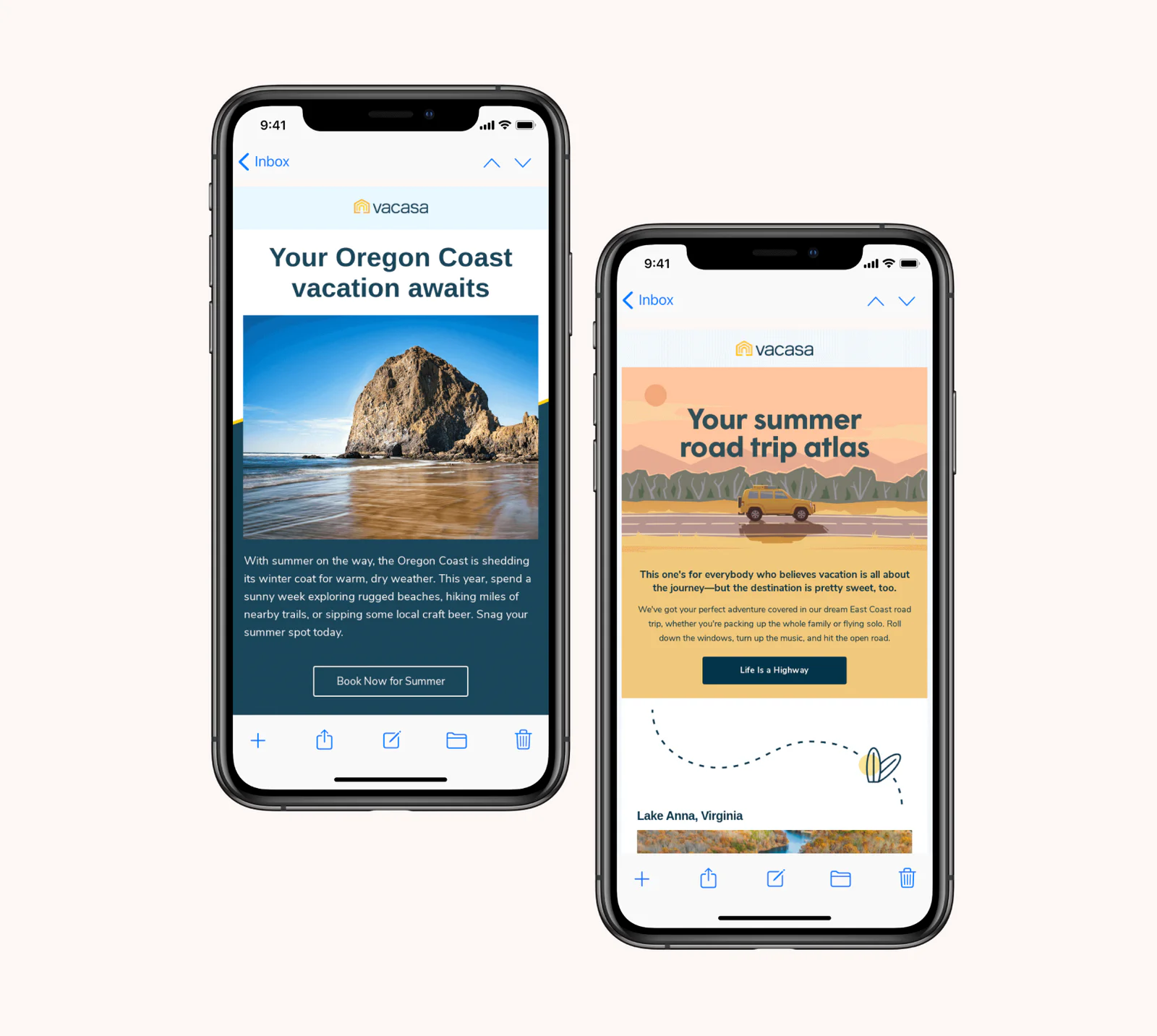 Data segmentation informs campaigns
Access to trusted, actionable customer data through Segment empowers Vacasa to unlock highly personalized email marketing campaigns through SendGrid. Segment collects website user behavior and reservation data, which Vacasa's data science team uses to create audience segmentation models, allowing the email team to deliver highly personalized campaigns that cater to users' interests.
If someone browses on Vacasa.com and views a unit page but does not make it to checkout, Vacasa will provide four additional unit recommendations based on the unit they viewed. If the units they browsed were date-specific and those dates are still available at similar units, Vacasa recommends those as an alternative.
A new kind of guest experience
After emails and texts are successfully delivered via Twilio, Segment's intelligent event capture enables Vacasa to see the impact beyond just clicks and conversions.
With Segment, the team can see the entire customer journey from welcome text messages, to email opens and site reservation—all in one place. The full picture helps Vacasa form strong relationships, keep homeowners educated, and help bring its guests one step closer to ultimate vacation relaxation.
Personalizing campaigns based on the data streaming through Segment has increased engagement rates across the board. Email marketing campaigns sent to 500K recipients consistently reach over 21% open rates, performing well-above industry benchmarks.
Personalized subject lines based on user-data return higher click rates compared to static subject lines in the team's A/B tests. A Breckenridge subject line will more likely draw the attention of Colorado users than those located in Maine. Strong subject lines yield engagement— and ultimately bookings. Users who open and click Vacasa's marketing emails are 3-10X more likely to book than users who open the emails without clicking.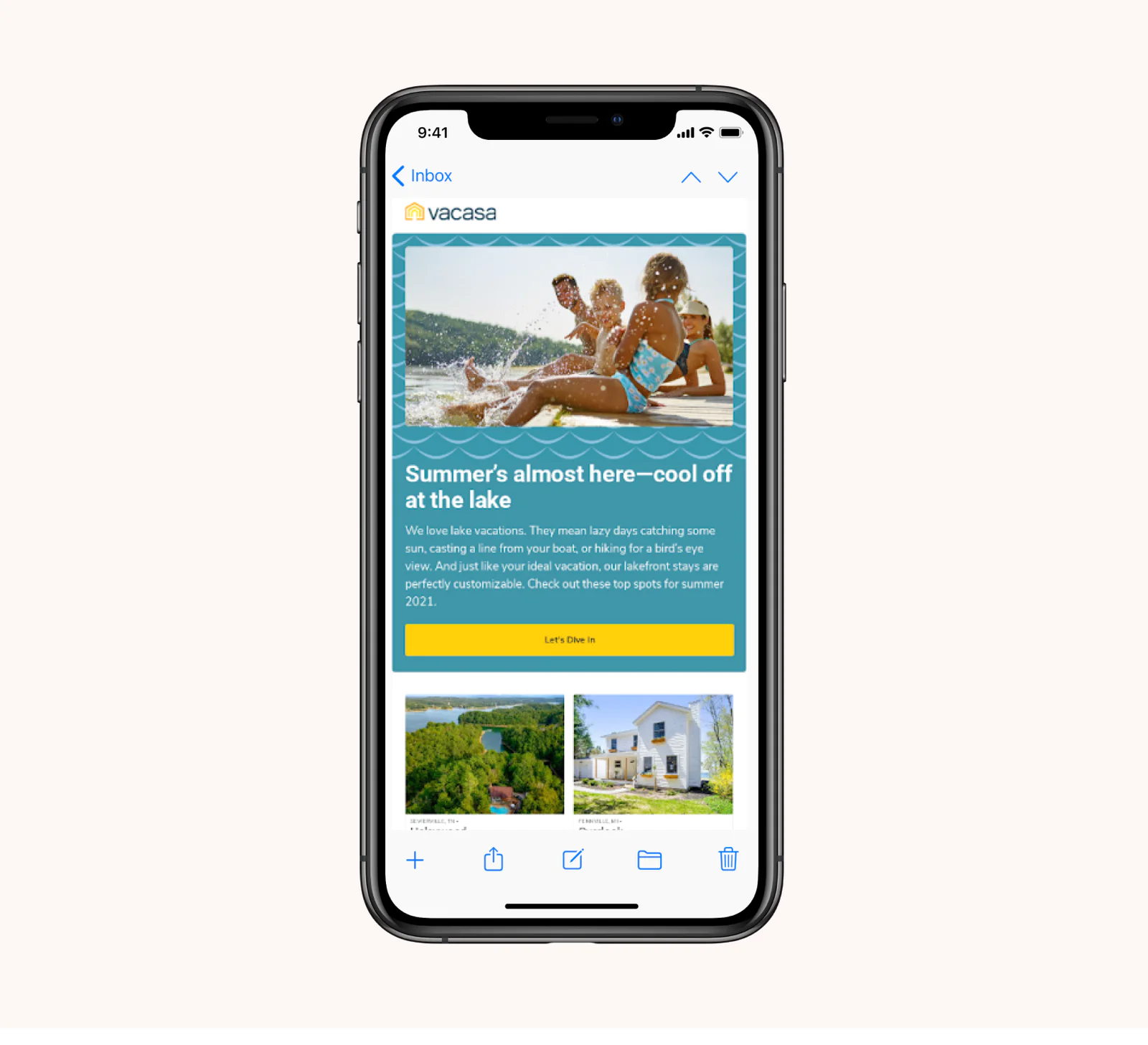 Personalized lakefront recommendations
With this campaign, Vacasa recommends four unique lakefront units within 300 miles of where a user lives. The weighted recommendations rank units based on distance from guest to unit, distance from home to lake, and the average review score of the unit.
Not only does the data streaming through Segment help Vacasa's marketers personalize content, it helps the team understand when is the optimal time to send email. The marketing team strategically shares units and target dates with low levels of expected booking probability to maximize incremental revenue. Vacasa incentivizes users with cart abandonment email reminders after prices drop on recently-viewed units. The data helps the team make strategic sending decisions that drives traffic back to the site and boosts revenue.
The great travel surge
Vacasa is welcoming back a high level of travel demand. They have creatively adjusted email campaigns to appeal to guest optimism for upcoming holiday vacations with success—site traffic and reservations are up across the board.
Vacasa continues to build its customer engagement strategy to form strong relationships with guests and homeowners in order to foster a seamless experience. Next up, Vacasa looks to accelerate its personalized engagement strategies with Twilio Flex.
Ready to get started with Twilio?