Duolingo significantly improves app engagement with Twilio Verify
Challenge 
Duolingo wanted to securely integrate social sharing into their app to increase engagement.
Solution 
With Twilio Verify, Duolingo built a geographically agnostic way to validate users and connect them with their friends.
---
Duolingo is an app designed to make language learning fun, free, and effective for anyone who wants to learn, wherever they are. As their global team worked towards realizing the value of socializing the learning experience, it just made sense to empower their existing user base to connect with their peers and friends so they can learn a language together. Nico Sacheri, Product Manager for Duolingo, discusses the impact Twilio had on their social connection functions.
Marrying gamification with social interactions for better app engagement

Learning a language is hard, so Duolingo makes it fun. To drive user engagement, the app feels like a game. Some gamified features apply to the individual, like a learning streak counter or leaderboards comparing their experience points—gained through language lessons—to other learners.
Some of the features that the Duolingo team has designed are more social like the Friends' Quest. In this case, friends are matched with each other to collaborate on a common goal and earn rewards. Other features, like the "celebrate" and "encourage" options, allow collaboration and interaction with their friends.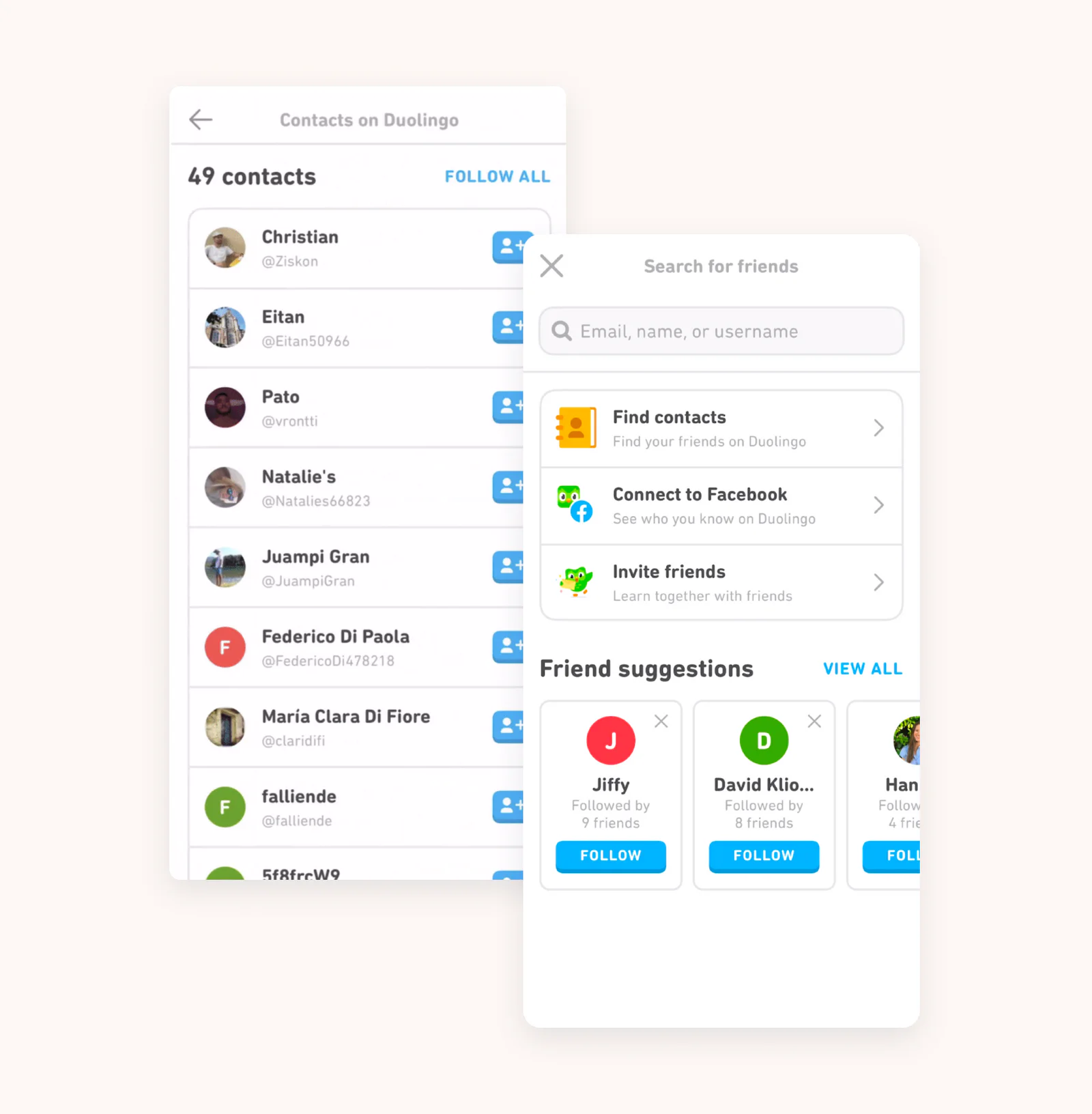 To have access to these social features, however, learners must first be able to find their friends. In order to find their friends, Duolingo needed to validate that they were who they said they were. In addition, when their identity is confirmed, Duolingo can see which users have that phone number in their contact book and suggest them to follow each other. That's where Twilio comes in.

"In order to find friends more easily, we wanted to offer secure contact syncing, but we didn't have users' phone numbers at Duolingo to match them with their contacts. With Twilio Verify, we could ask for their phone number and then offer to sync their contacts."
Twilio + Duolingo = A secure, perfect partnership
Of course, Duo—the friendly green bird mascot seen throughout lessons—didn't just wave his magic wand to make it all happen.
Users were encouraged to find their friends via a search engine or via Facebook. Seeking friends using a search engine was slow, clunky, and lacked meaningful validation functions. And Facebook tightened up its privacy policies making it more difficult to connect with their friends list.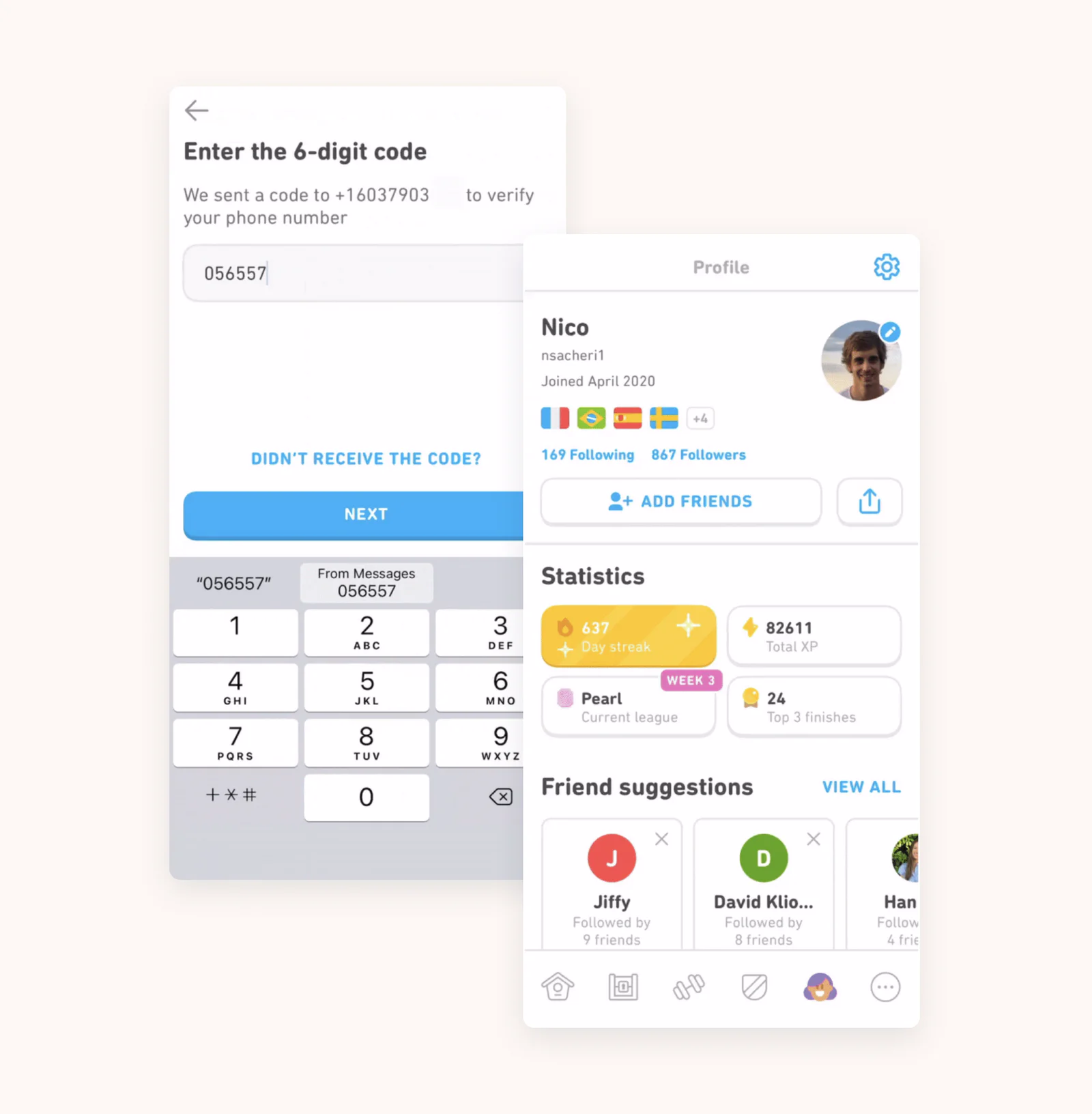 The more robust social sharing Duolingo sought to add, the more security needed to be employed to ensure that people's information remained safe. Twilio made the shortlist by easily integrating into Duolingo's existing technology stack. Together, Twilio and Duolingo built a geographically agnostic way to validate users and connect them with their friends. With Twilio Verify, Duolingo ensures that mobile phone users are who they say they are through up-to-date phone data and substantiates that a user is in the possession of their device.

Twilio also worked closely with Duolingo to build a seamless customer experience that allowed users to just put in their phone numbers to be verified. After asking for access to a customer's contacts, Duolingo uses Twilio Verify to send a one-time passcode via SMS. Once a customer confirms the correct one-time password, the learning platform shows the user all of their contacts on Duolingo.
Ready to get started with Twilio?