The doctor will see you now: How SMS helps Philips Patient Management deliver a new waiting room experience
*Internal Philips data may not reflect the results achievable at other institutions
Picture this. It's March 2020, and you've just scheduled a very important elective surgery. Suddenly, COVID-19 hits the world with full force. Everything is closed, cancelled, and postponed—including your procedure.
Except here's the thing: you can't afford to postpone this surgery. You need it now. And so your doctors start scrambling to establish both the technology and the safety procedures to ensure that your surgery can still occur.
Clinical Affairs Lead for Philips Patient Management (formerly known as Medumo) Hersh Goel, MD, saw this live alongside their healthcare partners.
"They were asking, 'How do we return to operations after this? What does it mean when these restrictions around elective appointments get relaxed? How are we going to be able to bring patients back in a safe way?'" he said.
The team behind Philips Patient Management believes in creating technology to enhance patient engagement. When COVID-19 hit, it became clear this space was more important than ever. A waiting room still needed to exist. Patients still need to come in for important procedures and appointments. The challenge was developing a system whereby patients could easily virtually check in using the digital technologies that they use on a daily basis.
The Philips team decided to create that system. Using text messaging, a patient can skip the waiting room, all the while receiving important instructions in the days leading up to their procedure. From day-before procedure reminders to day-of check-in protocols, patients have a line of communication with their doctor and receive guidance about their care plan along the way. And when it's time for you to be seen, you'll receive a text in real-time.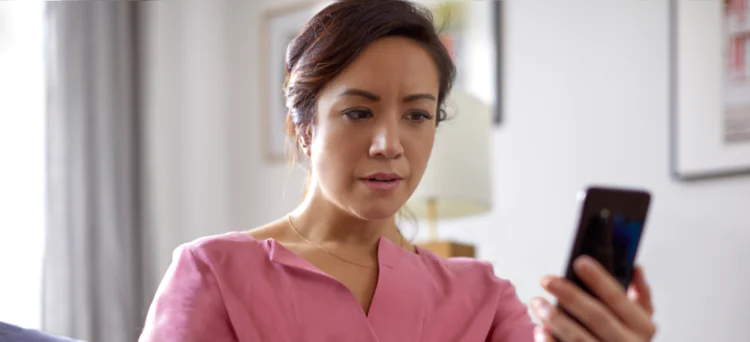 Making room for better communication
Philips Patient Manager didn't begin with the idea of developing a virtual waiting room. In fact, according to Goel, the virtual waiting room wasn't on their radar prior to the pandemic.
But the company vision has always been focusing on improving patient-provider communication where it was needed. And so, when COVID-19 began, offering a waiting room solution in a time of confusion was a natural progression.
"The industry has had a very low adoption rate for 'contactless check-in' over the years. But in discussions with our partners, we felt pretty confident that if we implemented a text messaging component to these workflows we would inherently get higher uptake," explained Goel.
"And that's really how it started. Part of our value proposition is thinking about what it means to engage every patient and navigate them to their visit. Not only directionally and from a preparation standpoint, but also facilitating virtual workflows in a holistic way. It wasn't part of our existing technical infrastructure, so that was definitely a challenge," he said.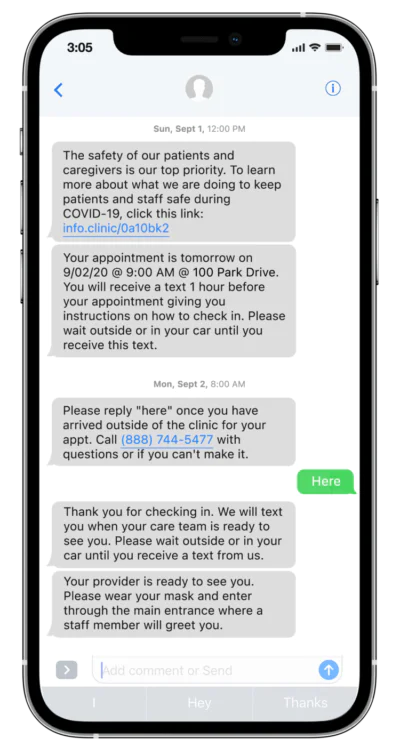 Now we're talking
Still, using Twilio Programmable Messaging to power the new virtual waiting room proved a seamless process for two reasons. The first? The existing Philips Patient Management patient communication journey was already guided by SMS communication.
As Ali Haber, a Product Manager for Philips Patient Management, explains, "We were already coming from this place of navigating patients along their care journey before the appointment. So we weren't just handing them something on the day of and expecting them to respond. We've already been engaging with them throughout, and they're expecting this kind of messaging."
This simplicity has been part of their success.
"We're not asking them to download an application. We're not asking them to go through a whole set of hoops like having to remember a login and password. It's all very simple. And that's, again, part of why we've been able to be successful," said Goel.
Another reason for their success? The technology itself.
Senior Product Engineer Gabe Chaney credits Twilio Studio—which gave the company the tools to visually create their communication workflows—as being an important technology component in making this happen.
"Twilio Studio is really what allowed us to build our virtual waiting room because you can easily use the UI to build UX flows. Our timeline was short and we really wanted to pilot quickly. Twilio permitted us to go a lot faster and allow the rest of the team to focus on the coordination with the client testing and the integration pieces," Chaney said.
Quick and seamless integration was important, but so was customization for each of Philips' clients using Philips Patient Management. Being able to change content regardless of patient, procedure, channel, or even language was an important feature in building out the product.
"Using Twilio's API, we were also able to have different versions of the content for different languages. This is really important to a lot of our clients because not everyone speaks English as their first language," said Haber.
"Twilio Studio is really what allowed us to build our virtual waiting room because you can easily use the UI to build UX flows. Our timeline was short and we really wanted to pilot quickly. Twilio permitted us to go a lot faster and allow the rest of the team to focus on the coordination with the client testing and the integration pieces."
A bigger conversation
The philosophy and value behind Philips Patient Management allowed the team to react quickly and thoughtfully to their patients' needs during COVID-19. But in the bigger picture, it also means time saved for clinicians; easier, clarified communications for patients; and ultimately, a game-changing new process for engaging patients and increasing their own health autonomy.
"When we look across our implementations for the virtual waiting room, we see that about 11 minutes per patient is being saved from having that patient wait in a physical waiting room. And then it's not only the waiting room, it's the number of calls that clinics otherwise would have had to make. So every patient that goes through this flow, that's a phone call saved," said Goel.
Because of time saved and clarity given, Philips Patient Management ushers in a whole new level of autonomy and empowerment for both patients and providers alike. And even more exciting than that, it offers a greater opportunity to communicate empathetically in an industry reliant on human connection.
Said Chaney: "I've been excited about this product not just from a technology perspective but also because of the human impact. I imagine clinicians just want to pick up a phone and text a patient quickly. And we could continue building products that make it feel more like that. They could text to say, 'Hey, how are you? What else do you need?' And I think that's really powerful."


See Twilio CFO Khozema Shipchandler talk about how COVID-19 accelerated demand for innovative solutions like Philips Patient Management
Ready to get started with Twilio?