Zoom2u Uses Twilio to Provide a Great Delivery Experience in Australia
The inefficiency and lack of transparency of courier companies in Australia led Steve Orenstein, Founder and CEO of Zoom2u to design and build a whole new type of solution.
Orenstein created an innovative platform that enables radically fast deliveries (three hours or less) with live tracking technology by building a marketplace that connects local couriers with customers - from individuals to small businesses and large enterprises - across the country.
Zoom2u's fundamental goal is to provide customers with complete transparency on where their delivery is by providing them with real-time location of the courier. In order to provide this transparency, Zoom2u leverages the Twilio Programmable Messaging API to be able to send SMS alerts to customers with a link that allows them to track their delivery or package in real-time. The other part of the transparency formula is that Zoom2u connects the customer directly with the courier removing the courier's head office from the middle. Whether it's flowers, cake, lost keys, baggage, passports, phones, computer equipment, important documents, or even large machinery, SMS alerts powered by Twilio's SMS technology are helping to reinvent what a great delivery experience should look like.
"We had some reliability issues with our previous SMS provider and knew Twilio had a strong brand online," said Orenstein. "After we switched to their Programmable Messaging platform, we quickly saw the success rate of first-time deliveries go up and that was mainly driven by the fact that the customer knows when their delivery is arriving along with the ability to communicate directly with the courier."
At the same time that Zoom2u was researching an alternative SMS provider, they were also exploring ways to improve their customer engagement. Their call centers' original phone system, while cloud-based, was not using the most advanced technology nor built on APIs like Twilio. After testing and trialing Twilio's phone API, it took less than a month to fully transition and port their phone numbers into the Twilio phone system. The new phone system that allows Zoom2u to make outbound calls to customers as well as receive inbound calls from customer and drivers, could now provide Zoom2u with real-time data and insight into how efficient their call center was operating. This includes being able to monitor agents' performance, as well as call volumes throughout the day to ensure they are adequately resourced where necessary. But more importantly, it also allowed Zoom2u to scale their business and work remotely across different countries and regions more easily.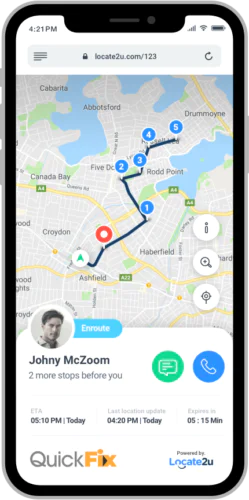 "Zoom2u's success has also allowed us to evolve our business and share our software with other courier companies. We created a global product called Locate2u to enable businesses who run their own fleet of drivers the ability to manage their bookings and share with their customers real-time tracking information of deliveries via SMS," continued Orenstein. "We have customers in Australia, USA, Canada and Europe and for that reason we chose a global solution - Twilio Programmable SMS platform."
The Company also plans to integrate their Locate2u product with Twilio's phone API later this year so that small businesses could also use that to run their own phone system directly throughout the Locate2u platform.
Another way Zoom2u shares its product with others is by allowing businesses to integrate with their APIs. If a customer needs to schedule high volume deliveries with Zoom2u, they have a way to electronically send the information directly via the Zoom2u API booking platform, or they can integrate this API directly into their website.
With more than eight thousand couriers registered on their platform, Zoom2u has processed over two million deliveries to more than seventy thousand customers in Australia. They entered the market early and are helping to set the bar for a great delivery experience. This means that e-commerce, retailers and logistic companies, especially in Australia are starting to realise they need to reduce delivery time from days down to hours. So while the market is in the early stages, it is maturing and catching up.
Zoom2u had the advantage of entering the space early, when same-day delivery was a "nice-to-have" but now they are well-positioned to take advantage of the growing e-commerce and logistics market where a better and faster delivery experience is now a must-have.
Ready to get started with Twilio?