The future of mobility: how Curb delivers the promised ride with help from Twilio
Curb connects people to fast, convenient, and safe rides from professional taxi and other for-hire drivers in cities nationwide.

As ridesharing has grown, taxis and for-hire drivers found themselves, in many ways, suddenly put on the backburner. Citizen drivers, armed with technology-forward tools and apps, were scooping up riders, leaving highly qualified taxi and for-hire drivers behind, lacking the same technology and ability to digitally engage with prospective riders.
That is until Curb came along.
Curb is the leading taxi and for-hire driver app in the United States, connecting the aforementioned professionals with riders across the country. Its multi-layered platform gives those professionals the tools and features they need to easily connect with riders, conduct transitions, and maintain both parties' safety and security. And they do it with some help from Twilio.
Beyond driver-rider connections
Curb doesn't just connect individual riders and drivers directly. Their enterprise-grade mobility solutions also enhance a city's existing transportation infrastructure and modernize the taxi experience for all riders. In major metro areas across the country, Curb partners with both private businesses and public agencies to provide comprehensive transportation services, as well as with paratransit programs and nonprofits to help underserved communities get the transportation services they need.
Doing so requires a complex suite of features, explained Vishal Dhawan, CTO at Curb. That stack is what sets the organization apart from other mobility service providers in a crowded industry.
"We put ourselves on the map by taking all of those important rider- and driver-facing components and putting them together with complex algorithms in a seamless manner," he said. "In doing that, we've, in some ways, transformed the habits and behaviors of these entire fleets of drivers, by bringing much higher efficiency, especially in larger markets like New York, Chicago, Boston, and Washington DC."
Seamlessly connecting riders and drivers at pickup time is critical for the overall experience, the Curb team implemented a host of options to address this challenge from in-app chat to SMS to traditional voice calls. They use Twilio's Programmable Messaging, Twilio's Conversations API, and Programmable Voice APIs to power the SMS and voice portions of their platform, along with IVR to enable intelligent call handling and routing that integrates with their internal systems.
The suite of Twilio-enabled features has enabled the organization to drop its "calls sent to live human agents" metric by 80 percent since January 2020. Drivers and riders can chat back and forth via messaging while both parties remain protected.
"A good portion of our paratransit call volume relates to trip status, so we've integrated the Twilio stack across our systems to make sure we are able to effectively route calls and automatically provide real-time updates through our IVR" Dhawan said. "We're exploring further personalization because oftentimes, we can intelligently infer why someone is calling and route or provide an automated Voice or Text response to them more effectively."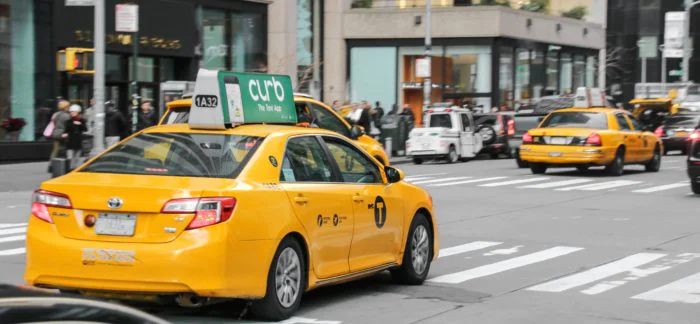 Partnering with Twilio, Dhawan said, has been incredibly positive for the organization, which has rapidly expanded across the United States and major metropolitan areas over recent years.
"The Twilio team has been a phenomenal partner. Using Twilio APIs and rapidly launching new features and products has enabled us to keep our momentum, and the support has been excellent in terms of getting our questions answered quickly, and unblocking us in a timely manner," he said. "Our collaboration has been unprecedented in terms of a quality perspective. We're able to deliver a better experience for our constituents, with total reliability, all while reducing costs."
That efficiency and reliability, he said, has been especially critical as the organization faces the challenges created by the COVID-19 pandemic. While regular ridership has decreased in the face of stay at home orders and shelter in place regulations, other opportunities, including serving essential workers and providing mobility options to underserved populations, have unexpectedly popped up.
While COVID-19 has led many to avoid hospitals and doctor's offices, some individuals can't miss their appointments even in the face of a worldwide pandemic. Dialysis patients, those being treated for cancer, and chronic illness sufferers are just a handful of those in need of transportation to required medical visits, but in places like New York City, options are limited and public transit is not always the best choice.
"The Twilio team has been a phenomenal partner. Using Twilio APIs and rapidly launching new features and products has enabled us to keep our momentum... Our collaboration has been unprecedented in terms of a quality perspective."
In response, Curb has partnered with transit and other city agencies to provide non-emergency medical transportation via licensed taxis to individuals needing transportation to and from medical appointments. They've also teamed up with the city's top healthcare organizations like NYC Health + Hospitals, NYU Langone Health, and Mount Sinai Health System to provide frontline healthcare workers with rides to and from their jobs.
As the organization navigates COVID-19 and the future beyond it, Dhawan said he's glad the company has partnered with Twilio to prepare for growth.
"Having everything ready [in partnership with Twilio] has really been a blessing for us in terms of the challenges we face now. Expanding into paratransit has shown us that we've grown into a company that can deliver the promised ride, under all circumstances," he said. "We're looking to scale that part of the business across all markets because what we've done so far is really just the tip of the iceberg."
Ready to get started with Twilio?