How Hult increased engagement and improved its student application process with Twilio
Hult is the world's largest international business school, with courses of study including undergraduate, executive education, and MBA programs in five countries. Hult's curriculum provides a skills-based approach to learning with a focus on hands-on opportunities for students to work directly with businesses. With students from 140 countries, recruiters and admissions staff speak constantly with people all over the world.
When John Prokos became Hult's Vice President of Technology in 2019, he noticed right away that there was serious inefficiency in the Business School's global communications systems. "We didn't have any coherent multichannel system to reach people, whether they were current students, alumni, or prospective students," Prokos said. "We were getting lots of great high-quality traffic and inquiries through our site, but we had outdated ways for people to get in touch with us."
He knew the patchwork of fragmented SMS, calling, and webchat solutions—including some of the outreach team simply using their personal mobile phones—was causing Hult excessive manual effort, unnecessary software costs, and lost enrollment opportunities. After years of mixed experience with on-premises solutions and inadequate telephony, Prokos realized it was necessary to find a cloud-based product that would enable him to replace the majority of these systems with one multichannel solution. After several demos with Twilio vendors, Prokos and his technology team determined that Twilio Flex would be the most flexible, cost-effective solution for turning website visitors into prospective students. Hult now uses Flex as the backbone of its contact centers around the world.
With the Twilio Flex platform in place, Prokos and the Hult developer team participated in a hackathon with Twilio to experiment with building a bot-based solution that would capture those inbound inquiries, assess them, and route them to the right person at Hult to have a meaningful conversation.
Hacking a better bot
In the hackathon, participants were divided into three groups of three to five people, each solving one aspect of the problem. One focused on the front-end web experience, one designed the bot itself, and the third focused on integration of the CRM and routing.
Nikki Thomas, Hult Senior Product Owner and a member of the front-end team, explained the team's guiding principle: "We wanted a frictionless experience, where a user has to do as little as possible to speak to somebody," Thomas said. "We felt that it shouldn't be an intrusive experience, so we'll always look to the candidate to guide the conversation."
With that in mind, the hackathon team came up with an intuitive, easy-to-use interface that gives site visitors five buttons to connect via WhatsApp, Facebook Messenger, SMS, webchat, or telephone. The second group designed the discussion flow that would conversationally collect visitor information, determine intent and where they're coming from, and either provide information or route them to a live interaction. The bot also collects analytics about its own performance and areas of potential improvement.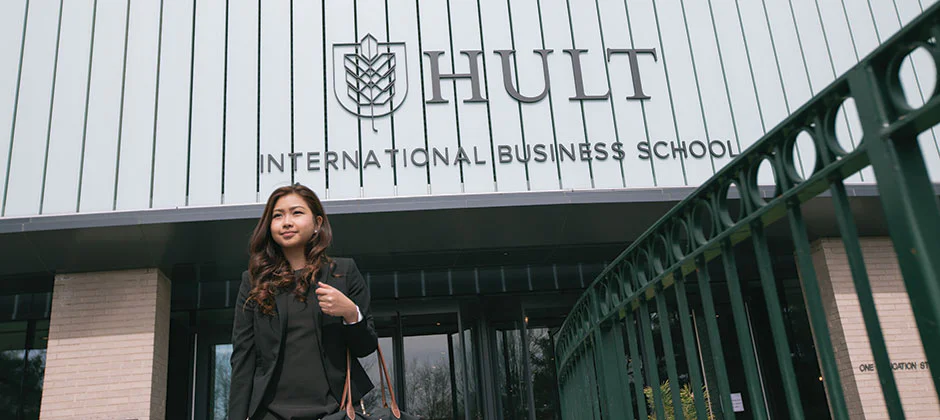 A third team worked on connecting the candidate to the right agent—at the right time and in the right channel. Jess Rubio, Salesforce Manager at Hult, said, "We want to make sure that whenever someone has an inbound interaction with Hult, we are able to provide a meaningful answer from an actual agent." To do this, the team worked on integrating their Salesforce database to route callers not only to an agent who is available at a particular time, but to someone who has the appropriate knowledge to talk about the program the person has indicated interest in.
The first version of this bot was implemented only a week after the hackathon ended.
Launching a full-fledged Flex solution in one month
Prokos was not only looking at the range of channel options Twilio's cloud-based Flex offered; best-in-class product documentation was also a key requirement. His team had used several Twilio API solutions before, and his developers were happy with the ease of use and clarity in the set-up process.
Prokos' team of just three developers stood up the Flex contact center in about a month. While the legal and administrative work involved in setting up a contact center for this globe-spanning enterprise was complex and took time, "the initial launch of the actual platform itself was quite simple," Prokos said. Hult participated in Twilio's accelerator program, with onsite assistance from Twilio engineers. The majority of the build was done when the two-week program was over, even though Flex was new to this small team working on multiple projects at once.
Having a cloud-based call center proved fortunate—and strategic—once COVID-19 hit.
"The decision to move all our channels to a cloud contact center helped a huge amount in the transition when people stopped going into the offices," Prokos said. "We had no disruption at all and we had all the routing already in place, so our teams could work from anywhere."
Centralized and measurable results
With Twilio Flex, Hult's contact centers support high-volume Voice, SMS, and web chat channels. After implementing Flex, Hult started receiving positive feedback from prospective students right away. The process of applying to Hult can be complex and require a lot of paperwork, particularly when visas and international travel are involved. Hult used Flex to add a new feature that enabled prospective students to receive help during the application process via WhatsApp or webchat. Prokos said students have been "thrilled" with this capability and have sent comments expressing delight at how easy it is to get in touch and get help.
By centralizing the data, Hult has been able to measure more clearly what's working in each market, comparing the effectiveness of WhatsApp, SMS, and Voice calling, and then making granular adjustments.
Flex has also enabled Hult's outreach team to meet the channel preferences of individual customers. The student application journey can take from six months to a year, with hundreds of touchpoints along the way. From the time a prospective student downloads a brochure until they've fully registered and paid, they may have been in contact with several people at Hult via email, SMS, and webchat, all powered by Twilio. The data generated is captured at every step, which Prokos said has improved conversion rates quantitatively and customer experience overall. "We went from a model, where we had almost no insight into what people were doing or how we were doing on different channels, to a model where we now have very granular insight," Prokos said.
Small changes have made a big difference. Using A/B testing to improve their SMS template increased response rate significantly. Adding WhatsApp as a channel led to greatly increased engagement. Simply changing their outgoing number to include a display name in the U.S. increased call pickup rate/call answer rate by 30 percent.
Greater sophistication leads to more engagement
Looking ahead, Prokos would like to bring the same type of sophisticated experiences that are already on the website to WhatsApp and other mobile channels. He sees bots in the future, facilitating a much more engaging, interactive experience that will both create interest and help gauge actual intent.
He's also looking forward to working more with the Twilio Conversations product to fuse different channels into a coherent conversational stream. The student journey can involve conversations in different channels with multiple stakeholders, particularly for undergraduate students who are making their decision with input from their parents. Parents may want to talk to the school via email and receive a paper brochure in the mail, while the high school students prefer WhatsApp or SMS. Where previous solutions siloed interactions that occurred on different channels, Twilio Conversations will help keep all communications threads connected. "Getting more sophisticated with how we blend channels together, allow multiple parties on a single channel, and track that whole conversational stream across channels is super-interesting to me," Prokos said.
Prokos is also interested in leveraging Twilio's Programmable Video in the near future, and even having conversations move smoothly back and forth between SMS and video chat.
"Our goal is to be the world's most international business school—providing effective, trusted communications, regardless of where our students and candidates are located, is key to this," Prokos said. "We're an always-on business school, actively speaking with people in the channel of their choice every hour and every day of the week, and Twilio has enabled us to do that at scale across 140 countries."
Ready to get started with Twilio?