How Télécoms Sans Frontières helped Venezuelan refugees regain their lives via technology
When it comes to responding to humanitarian crises, there is no one-size-fits-all rulebook. By their very nature, these crises bring unexpected challenges and difficulties first responders have never seen before. One need look no further than our current global situation and the COVID-19 pandemic to see exactly that.
In some crisis situations, traditional forms of aid, such as material support, may not meet the needs of those affected. Télécoms Sans Frontières (TSF) recognizes that, and seeks to bring technological solutions to humanitarian issues where conventional methods can't be implemented or would have limited impact.
The Pau, France-based NGO is the world's first to focus on emergency-response technologies. During humanitarian crises like the Venezuelan migration crisis in Brazil, the organization gives impacted people the ability to contact loved ones and begin to regain control of their lives—and Twilio helps them do it.
Giving a voice to the voiceless
Giving a voice to those affected by natural or human-made disasters and longer-term humanitarian crises is TSF's main priority. The organization does so by directly helping the victims, or by supporting the whole humanitarian community and governments to improve the delivery of vital assistance.
When crises occur, communication systems are often strained, or can break down entirely. TSF focuses on providing communication methods to affected individuals, so they can get in touch with loved ones. They also facilitate communication between other aid organizations to improve and accelerate the overall response to the crisis, explained Head of Mission Florent Bervas.
"Depending on the context, culture, and technological development of the affected country, we make the most of terrestrial and satellite technologies to allow our beneficiaries to restore family links and to improve their conditions," he explained. "Providing in-kind assistance is essential, but we're also offering them a way to regain control of their resilience."

In Brazil, Venezuelans fleeing their country found it difficult, if not impossible, to contact relatives left behind with news and support. International communication costs proved prohibitive, and most of the Venezuelan telecommunication companies are unable to ensure roaming with international phone providers due to the fall of Venezuelan currency on the international market.
TSF looked to Twilio for a solution, and found it in elastic SIP trunking.
The organization brought together the best conventional technologies available in the field and the most advanced data and voice services to develop a unique, effective solution. They used conventional analog handsets, local terrestrial connectivity, and the most advanced and efficient codecs—used to convert an analog voice signal to a digitally encoded version—to enable deep control of each element of the communications chain.
"The use of VoIP (Voice over Internet Protocol) services, like the SIP trunking service provided by Twilio, allows us to overcome the technical challenges and to focus on delivering free calls to the thousands of Venezuelan refugees who fled into Brazil," Bervas said.
Before using Twilio, TSF used satellite communications, but found costs were too high. Satellite also didn't let the nonprofit provide as many simultaneous calls as they could achieve using Twilio.
"Twilio helped us to reduce latency and increase the quality of the calls," Bervas said. "Additionally, the level of customization available through Twilio let us fine-tune the quality of the free calling operations we carried out in Brazil."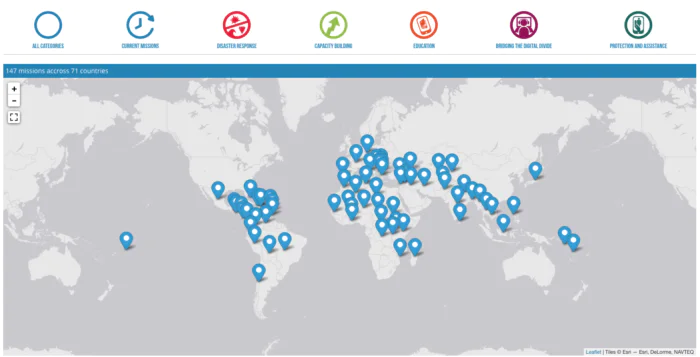 "Twilio helped us to reduce latency and increase the quality of the calls. The level of customization available through Twilio let us fine-tune the quality of the free calling operations we carried out in Brazil"
In total, the 20-month TSF program in Brazil helped more than 25,000 refugees, enabled 153,000 calls, and was available in 19 locations across three cities, Bervas said.
The project officially ended at the close of 2019, but the need still remains—not just in Brazil, but the entire region.
"We are evaluating the possibility of a wider response to this crisis, which would even better respond to beneficiaries' needs, and on a larger scale," Bervas said.
Ready to get started with Twilio?