storEDGE transforms lead gen for the self-storage industry with call tracking powered by Twilio
storEDGE, a company of Red Nova Labs, is the trusted web-marketing platform for more than 5,000 storage facilities. In 2009, storEDGE selected Twilio as the foundation for its solutions that help self-storage operators quantify the efficiency of their marketing campaigns and increase occupancy. Today, the company delivers a comprehensive set of solutions built on Twilio.
Challenge
Lacking modern, web-based approaches to lead generation, the self-storage industry has struggled with efficiently converting leads to customers. Companies often spend hundreds of thousands of dollars on outdated lead generation efforts, such as Yellow Pages listings, whose effectiveness is complicated or impossible to measure and may result in few leads. Exacerbating the challenge is the fact that phone calls account for 90% of the industry's leads, the majority of which do not convert to a reservation. Without hard data to manage the lifecycle of leads, self-storage companies have relied instead on best guess estimates to try to maximize marketing ROI. In order to stay competitive, independent operators in particular needed a data-driven communications approach to track leads from initial phone call to move-in.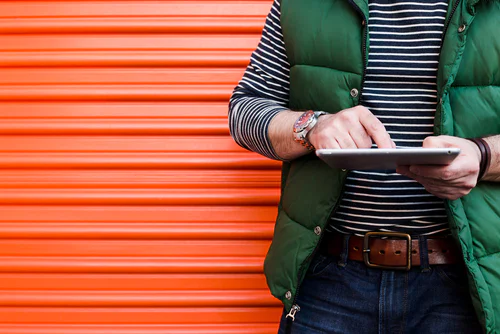 Solution
storEDGE turned to Twilio to provide self-storage facilities with innovative call tracking tools to ensure that web page leads convert to phone calls, and phone calls convert to revenue-generating reservations.
storEDGE used Twilio Voice to build call tracking and call recording functionality into its online directory, which facility managers can set up with one click. storEDGE's call tracking solution automatically identifies the location and assigns a unique local phone number to the storage facility, which is then listed on the StorageFront site. Each dedicated phone number captures analytics that measure the effectiveness of each listing, such as number of leads generated, number of calls received, and length of calls. In addition, StorageAhead enables their customers to pinpoint incoming calls as new leads vs. existing customers. Knowing where a lead is coming from is critical in demonstrating ROI to clients and providing insight for allocation of future marketing budget.
storEDGE also provides a downloadable mp3 file of each call, which storage facility managers can use to monitor sales and the quality of service provided.
storEdge, is the first self-storage business management software that also incorporates lead management information. Built on Twilio Voice, the cloud-based solution provides all customer-related account data, including payment and collections status, before a call is answered, and logs call recordings directly with the tenant's file.
storEDGE is considering using Twilio for outbound calling as well as SMS features, such as client bill reminders or pay-by-text – useful features which will improve efficiencies in handling delinquency. "We can have a proof of concept in a day, then easily build it out from there, which makes it easy to come up with a wish list of how to use Twilio for developing new features," said Tim Banks, Director of Engineering at storEDGE.
"Twilio is an integral part of our business and we rely on it heavily to give our customers the hard data they need to maximize conversions."
Results
Thanks to Twilio's robust API and clear, comprehensive documentation, storEDGE was able to build easy-to-use products without contacting Twilio support. The development team built their internal communications tool in only five weeks; subsequent products required an average of only two weeks of development. "There were no cases during development where we were clueless," said Banks. "Twilio gave us exactly what we were looking for."
In addition, storEDGE didn't have to hire a senior developer, saving storEDGE tens of thousands of dollars in the initial development alone. "Twilio has saved us a lot of money, and also given us peace of mind. We continue to be impressed with the performance of Twilio's platform," said Banks.
"Twilio is an integral part of our business and we rely on it heavily to give our customers the hard data they need to maximize conversions," said Banks. "Our clients are excited to have a real-time view of their facility's progress, including calls, leads, who moved in, how much they paid and how much they're generating a year. This is powerful information."
A few million visitors per year use StorageFront, which includes listings for thousands of facilities. Twilio makes it easy for storEDGE to purchase a dedicated number for every new listing, enabling on-demand scalability regardless of growth rate.
After implementing their call tracking solution built on Twilio, storEDGE clients find that 95% of all leads are calls, which storEDGE can accurately track and use to justify their clients' marketing spend.
---
Ready to get started with Twilio?