How Dream11 connects sports fans to their favorite teams
One thing sports fans have in common? They know their team best. "In every nook and corner of India—amongst 1.3 billion people, you'll find a cricket expert," said Vaibhav Kokal, Vice President of Product at Dream11. "Fans use our platform to test their knowledge of sports and their skill in picking the right team." Users create fantasy teams with real-life players to score points and compete with friends.
Cricket is Dream11's most popular sport, however the fantasy sports app also offers contests for hockey, football, kabaddi, and basketball. The platform partners with many professional sports leagues, and sponsors, including the Indian Premier League (IPL), the world's most-attended cricket league.
Engineering trust with email
Dream11 sends users transactional email confirmations as the deadline for their matches approaches. Mandatory notification emails are also automatically dispatched whenever users withdraw and deposit money in the app.
"As the leader of the fantasy sports industry in India, we're in the business of trust engineering. Whether users pay 20 cents or 150 dollars to join a contest, they need to trust the platform they put their money into," explains Kokal. "Having a positive experience with email communication is part of that trust."
Because Dream11 has more than 5 million concurrent users on the app, often participating in multiple contests, the fantasy sports platform sends an enormous volume of notification emails. As Dream11's user base rapidly scaled, the company needed an email provider that could accommodate its surging email send.
Trust in scale
Reliable scale is what led Dream11 to select Twilio Sendgrid's Email API for its email program. From the beginning, the company trusted that Twilio SendGrid could effectively scale to support the 500 million emails it typically sends on a monthly basis. As the app has doubled its user base year over year, Twilio SendGrid's robust infrastructure and powerful APIs ensure Dream11 offers its users a seamless experience alongside the app.
When users register on the app, their email journeys with Dream11 begin. Emails throughout the user journey aren't always simple alerts—many help educate users. The brand guides users through game play and provides instructions for next steps after users join a new contest.
Before matches, Dream11 sends users emails on any transactional action that they have performed on the app. Once matches end, the fantasy sports platform dispatches email alerts, which declare winners, break down contest statistics, and explain the results to players. With millions of emails being pushed out during concentrated time periods, reliable, speedy delivery is key. Often, Dream11 alerts winners via email before cricket players have even left the field.
"We trust Twilio SendGrid to scale to our use case," said Vaibhav Kokal. "We trust that SendGrid will scale to the number of emails we need to send at any given time and that our emails are successfully delivered to our users. When 300,000-400,000 emails are sent per minute, this is very critical."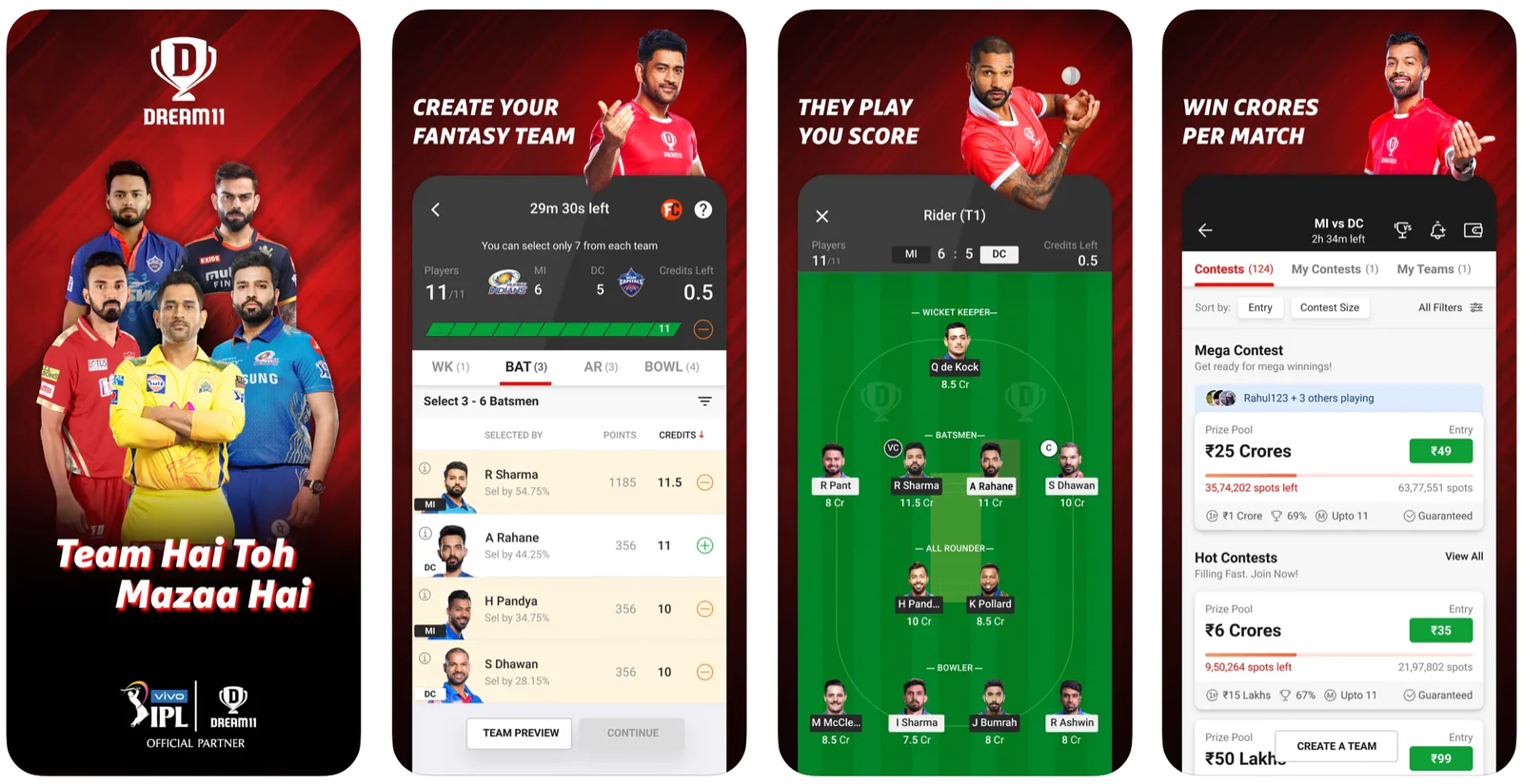 Rich data insights
Dream11 integrated Clevertap with Twilio SendGrid's Email API to automate and dynamically segment its marketing emails. The integration allows the company to send targeted emails to select cohorts of users, which significantly increases email engagement. "The Clevertap integration with SendGrid is a win-win solution for Dream11," remarks Kokal.
For example, users who have churned from the platform are targeted to receive emails containing promotions. Promotional emails sent to user cohorts return open rates up to 20%.
Dream11's season report card emails bring the highest engagement rates. The report card details a user's number of wins, best performance, and best teams. Users are excited to open the emails, which highlight their own performance. Open rates for these personalized emails are as high as 30%.
Additionally, Twilio SendGrid's dashboards empower Dream11's internal customer success team to deliver a better experience for their users. Users occasionally inquire about unreceived email promotions, not realizing they may have unsubscribed in the past. Rich data insights and an intuitive UI help the team easily identify the problem and quickly solve customer concerns.
Upleveling deliverability
Going forward, Dream11 continues to uplevel its email program by partnering with Twilio SendGrid's deliverability experts. Achieving top-notch email deliverability can be complex—Twilio SendGrid helps the sports platform implement best sending practices to guarantee its emails are effectively reaching users.
Ready to get started with Twilio?