Bandsintown connects fans to their favorite artists with Twilio SendGrid
Email is the primary way users interact with the concert discovery platform outside the app. Music taste is unique and personal—Bandsintown needs its location and preference-based recommendations to resonate with users.
To accomplish this, Bandsintown has used Twilio SendGrid's Email API since the early days of its email program. From the perspective of the team's developers, there's really never been an alternative.
"Other email delivery services sometimes assume you're not a developer, which can be very hand-holdy and put you in a box," said Jesse Ridgway, VP of Product Development at Bandsintown. "What's great about SendGrid is that it plugs into our services the way we like it to and doesn't make it hard just to get the email out the door."
Seamless Automation Alerts Fans First
Bandsintown's email program is massive in scale, sending out more than a billion emails a year—especially as more fans tune in to virtual concerts. The platform aggregates livestream events, spreading the word via email. Using the platform, artists can get the word out about livestream performances, which is essential for midsize artists who depend on performing.
Bandsintown uses Twilio SendGrid's email API to send automated weekly digests, alerting fans when their favorite artists' shows are happening near them. When an artist announces an upcoming concert in Denver, all users who are registered in the area will automatically receive an alert. Similarly, Bandsintown dispatches ticket alerts and showtime reminders for live streams to fans that express interest.
Twilio SendGrid facilitates a smooth automation for email notifications announcing live shows and streams. SendGrid enables the platform to queue batches of emails targeting individual recipients, segmented by audience and location.
Despite a shift from in-person events, email engagement has increased significantly. Live streams, which are open to viewing around the world, have surged Bandsintown's email open rates. Personalized email alerts have performed above industry standards, with some unique open rates reaching 27%.
"SendGrid has never been a bottleneck for us. Once it gets into your hands, we never have issues. We've been really happy with that, and that's why we continue to work with you guys over the years," said Ridgway.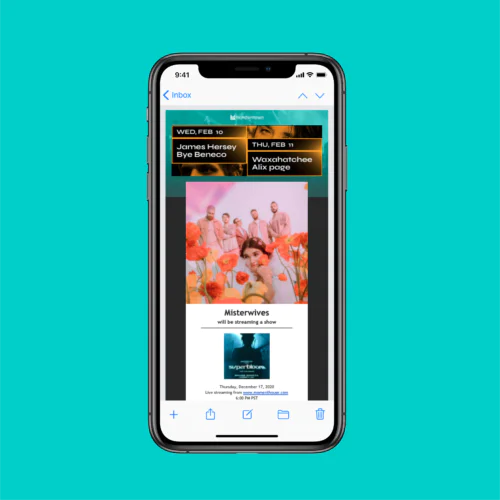 Reliable Scale for a Small Team
Sending timely notifications to more than 60 million active users, the platform must reliably deliver at scale. Twilio SendGrid provides tools to help the platform avoid falling into spam traps or damaging its sender reputation. Using these tactics, Bandsintown has achieved an average delivery rate of 99.05%.
"There's a long chain of different actions and functions that contribute to notifying fans when artists announce a new show. A lot of things from point A to point B can break. In our experience, SendGrid is never one of those things. As a small team that sends email to so many users, it's important things don't catch on fire."
Connecting Fans to Artists
In response to the rise of virtual events, Bandsintown decided to build a live music streaming platform, where fans can watch shows along with other fans in their own environments. The company has since launched Bandsintown Plus, a subscription experience offering users 25 curated livestream events a month. With this new platform, artists can interact with fans virtually.
As the platform evolves, its focus remains on the fans. Email will continue to be an important channel to communicate the app's latest experiences— notifying users about events like after-show VIP sessions with artists. And when concerts do resume in-person, Bandsintown will keep live stream events accessible for those who aren't yet comfortable leaving home or fans who want to jam out with their favorite band half-way across the globe.
Ready to get started with Twilio?