How GlobalGiving's platform empowers impactful giving
GlobalGiving helps build relationships between donors and trusted nonprofits from Afghanistan to Zimbabwe. The tech nonprofit provides more than 5,000 community-led organizations with access to the tools they need to meet fundraising goals to achieve their missions. Training programs teach small nonprofits about digital fundraising, offering expertise to create compelling email messages and move the needle on engagement—with no html experience required.
On the donor side, the nonprofit wants people to experience a feeling of fulfillment like they would after volunteering in-person. This feeling drives donors to continue charitable giving. Pulling out a credit card for an online donation, while incredibly generous, doesn't always inspire the feeling of having contributed to something greater. Oftentimes, the impact communication ends at the confirmation receipt.
Building a better experience for charitable givers
To innovate and improve on the donor experience, GlobalGiving developed a research-based approach where donors not only feel the impact of their generosity, but are exposed to new community-led nonprofits around the world.
GlobalGiving decided email was the right channel to reach donors with personalized communication informed by data based on past giving preferences. Email is a crucial part of building relationships with donors. In fact, 83% of people say they prefer to receive communication from organizations via email. GlobalGiving sends donors personalized email updates to communicate the impact of their gifts.
"It's key to build and nurture trust with donors and to create an email experience that really helps the donor feel the generosity they are exhibiting and to feel the impact of their gift," said GlobalGiving's Chief Product Officer, Kevin Conroy.
Creating personalized email experiences for more than 1.2 million donors requires flexibility. With two decades of nonprofit experience, GlobalGiving has cycled through several email service providers. Most were designed for bulk communication and did not offer the level of customization the nonprofit needed. At one point, the nonprofit broke a provider's system because the platform could not support the personalization at scale GlobalGiving required—2 million email templates, each catered to individual donors.
At this point, GlobalGiving decided to step back and reexamine how to build an email program that could be hyper-personalized at scale. Once GlobalGiving tackled these problems, the team knew it could finally focus on what's most important—an email program dedicated to caring for each and every donor.
Hyper personalization at scale
GlobalGiving discovered Twilio SendGrid through CTOs For Good, a community of tech-forward nonprofits. The nonprofit evaluated SendGrid's Email API and soon learned it could easily manage large-scale transactional emails and was incredibly simple to stand up.
"And, those two million templates? Something SendGrid is easily able to handle," noted Conroy.
GlobalGiving can easily connect its machine learning models and data warehouse to SendGrid's platform to create personalized emails for each donor, including reports on the impact of their donations and recommendations for other causes. If donors have previously supported reforestation projects, they might receive a project recommendation to help regrow mangroves. Personalizing emails is incredibly important. Pet lovers may be excited to support animal welfare projects, while others may find it hard to justify giving to animals while poverty exists. Giving is a personal experience, based on the causes that are nearest to donors' hearts. With Twilio SendGrid, the nonprofit—and the nonprofits it supports—can send more than 500 thousand uniquely personalized emails across its donor base per month. Emails reliably land in the inbox exactly as they should.
"I've seen how frequently other tech platforms have deprecated features with APIs which change every six months," explained Kevin Conroy. "SendGrid is among an elite few where the integration we built 10 years ago still works. Our team knows we can just depend on SendGrid."
For a small team, unexpected API changes can be enough to jump ship, as they don't have the capacity to keep up with ever-changing requirements.
"These changes make us less productive. We don't want to keep going back to fundamentals. We want to be able to build the next feature that's going to really help drive more donations," said Conroy.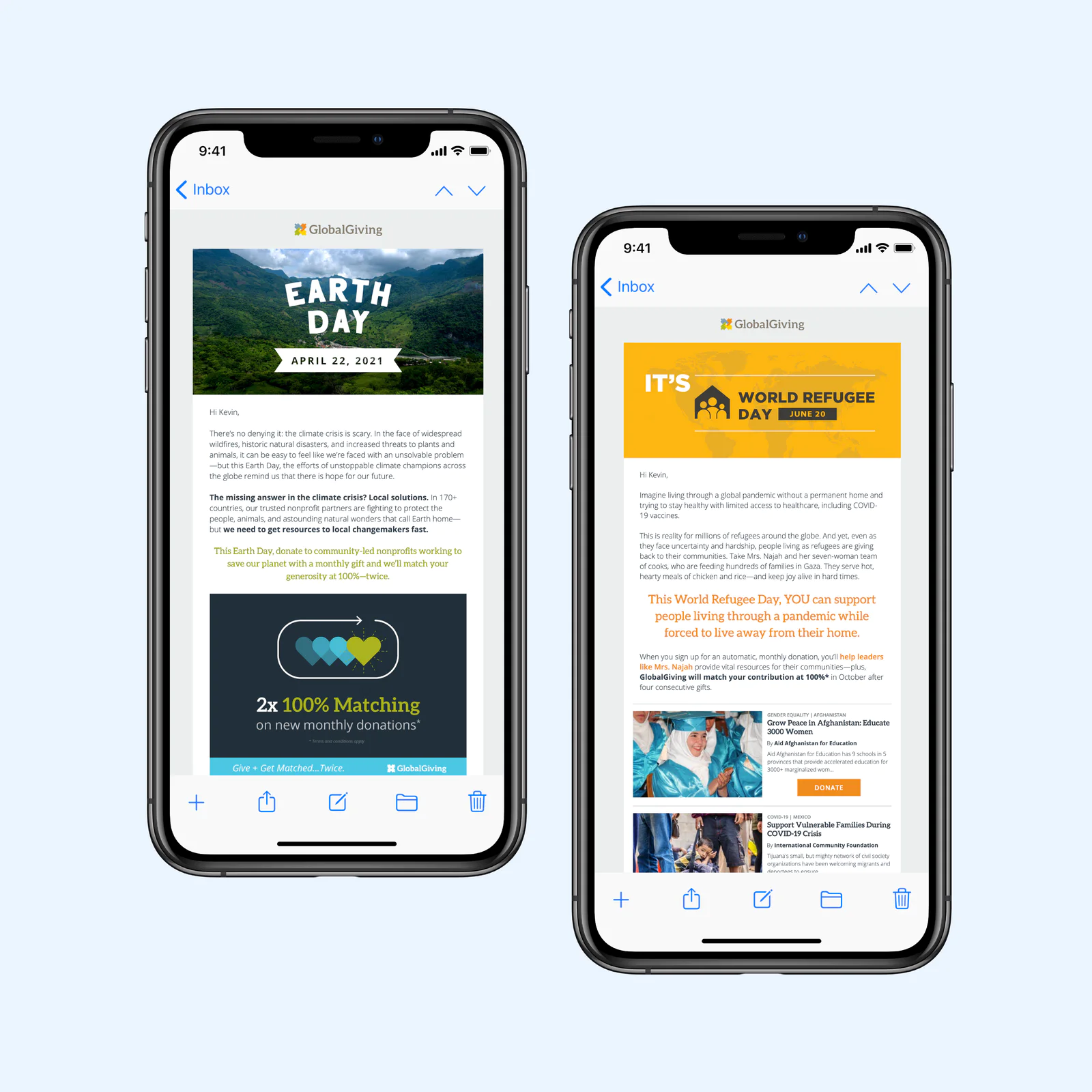 Data-driven email strategy drives donations
Twilio SendGrid's email delivery analytics has led GlobalGiving to transform the way it strategically sends email.
"One of our favorite tools is SendGrid's Event Webhook, which provides analytics back to us so we can integrate that data deep into our database," said Kevin Conroy.
GlobalGiving built a full analytics suite, which gives the team insight into what percentage of emails individual users are engaging with, open rates, click rates, and spam rates. This enables the nonprofit to maintain good list hygiene, as well as an exceptional sending reputation with an average delivery rate higher than 99%. GlobalGiving can easily resolve concerns from nonprofits they serve—whether emails hit a spam folder or a recipient accidentally marks an email as spam.
"Thanks to the reliability of SendGrid, I know with confidence that our emails are getting to where they need to go," said Kevin Conroy. The webhooks give us the granular level of detail we need to troubleshoot individual cases."
SendGrid's webhooks also reveal when it's time for GlobalGiving to switch up their email strategy. If donors aren't engaging, it signals they aren't ready to give. GlobalGiving helps nonprofits tactfully adjust subject lines or send inspiring impact messages to spark reengagement.
"Sometimes the most compelling email is simply the impact story, like the school that was built or the mangrove field that was planted. Let's talk about how your donation made this happen," explained Kevin Conroy.
Donors are more likely to engage with these kinds of impact messages, boosting GlobalGiving's average email open rates to 32% and click rates to 5%.
Shifting towards a new mindset
Now that GlobalGiving has established an incredibly impactful email program, the nonprofit is reimagining the donor experience surrounding disaster-relief fundraising. The platform acts as an intermediary in disaster situations to create thoughtful, community-based funds to source donations.
Donors are most inspired to give within the first 72 hours after a disaster occurs, when it's critical to quickly deliver funds to the organizations on the ground. The reality is, relief and recovery efforts continue well after the story has faded from the front page news. Events like Hurricane Maria have ongoing damage, which communities are still rebuilding from years later. With this in mind, GlobalGiving is adjusting the cadence of its email communication to provide donors updates on the long-term impact of their contributions.
"We're moving towards a new mindset to help make sure that we can engage people for the long run," said Kevin Conroy.
GlobalGiving's email program strengthens donor relationships to keep its community engaged for years to come, so nonprofits can continue to make life-changing impacts for communities around the globe.
Ready to get started with Twilio?