How Walcu brings next-level customer support to a classic industry
The automobile sales industry in Spain has evolved quite slowly. It's not uncommon for dealerships to offer only traditional communication methods for its sales people and the customers they serve. Instead of SMS or Whatsapp, Spanish dealerships often use landline phones to field customer calls. It's not surprising that 30% of incoming customer phone calls go unanswered in Spain. Equipped with only a missed call log, important customer queries can fall between the cracks if dealerships forget to return phone calls. Customers are left without the support and service-level they need.
Empowering developers to create their own experience
Quickly recognizing this gap, Walcu, an automotive CRM, knew it needed to build communication channels for its car dealership customers. Walcu evaluated several providers for voice and SMS. Ultimately, the auto CRM chose Twilio to develop voice, email, and SMS channels. At the time, Twilio had quickly established itself as a reliable and scalable cloud communication channel provider in Spain. Walcu believed Twilio could effectively support its team of developers to build the customer engagement experience they needed—unifying customer communications so dealerships can effectively engage customers on multiple channels.
"I knew, from the beginning, our company couldn't exist without Twilio," said David Pilo, Walcu's cofounder and CEO. I was not interested in building something if Twilio didn't exist, I didn't want to get into the business of what I'm doing today. I was looking for a company that could enable us, the developers, to create their own experience."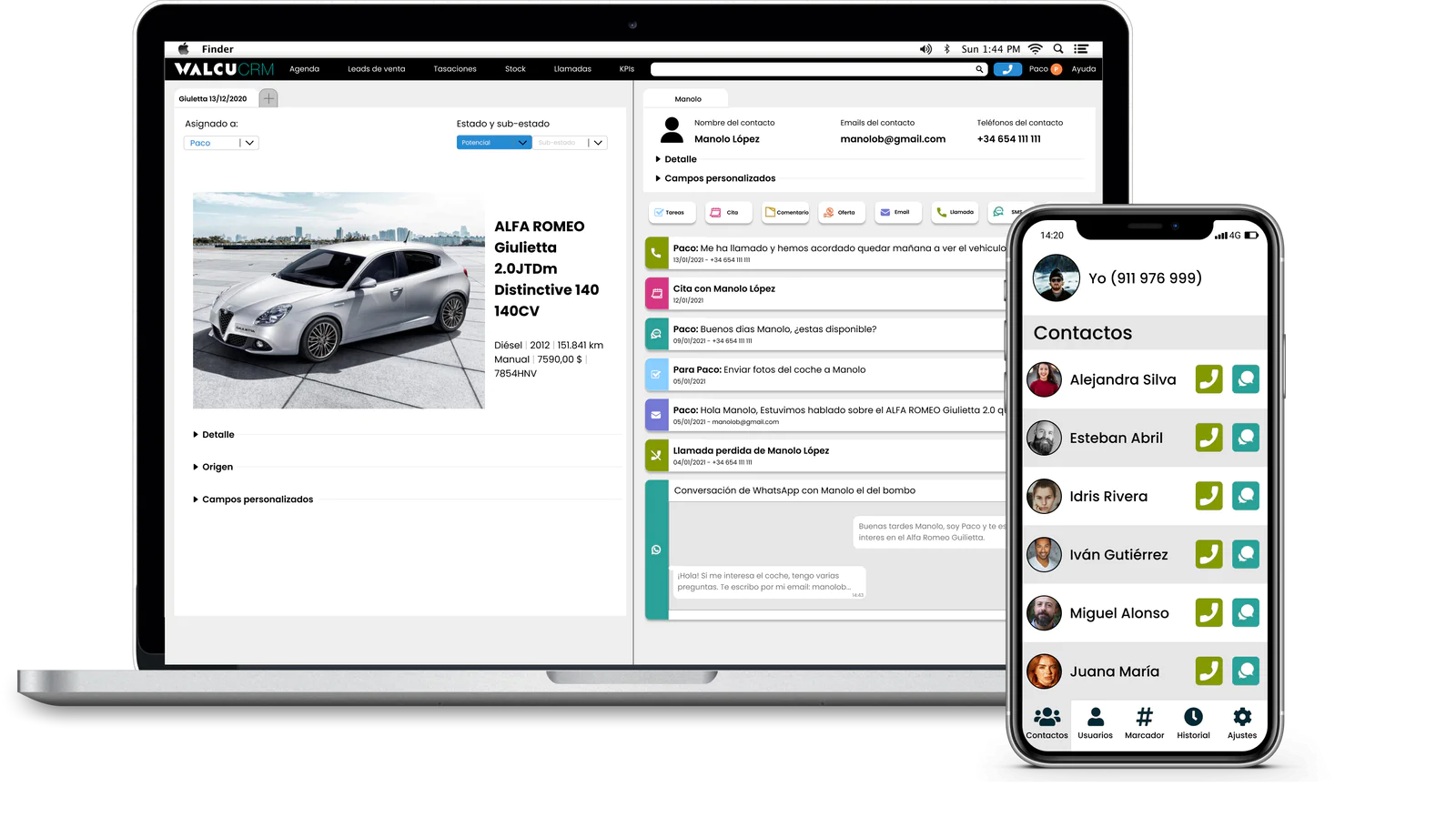 Building an omnichannel experience for auto-dealers
With Twilio, Walcu enables dealerships to strengthen relationships, bringing customer communication all into one place. Twilio powers the channels that connect customers to their sales representatives and service technicians, personalizing every step of the customer's journey.
"We use Twilio's APIs to empower our users to do things that they could never do themselves," said Pilo.
An early game-changer, Walcu seamlessly integrated Twilio Programmable Voice into its CRM platform, empowering dealerships to answer and return large volumes of customer calls—about 100,000 calls per month. Now, single dealerships can easily manage 500 simultaneous calls at peak volume. Powered by Twilio's Voice API, dealerships can launch calls from Walcu's CRM on their mobile phones. All incoming and outgoing calls are automatically recorded to simplify customer relationship management.
Walcu also created an email solution upon Twilio SendGrid's Email API so dealerships can send follow-up notifications to customers who are interested in purchasing a vehicle. With Twilio's flexible APIs, sales representatives include recent outbound call information pulled directly from Walcu's CRM to remind the customer when they last spoke. With this personalized approach, dealership email open rates have increased from 20% to as high as 70%. When dealerships wish to send large-scale marketing messages, Walcu relies on Twilio SendGrid's Marketing Campaigns to easily design branded campaigns. Using SendGrid webhooks, dealerships can view email performance to keep campaigns on track.
With multiple channels at play, Twilio Notify enables Walcu's customers to receive platform push notifications via the app or web browser, notifying customers when they are receiving a call or email. Often, customers report that the push notifications alert them ahead of their inbox providers—offering a sneak peak of the message and ensuring that they never miss a beat.
Direct communication with a human touch
As more consumers prefer to be reached directly via text, Walcu decided to build personalized SMS communication with Twilio Programmable Messaging. Dealership sales representatives can reach customers from the comfort of their mobile device, allowing them to text back and forth about vehicles they are interested in. Walcu supports more than 50,000 text messages between sales representatives and their customers a month. No longer playing phone tag, end-customers can make car buying decisions more quickly.
Dealers have the ability to build hyper-personalized messages with automated flows to better engage their customers. Specific details, like the number of times a sales representative has called the customer or the particular vehicle the customer is interested in provides the text messages with a human touch—encouraging customer replies and ultimately increasing sales by as much as 15%.
Personalizing every step of the customer journey from car purchase to routine service, Walcu has also empowered dealership service departments to directly communicate with clients about the status of their vehicle during appointments. Technicians text customers as soon as their car is ready for pick-up—suddenly routine service appointments aren't so painful.
"With Twilio Programmable Messaging, we enable dealerships to be closer to their clients," said Pilo. Customers frequently answer back to the SMS texts, and have actually been pleasantly surprised that it's so easy to communicate," Pilo noted.
Walcu has unified customer communication with Twilio's flexible APIs. Dealerships can strategically choose one channel over the other to message end-customers where they prefer. Or, they can use an omnichannel approach to keep customers engaged on every channel.
Built for scale
Disrupting the auto sales industry in Spain, Walcu reached its first million in revenue in just a year and a half. From David Pilo's perspective, Twilio has helped pave the way towards this success—helping build new channels to strengthen customer trust. Next, Walcu is poised to expand its reach beyond Spain, bringing its services to car dealerships throughout Europe. Twilio will reliably scale to support Walcu's expansion into new markets.
"Partnering with Twilio was a very conscious decision. We needed a partner that's reliable and scalable as we expand into Europe," said Pilo.
Ready to get started with Twilio?