Conversations that scale—How Text Request connects more than 7M customers to businesses with Twilio
Automation may be fun to talk about, but it's conversations that build relationships, create great experiences, and lead to profitable businesses with loyal followings. The problem? It can be hard for businesses to reach their customers!
Thanks to robocalls and email spammers, the chances of getting customers to answer phone calls and emails has dropped significantly. If you can't connect with customers, you can't schedule appointments, close sales, provide service, or do any of the things it takes to move your business forward. Text Request was founded to fix that.
Launched in 2014 in Chattanooga, TN, Text Request set out to give businesses a professional way to text with customers, as a team, using their office phone numbers, so they could start (and finish) valuable conversations that drive customer engagement. Text Request has since empowered thousands of businesses and nonprofits to connect with more than 7 million people—and they use Twilio to do it.
Asking the right questions
Today, businesses and nonprofits of all sizes use Text Request to reach their contacts instantly for reasons ranging from appointment scheduling and promotions to staffing and payment collections—even for inbound lead generation and customer service.
Text Request handles more than five million messages a month from tens of thousands of business customers with millions of contacts. But founders Brian and Jamey Elrod and Rob Reagan started Text Request because of one question: "Why can't you text a business?"
Texting may be a leading form of person-to-person communication, but at the time, there was no way for an average customer to text a business. They thought people would rather text a business than to call in, fill out a form, or show up in person, but recognized that most customers didn't want to download another app to do it.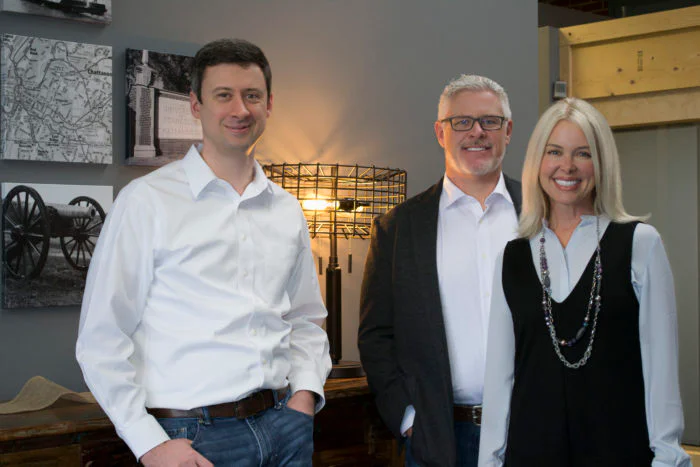 From service requests to all-purpose communications
Text Request's founders started the company as an inbound customer service tool for the hospitality industry, so hotel guests could text the front desk for room service, and diners could text their favorite restaurants to set reservations.
But they soon found a bigger problem—service businesses, like maid services and moving companies, couldn't reach their customers to schedule or confirm appointments, and it was costing them arms and legs in lost opportunities.
"We've always taken a customer-first approach to our software. We talk to our customers every day, and then we build the solutions they need to accomplish their goals. Twilio has been great to work with, because their platform has been flexible and strong enough to support our ever-expanding needs."
The team realized their software could solve this problem, too. Before long they saw another problem: lead generation… then online reviews, then staffing, then payments, then updates and promotions. All of a sudden Text Request was powering conversations for small- and medium-sized businesses, nonprofits, and enterprises across nearly 100 different industries.
In all of these cases, Text Request customers needed a reliable way to grab customers' (and other key contacts') attention at critical moments, and inspire them to take action. They're able to do that through Text Request's team-friendly dashboard, built on Twilio.
Organizations can handle one conversation at a time, or start conversations with thousands of contacts at once. Users have tiered permission levels, and can also text from multiple business numbers under the same account, which makes managing communications simple at scale, even if your business has multiple locations.
Starting with one Twilio product and building out more
Text Request's founders needed to build a proof of concept, and they tried their POC with three different communications platforms (including Twilio).
"I remember it like it was yesterday," said Brian Elrod, Text Request's co-founder and CEO. "We were all standing around a table in front of a computer, and we sent a message using the first option. It never showed up. We sent a message using the second option, and it took five minutes. We sent a message using Twilio, and it showed up instantly. We knew if we were going to sell a messaging product to anyone, it had to be instant, so Twilio was the obvious choice."
"Twilio was the most developer-friendly platform. They had the easiest API to use, and we felt Twilio would emerge as the leader in the messaging API space over the long run. We also knew we wanted a partner who already had a super network with carriers that we could leverage."
"Twilio was also the most developer-friendly platform," said Rob Reagan, Text Request co-founder and CTO. "They had the easiest API to use, and we felt Twilio would emerge as the leader in the messaging API space over the long run. We also knew we wanted a partner who already had a super network with carriers that we could leverage."
Text Request built out their two-way texting software with Twilio's programmable messaging, and over time has added other Twilio products, like programmable MMS, Hosted SMS, and Co-Pilot.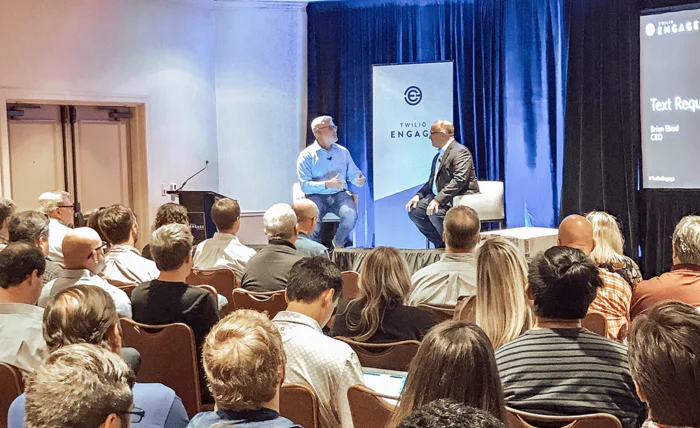 "First, customers needed to text," said Jamey Elrod, Text Request co-founder and COO. "Then they wanted to share pictures, so we added MMS. Then they wanted to text from their office phone numbers—their business landlines and VOIP numbers—so we added Twilio's Hosted SMS API. Then we started moving up market, and we had larger businesses wanting to send larger volumes."
"But that can be tricky with long-code numbers, and at scale," said Reagan. "That's when we started using Co-Pilot. We needed a way for customers to reach tens and hundreds of thousands of opt-in contacts quickly.
"Co-Pilot lets us spread messages across different phone numbers while keeping message continuity. So when a customer gets a message from one number, their conversation history will always be with that same number. For the Text Request customer, it all fits in the same dashboard. It's a very good, seamless experience for everyone."
Expanding globally with a strong partnership
Text Request plans to continue adding tools and solutions on top of Twilio's APIs to help their customers further improve customer experiences and engagement. While they currently have customers in all 50 U.S. states and every province in Canada, they aren't done expanding yet.
"We've already been getting opportunities in places like the U.K. and Australia, among others," said Elrod. "And many of our current customers also have offices outside of the States. We plan to expand out to meet this demand and continue growing Text Request, and the infrastructure we've got with Twilio is going to make this an easy transition."
Ready to get started with Twilio?