Small businesses, big impact—How podium uses Twilio to help local businesses connect with their customers
Big business may make the news, but it's the small, local, often family-owned companies that truly impact our lives day-in and day-out. Mechanics, car dealerships, plumbers, repairmen, dentists, and countless other service providers—they're what keep our homes, cars, and lives ticking.
Anyone who's worked at such a company knows that every spare moment is spent providing for the customer, on call or in-house. But today's omnichannel environment means that today's customers expect more from every provider they choose, big and small alike.
Enter Podium, an interaction platform that makes it easy for local businesses to modernize their customer communications while also improving their online reputation and driving more business.
Formed in 2014 and headquartered in Utah, Podium helps more than 40,000 local businesses interact with their customers the way their customers want, while empowering employees to do their jobs better. Podium has helped their customers reach 1 in 4 cell phone users in the US—and Twilio helps make it happen.
From Google reviews to omnichannel communications
With Podium, businesses can quickly and easily interact with their customers and prospective customers via two-way messaging on a variety of platforms, all from one convenient location—the Podium app.
Whether they're making an appointment, asking a question, or checking on a live service request, businesses can respond to customers quickly, on the platform of their choice. More than 130,000 users engage with their local businesses on Podium, tallying up a whopping 250,000 text messages a day and 16 million interactions a month.
And to think, it all started with some bad Google reviews.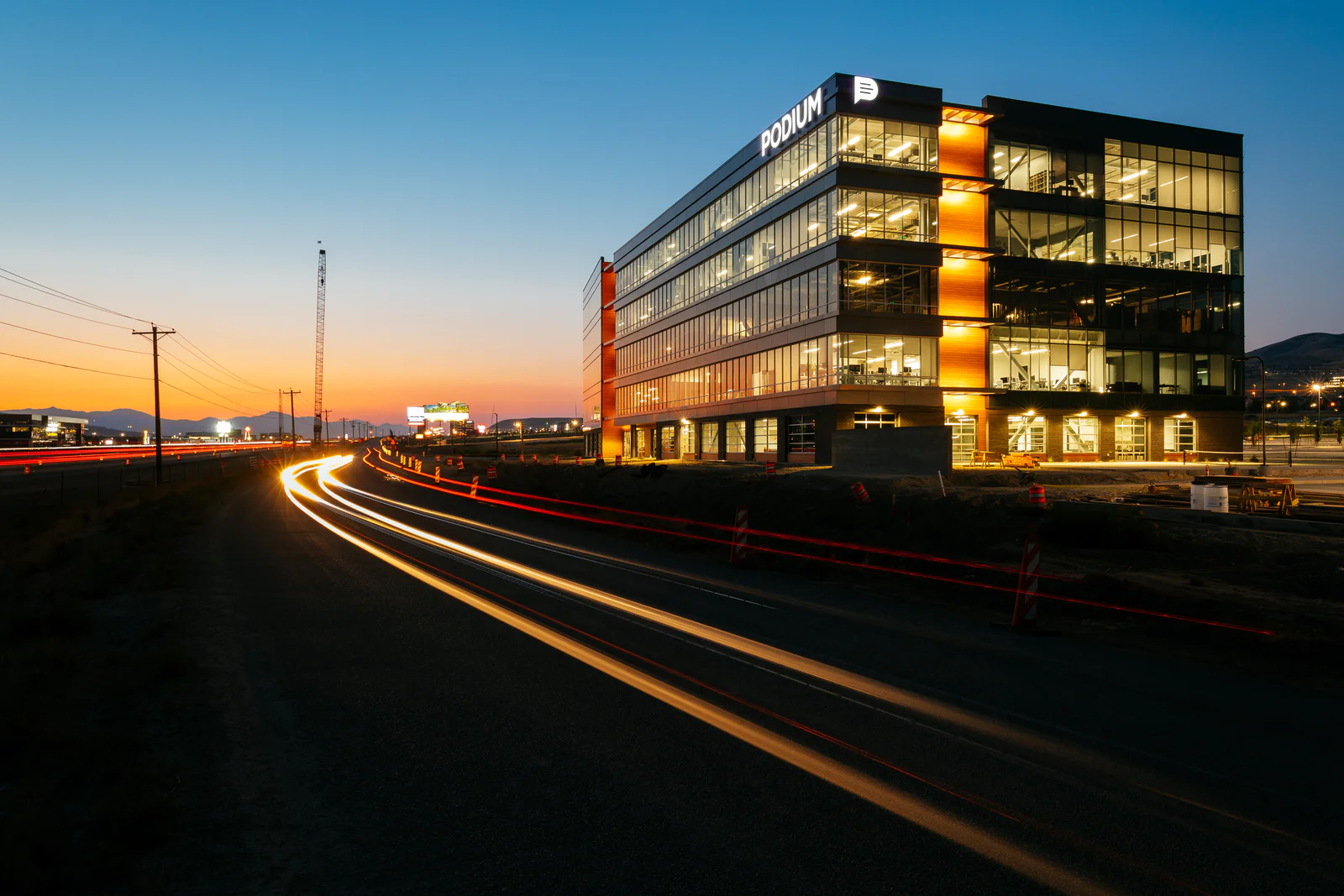 Podium's founders started the company to give local businesses an opportunity to request reviews from their customers via text message, and they started from the ground up with Twilio.
The Podium team used Twilio to create a system for sending text messages via local phone numbers to customers, requesting they review the business and providing a link to do so. But what started as a simple one-way request quickly became a two-way conversation. Businesses found that customers were not just reviewing them; they were responding via text to set up appointments, ask questions, and engage further with their local business. So, Podium expanded to two-way texting.
Twilio lets Podium businesses host their SMS on their existing phone numbers, so if they have a landline they've been using for years, they don't have to switch to a new phone number to enable two-way comms. Podium only uses long code numbers to make the interaction feel more real, and equips businesses with local area code numbers so customers don't flag their messages as spam.
They also give website visitors the ability to initiate a text conversations directly from a widget on their website.
"New customers have no concept of how Twilio works or how to purchase a number or any of that. We just tap into APIs to look up phone numbers, purchase them, set the messaging web hook, and set the voice web hook—and all that stuff just happens behind the scenes. For [the customer] it's seamless. It's helped us move very quickly."
Giving employees deeper insight
Podium doesn't just make it easy for customers to communicate with their local businesses, though. They also make it easier for employees at those businesses to do their jobs, better. In fact, Podium users save 5 hours a week on average by using Podium Messenger instead of traditional communication channels.
"Podium brings it together into one place where [employees] are able to jump in and help each other if someone is unavailable, to collaborate and answer questions," Brand explains. "It also gives the management of these businesses an idea of the conversations that are happening, to be able to work with their employees to improve those conversations."
Instead of having multiple phones, and a variety of apps on those phones for talking to customers and managing accounts, Podium business users are able to log into the Podium app and manage all communications, like those coming through Google Business Messaging, Facebook Messenger, and SMS text messages, directly from the platform. And, they can hand off a conversation to the right party, or loop another employee in, if they need to—all with the tap of a finger. All of that adds up to significant benefits: the average Podium customer sees a 6 percent increase in revenue from their improved online reputation.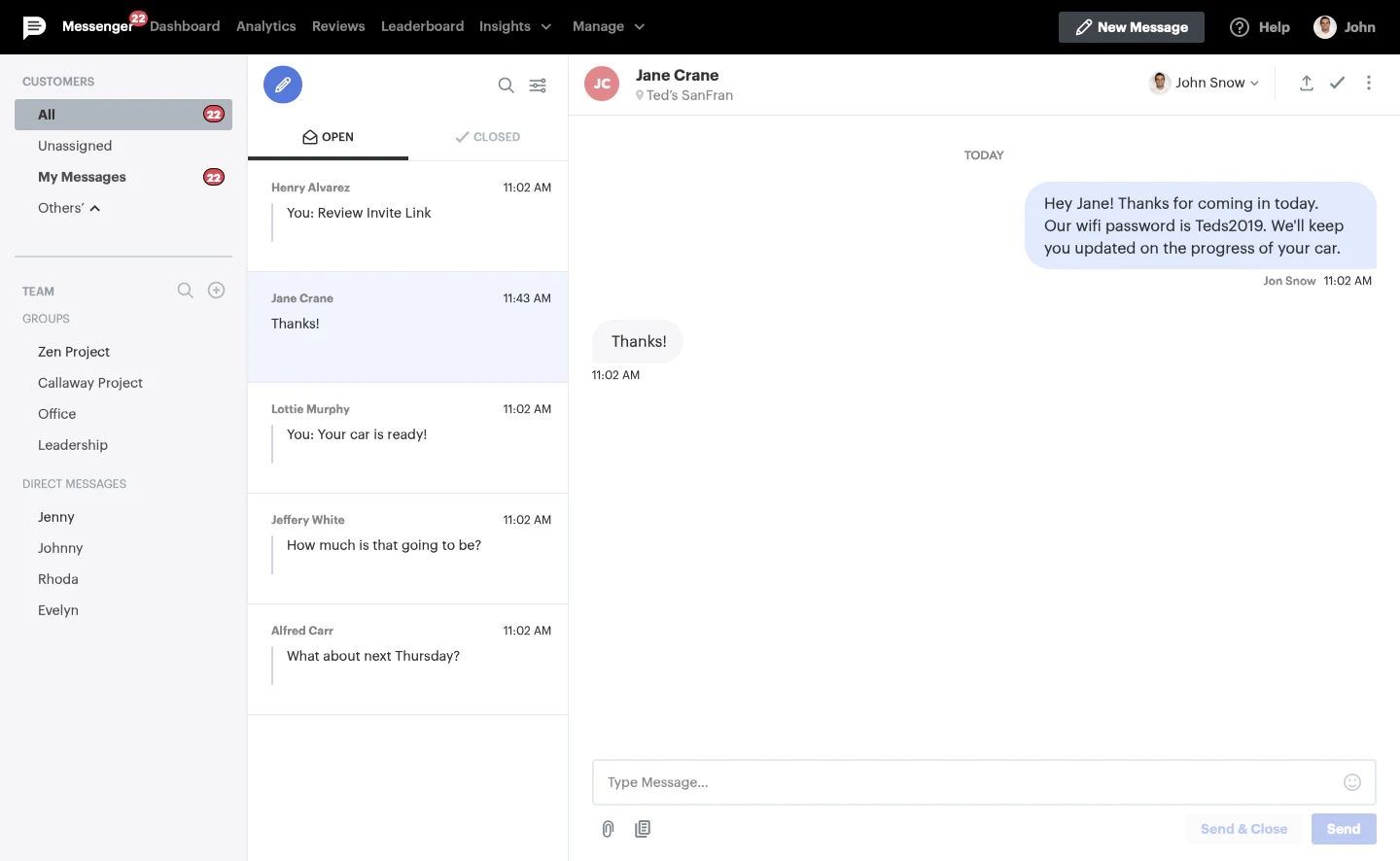 Unparalleled reliability, and a bit of inspiration too
Brand and his team know from experience that with Twilio, reliability is at the backbone of it all. That's why they've been using Twilio since day one, and plan to expand their usage in the future. It lets them focus on expanding their product and serving their customers better, Brand said.
"We're able to focus on building our product knowing that on the Twilio side of things, 99.999% of the time, it is going to work," he said.
CJ Powers, Podium software engineer tech lead, agreed.
"Twilio has an API for everything we need to do. They're really reliable. They're super configurable. We look at Twilio to get ideas on how we can build our own side of things to scale the same way Twilio has."
CJ Powers, Podium software engineer tech lead, agreed.
"Twilio has an API for everything we need to do," he explained. "They're really reliable. They're super configurable. We look at Twilio to get ideas on how we can build our own side of things to scale the same way Twilio has."
Thanks to Twilio's ever-expanding roster of products, Podium is exploring more features and functionality, including additional channels and ways of communicating to better support their local business customers.
"When CJ and I started with Podium three years ago, there were about 40 employees and we were all in one room," Brand recalls. "We're now in a five-story building with almost 650 people. So it's been pretty crazy growth in three years, which I think is validation to the importance of this type of communication for these businesses."
————————————————————————
What is the ROI of your text marketing program?
Use our calculator to quantify the dollar-impact of a Twilio-powered text marketing solution
Ready to get started with Twilio?