Quotatis connects contractors to home improvement jobs using Twilio
You've brought that new sink home from the hardware store—now what? For the DIY-shy, Quotatis partners with home improvement retailers to connect available contractors with people who have just bought products that need assembly or installation. The Quotatis platform uses Twilio to send API requests between the retailers and contractor network, and it sends texts via Twilio's Programmable Messaging to help get home improvement projects done efficiently. In the words of Quotatis Chief Product Officer Sandrine Hippolyte, "We use our digital facilities to make sure everything goes smoothly for everyone in the process."
Matching contractors to jobs
While many contractors fill the majority of their time with large, complex projects, Quotatis provides a cost-effective way to slot in smaller projects—and increase the ROI of taking on these quicker tasks—by eliminating the time-consuming work that precedes a job, including marketing, scheduling a time for an initial on-site consultation, and preparing estimates.
Quotatis partners with home improvement stores, including French DIY giant Leroy Merlin. When a customer buys something and needs help with assembly or installation, the retailer can use Quotatis to post the customer's project information, including photos, desired dates, necessary materials and a price in accordance with the professional price grid provided by Quotatis. Contractors who have accounts with Quotatis can log into the app, or even receive push notifications, to find projects that suit their location, availability, and preferences. They accept jobs through the app, triggering an SMS notification to the owner of that new sink, electric heater, or boiler.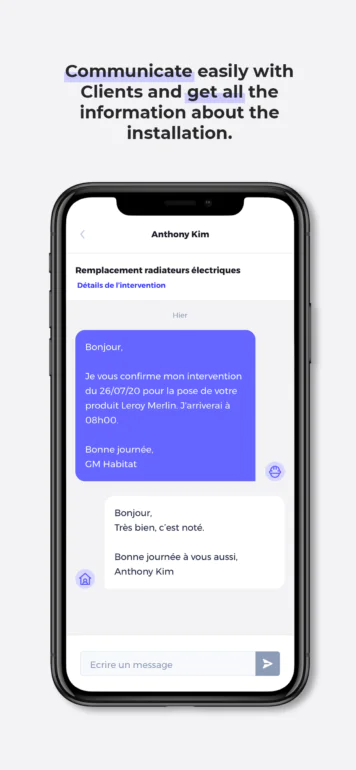 xBecause the entire communication system is built using Twilio APIs, Quotatis is able to offer yet another critical benefit to its users—masking of personal contact information in communications between contractors and customers. When exchanging messages through the app, no identifying personal data is revealed to either party, keeping personal phone numbers protected and ensuring users' privacy.
Solving inefficiencies
With Quotatis as the central connecting point of these three stakeholders—the retailer, the customer, and the contractor—inefficiencies in the communication process began to crop up as the service spread across France. When contractors didn't receive enough information up front from the retailer about what the project required, they would call the helpline at Quotatis, who would in turn call the retailer back to ask for clarification and then relay the information to the contractor. Quotatis also ended up serving as a middleman when a customer wanted to change a date or a contractor needed to adjust a time. "It wasn't very efficient for anyone," Sandrine said. "We wanted a solution to help them have conversations directly."
The developer team at Quotatis benchmarked Twilio against the simpler SMS system they had been using and found that Twilio could do much more. "It was very important for us to have tools that would help us have one conversation across different channels," Sandrine said, explaining that while the contractors use the app to send and receive messages, the customers respond simply by SMS or via the Quotatis website.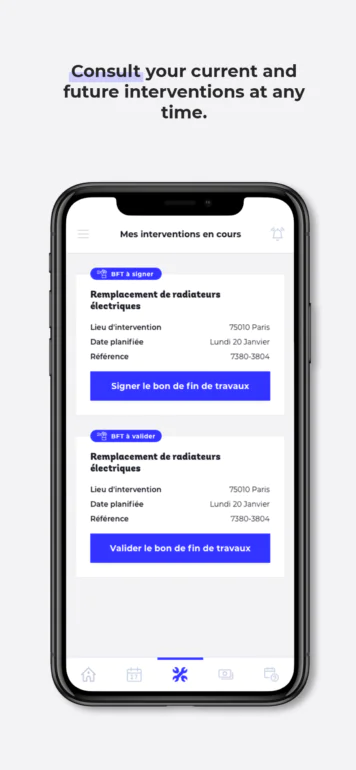 Quotatis adopted Twilio Programmable Messaging to streamline communication by providing templates for messages arranging the time, date, and location, and for the contractor to request further information or photos. Both the client and the contractor electronically sign a contract using an authentication code sent by SMS. Contractors can keep a history within the app of all jobs pending, in progress, and completed. To keep projects moving efficiently, notifications are all via SMS or in-app notifications rather than email. At the completion of the project, customers receive both an email and a text message asking them to rate their experience out of five stars, which helps the contractors build their reputations.
"Since we build our own product without outside agencies, it's very important to have partners that can be reactive as we grow."
Expanding capabilities
Quotatis builds using agile methodology, rolling out improvements every two weeks. "Twilio helped us deliver this experience in a very short time," Sandrine said. While Quotatis certainly doesn't read every message between contractor and customer, using Twilio enables Quotatis to analyze the kinds of messages that are sent. That helped the product team create messaging templates to further speed professional communication by allowing contractors to send well-crafted messages at the touch of a button.
Looking ahead, Quotatis is interested in using Twilio to potentially expand their messaging options to include WhatsApp. Sandrine also sees room for growth through Twilio's machine learning capabilities. She said that while Quotatis' matching algorithm is already quite efficient, the potential to factor in external events that can affect certain contracting jobs—like weather for outdoor work or traffic patterns in urban centers—would make the app even more powerful.
Sandrine stresses that she appreciates the quick turnaround times Twilio has allowed her developers to achieve and the support Twilio has provided. "Since we build our own product without outside agencies, it's very important to have partners that can be reactive as we grow," she said.
Ready to get started with Twilio?