How Klaviyo helps retail businesses build deep connections with customers
Challenge
Klaviyo needed a reliable, scalable email delivery and SMS solution that would allow them to focus on building awesome experiences for customers.
Solution
They found the best APIs for SMS messaging and email to provide customers with reliably strong delivery rates at immense scale, without taking on any of the complexity themselves.
---
Klaviyo is on the pursuit to make sprawling marketing stacks a thing of the past. The marketing platform helps businesses build relationships with their customers with channels like email, SMS, and social media. Brands leverage data and insights to engage their customers with highly relevant messages, ultimately driving revenue to their businesses. 
Two of the most effective channels to reach customers on are email and SMS. Businesses identified as leaders in customer communication tailor their communications to deliver the right information using the right channel at the right time. In fact, 75% of consumers have taken action, such as visiting the website or making a purchase, when businesses communicate on the channel they prefer. 
Mastering your own marketing destiny
Successful relationships with customers start when messages reliably hit their inboxes. Klaviyo knew it needed to find a way to take the complexity out of delivering marketing messages via email and text. It wanted the reliability and expert support of a partner to provide insight that would help Klaviyo and its customers grow. The company also needed a solution that could support its diverse customer base—something built for scale, but also flexible enough for brands to delight their customers with a personal touch. 
Klaviyo was searching for a rich set of APIs that would empower its team to build connections programmatically and automate processes. 
Flexible APIs let developers focus on building
Klaviyo discovered Twilio SendGrid during the early stages of launching its email marketing platform. The company realized effectively managing the complexities of email delivery would take an experienced partner—so it decided to build its email platform upon Twilio SendGrid's Email API. Relying on SendGrid's delivery expertise, Klaviyo's developers could focus on building creative solutions rather than learning the ins and outs of email infrastructure. On average, Klaviyo's delivery rates consistently reach 99.94%
"Using digital communications is critical to engaging customers and building a business online. Working with Twilio SendGrid has allowed Klaviyo to focus on building innovative solutions and not worry about email delivery," said Hongbin Yin, Engineering Manager of Klaviyo's Email Team.
Klaviyo has built a user-friendly experience for beginner marketers and sophisticated senders alike. Online businesses can easily get started with creating a signup form, growing their list, and sending emails at various points throughout their customers' journeys. Segmentation lets Klaviyo's customers target recipients with personalized content, boosting engagement and deliverability stats. 
With the flexibility to iterate, developers can create custom events and automated flows to create differentiated customer experiences. Automated welcome series emails sent by Klaviyo's ecommerce customers have returned benchmark email open rates as high as 46.94%, with click rates reaching 9.20% and conversion rates up to 2.41%.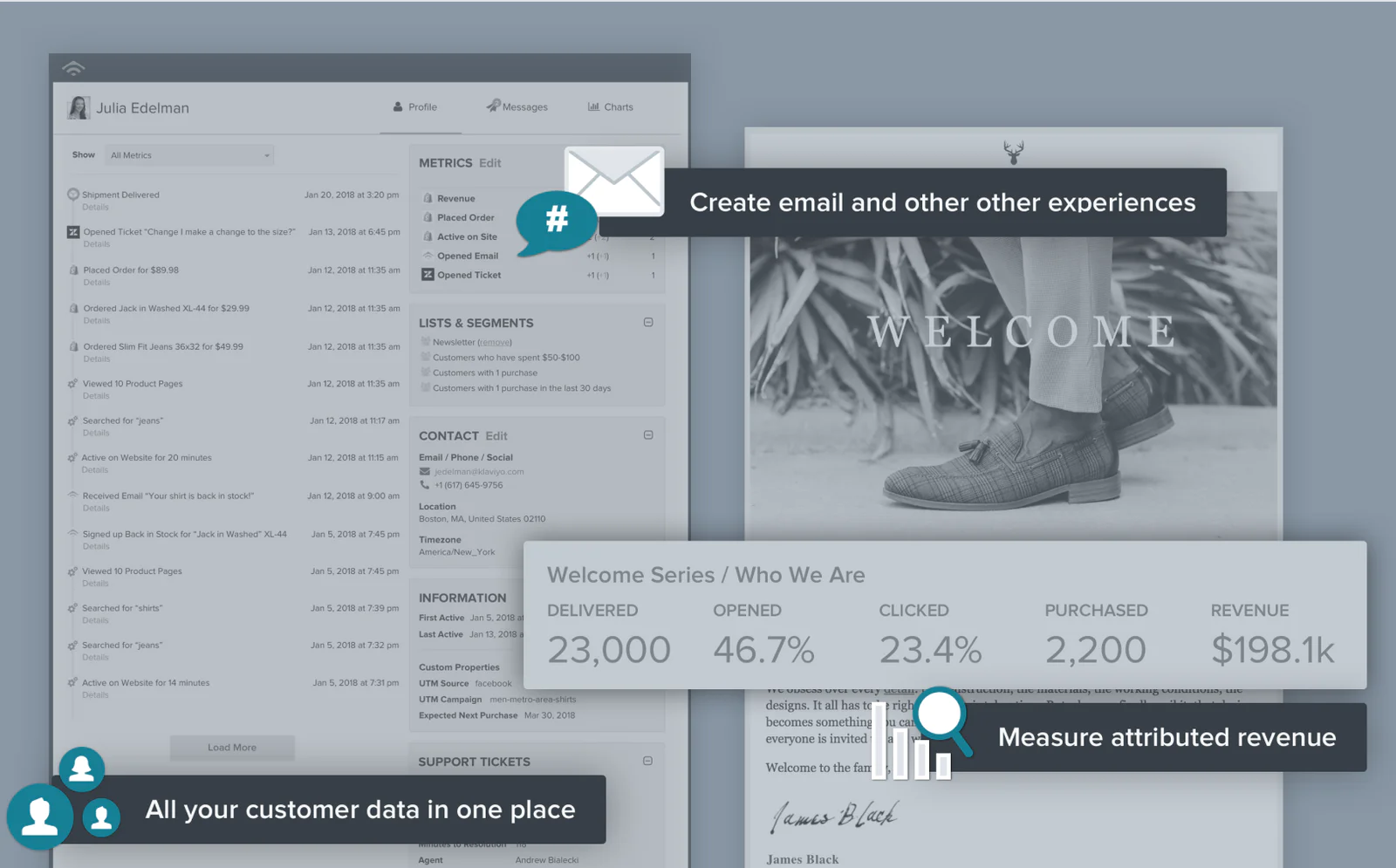 As Klaviyo's star has risen in the ecommerce space, its email program has grown considerably—doubling volume year over year. Via SendGrid's Email API, Klaviyo now sends around 10 billion emails per month on behalf of its customers. SendGrid's powerful infrastructure easily handles 15 thousand transactions per second with a median delivery speed of 1.9 seconds. For blooming retail businesses, this speedy message delivery helps build trust.
Looking for additional avenues to help businesses foster personal relationships with their customers, Klaviyo began to explore text marketing.
Fostering deep connections through SMS
Klaviyo decided to create an SMS solution that would allow its customers to send texts to their customers. The team found Twilio had the best set of APIs to support the experience their developers wanted to build and easily fit into Klaviyo's system structure. It was also quick to get customers up and running from a self-service perspective.
Twilio's Programmable Messaging API ensures text messages are delivered to consumers as intended with Messaging Service features that ensure content is correctly encoded, and provide an ideal end-user experience with sticky senders and media fallback. 
This frees up Klaviyo to focus on expanding its SMS platform's use cases. With the platform, businesses can communicate with their customers about sales events, cart reminders, order confirmations, and tracking updates. Klaviyo also enables two-way conversations to promote customer loyalty.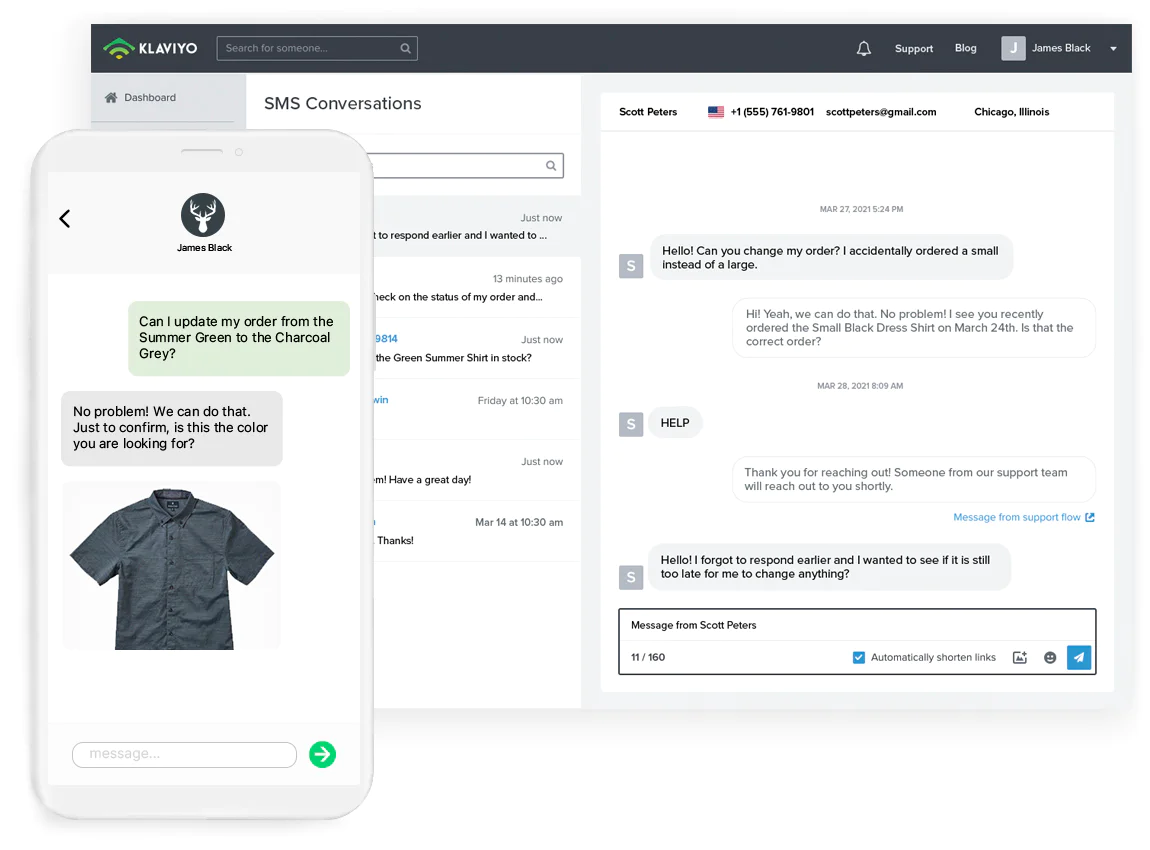 "Our SMS solution is centered around building very deep and personal relationships, similar to how you think of texting your friends or family," explained Andrea Wan, Head of SMS at Klaviyo. "That should be the same experience when you're texting with a brand. We help customers build intimate connections with their recipients. It's not about sending tons of messages en masse all at once."
Similar to the meteoric rise of its email platform, Klaviyo's SMS solution is building quick momentum, supported by Twilio's unrivaled message reliability and scale. 
"SMS is in this rocket ship growth at the moment," said Wan. "The number of customers we have is growing manifold month over month. Twilio has been a great partner for us in helping us move along each stage of that growth."
Specifically, Twilio's support team helps Klaviyo expedite customer sign up for short codes and better educate customers on carrier specific rules, Wan explained.
The power of a multi-channel approach
Klaviyo's platform enables brands to curate experiences for their customers. When retailers launch new campaigns, they can select which sending channel they prefer. The combination of both channels is the most powerful play, Wan explains—particularly for abandoned cart reminders or a welcome series.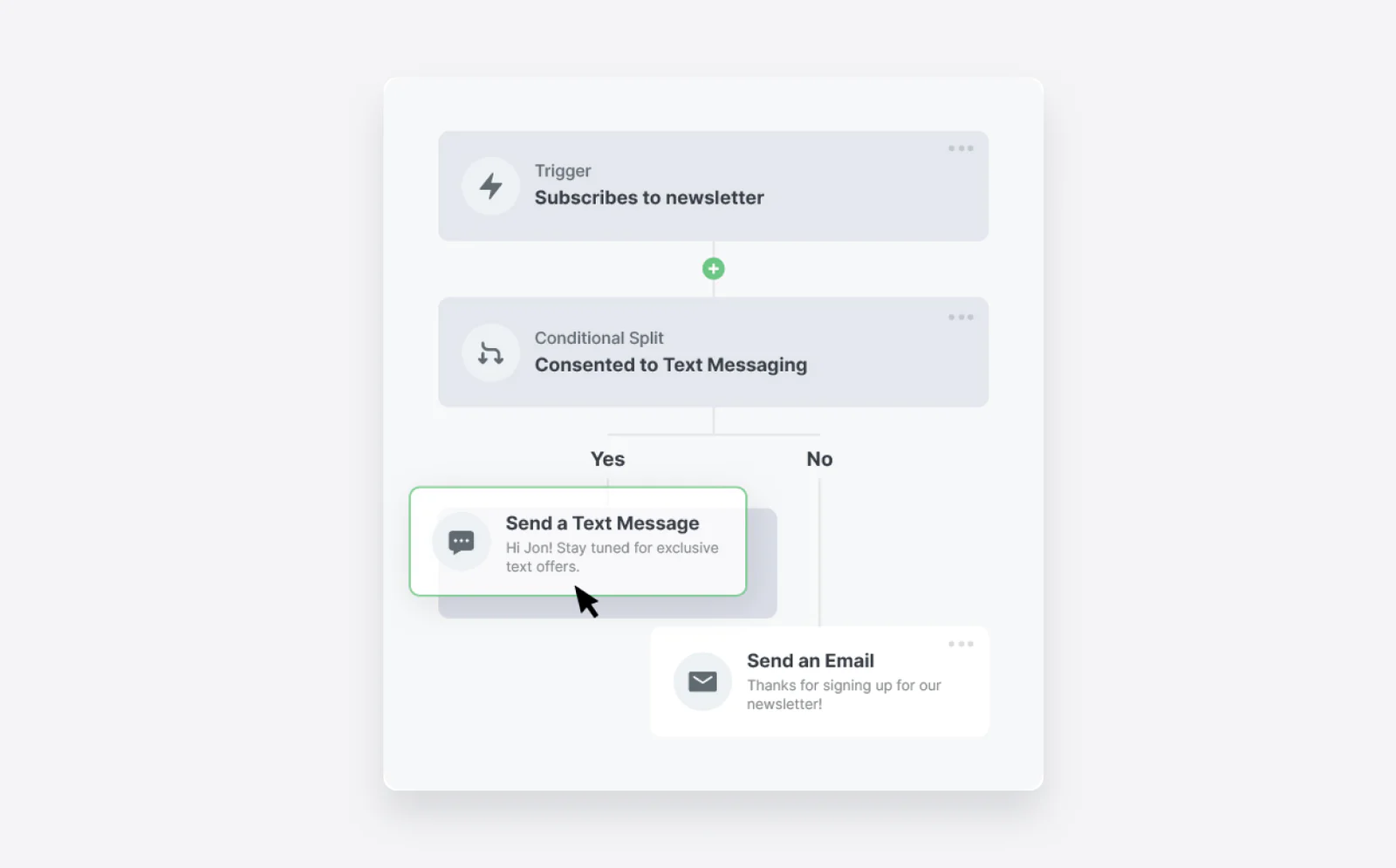 Sending SMS and email messages at various touch points ultimately drives customer success. After campaigns are sent, Klaviyo uses Twilio SendGrid webhooks to report data such as delivery events and open rates, segregated by subuser account for each customer. This data helps inform how customers can improve sending strategy, and most importantly—how campaign success equates to growing their businesses.
As Twilio's rich APIs ensure messages are successfully delivered, Klaviyo's team is intently focused on creating innovative features for its customers.
"Our customers don't have to worry about what's going on under the hood. Through our partnership with Twilio and [Twilio] SendGrid, we've been able to provide a very high caliber, high quality product that our customers are rating very well on a regular basis through NPS and CSAT."
Ready to get started with Twilio?