Diamond Resorts uplevels its email marketing program with Twilio Sendgrid's Marketing Campaigns
Building a memorable customer experience is a top priority for Diamond Resorts. It offers members a chance to break away from their day-to-day routines with unique destinations and events. To provide an amazing vacation experience, it's critical that guests feel supported from the first time they encounter Diamond Resorts to well-after they become members—and all the moments in between.
Email is a core component of the company's digital engagement strategy. The company uses email to attract new members and nurture existing members with event promotions, discounts, and proactive support. Diamond Resorts realized it wasn't getting what it needed out of its legacy email marketing provider. The platform was cumbersome and didn't provide the flexibility to personalize member's email experiences. Diamond's team needed flexibility—particularly, an easy-to-use platform that could integrate with other tools in Diamond's marketing stack.
Data insights inform retargeting campaigns
Familiar with Twilio, the team explored SendGrid and found it not only aligned well with its business model, but was also cost competitive. Ultimately, impressed with the platform's flexible Contacts API and ease of integration, Diamond Resorts decided to replace its legacy email marketing platform with Twilio SendGrid's Marketing Campaigns.
"Our legacy email provider was like steering a battleship," said Craig Olinger, Vice President of Digital Marketing at Diamond Resorts. "It was big and lumbering with so many parts and pieces. Because we weren't using all of the tools, it was difficult to see success. With Marketing Campaigns we were able to execute much quicker than we had previously. We cut down on deployment time, and were able to integrate additional pieces of our marketing stack."
After pivoting to Marketing Campaigns, the digital marketing team saw a 25% reduction in turnaround time to test setup, load data, and deploy email campaigns. They can now dynamically manage multichannel opt-outs, tracking tags, sender reputation, spam traps, and delivery rates. The team previously faced challenges reaching certain inbox providers. Now, using Marketing Campaign's analytics dashboard, they have better visibility on sending IPS and real time deliverability, allowing them to proactively make adjustments so emails land in customers' inboxes. With these insights at the team's fingertips, Diamond Resorts' email delivery rate has improved to 98%.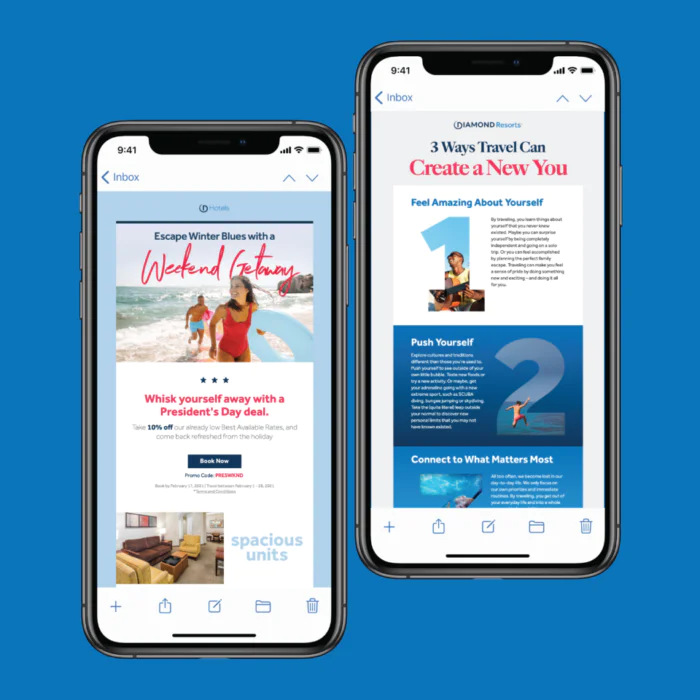 Automation powers personalization
Diamond Resorts' integrated marketing automation tools enable the digital marketing team to program automated emails at multiple touchpoints throughout the customer journey. The Automation feature allows the team to increase sending volume to 3.5 million emails per month and more efficiently track data throughout personalized campaign lifecycles.
Diamond Resorts' personalized campaigns guide members to landing pages, encouraging calls to the company's contact center or logins to the member site. The company also dispatches financial services emails for billing and membership fees.
In one of its most highly engaging campaigns, the marketing team sends awareness emails to promote upcoming events. This past year, email became the main promotion channel for Diamond Resorts' virtual events. As more members interacted with Diamond Resorts from home, the team noticed a big increase in open rates—some reaching as high as 70%.
With the ability to easily segment its recipient list, Diamond can also reach out to customers who need extra assistance with booking. Marketing Campaigns powers this white-glove service, creating additional engagement opportunities for Diamond Resorts' members.
Time for greater sophistication
After the launch of its powerful automation capability, the Diamond Resorts team is turning their sights towards greater sophistication opportunities for their email program. Using Twilio SendGrid's data streams, Diamond Resorts can uplevel its multichannel engagement strategy to better connect with its customers.
"With SendGrid data, we can track when emails are opened, which tells us when we're able to follow up with social retargeting messages—or if they aren't opened, we can adjust subject lines and try again. SendGrid's API gives us this ability. It's just well documented and really easy to use."
Ready to get started with Twilio?