FinAccel simplifies customers' credit journeys with Twilio SendGrid
Building credit can be difficult—and those who have to build credit from scratch are more likely to have subprime credit scores. Without a good credit score, making simple purchases can be a big obstacle.
FinAccel provides easy and equitable access to credit for customers with limited histories so they can shop with approved retailers. A two-click purchase option smooths the buying process and lets customers pay for purchases later with installments. Once FinAccel equips customers with a line of credit, the platform proactively guides customers with strategic advice to manage and improve their credit scores.
Communicating the ins and outs of credit financing helps FinAccel pave the way for their customers' future credit success. Email is a key part of the company's communication strategy. The digital credit platform uses email to send promotional offers and educational campaigns to its users.
Time-sensitive campaigns
Things move fast in a rapidly growing startup environment—FinAccel's marketing team dispatches multiple marketing campaigns every week. The team's existing email marketing tool was not nearly nimble enough to accommodate sending several new campaigns to a rapidly growing contact list. FinAccel was inspired to make a change.
The marketing team required an email marketing solution that would allow them to deliver important campaigns on time. After evaluating a range of solutions, FinAccel's CTO decided SendGrid Marketing Campaigns was the best email marketing platform in the market, and would support the team's scaling email program, explained Anindi Harahap, FinAccel's Senior Campaigns Manager.
"As a startup with a small team, our legacy email marketing platform couldn't keep up with our user base, which was rapidly growing 15% month over month," said Harahap. "The delivery speed per campaign was around eight hours. Our campaigns and promotions are often very time sensitive. We couldn't wait eight hours for campaigns to be delivered. With Marketing Campaigns, our delivery speed has become really efficient—we can now build and send email campaigns in under an hour."
Now, managing FinAccel's email campaigns is a breeze. Most send within 40 minutes, and even the team's largest campaigns are consistently delivered to customer inboxes in less than two hours, equating to a 75% reduction in deployment time. Once the emails are sent, they land in the inbox as expected with an average delivery rate of 97%.
Trusting that their campaigns reliably deliver on time, the marketing team now plans timely follow-up emails, without the risk of backlogging and spamming recipients. Now, FinAccel can import and sync its growing contact list in minutes—not hours.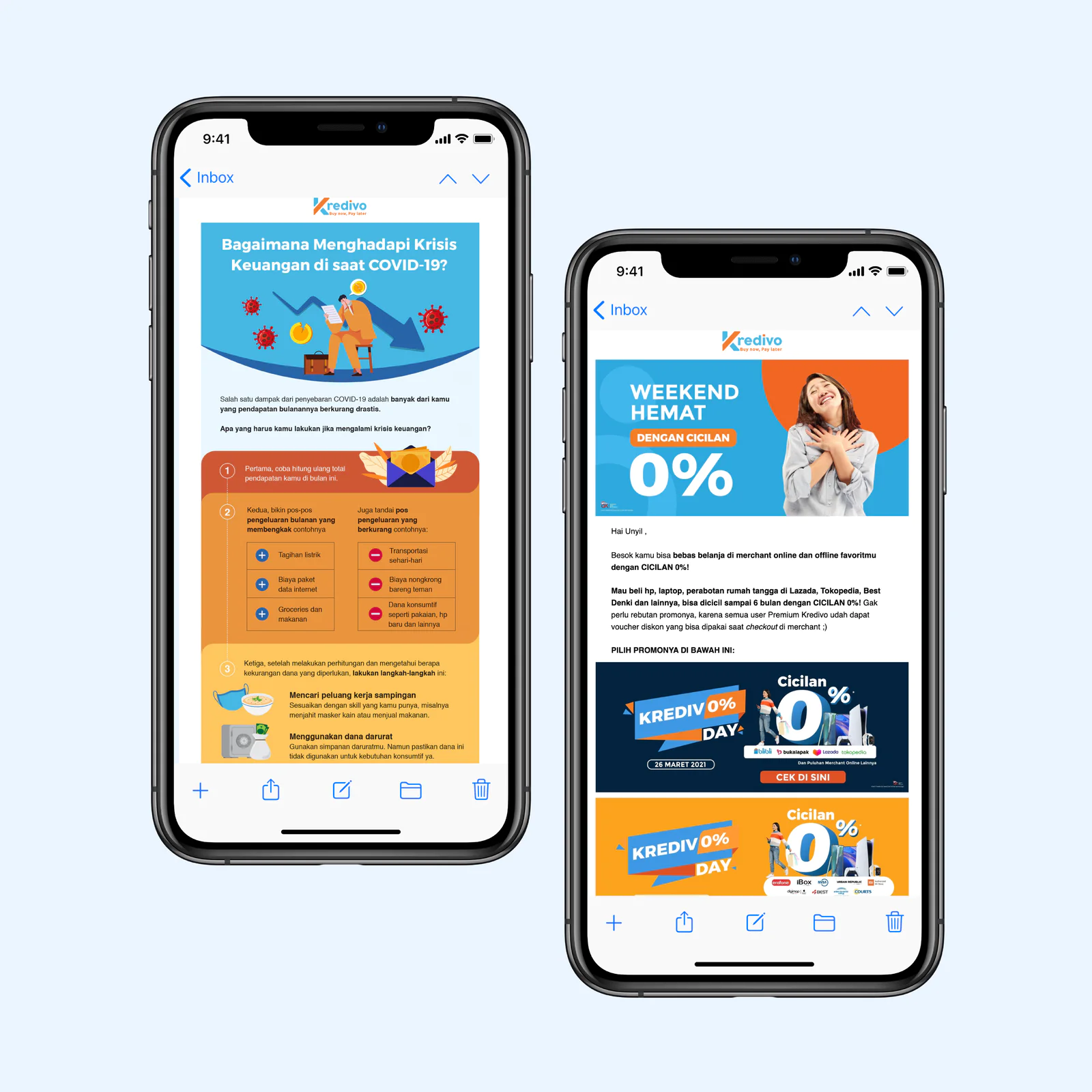 Intuitive templates make it easy to build
FinAccel uses SendGrid's full set of design tools to deliver templates that render beautifully across email clients. The marketing team has the option to customize existing templates and create new ones from scratch. The design library is flexible enough to build a variety of email campaigns, explained Anindi. In addition to promotions, FinAccel delivers single-send campaigns to help educate customers on how to manage their credit score or to alert them about new, useful product features.
"SendGrid Marketing Campaigns templates are very easy to use. As a small team it's very efficient for us to quickly design campaigns and then send them out right away," said Harahap
Marketing Campaigns dashboards make it easy to track campaign performance. FinAccel's time-sensitive email promotions have significantly increased engagement, with open rates as high as 60-70%. Successful promotions enable consumers to take advantage of short-term promotions, and also drive ecommerce revenue back to retail partners. FinAccel has built an email program that's fun and informative, but most importantly one that inspires customer trust.
Ready to get started with Twilio?