Retrieval Masters increased agent productivity 20% using Twilio
Founded in 1977, Retrieval Masters reinvented itself over the last several years and realized rapid growth unlike it had ever experienced. The Elmsford, NY, collection agency is now seeing the highest recovery rates and profitability in its 30-year history, and the transformation centered around providing agents with a call center platform built with Twilio Voice.
Collect more profits, faster with Twilio
"We increased profitability by about 9% in 2015," said Todd Fuchs, owner of Retrieval Masters. "We're more profitable than the previous year, and it can all be attributed to a custom-built dialer, custom-built logic, and Twilio, which are completely integrated. Twilio saves us a ton of time and connects us with more people."
As one of the nation's leading recovery agencies for consumer collections, Retrieval Masters handles 450,000-plus calls each day, serving more than 25 million debt-free customers. It manages more than $1 billion in receivables a year for clients nationwide, within organization in healthcare, direct marketing, telecom, and toll agencies.
The company's 300-plus call center agents, after moving to Twilio, are making 20% more calls—well above the industry average of 100 calls a day. And it's collecting more debt. "Revenue per agent is $1,600 a day and growing," said Fuchs. "We're seeing a $500 increase per agent, per day."
Twilio drives innovation and transformation
Two years ago, Fuchs, an experienced software developer and entrepreneur, took over his family business, and modernized every aspect of its operations.
The systems overhaul began with replacing the company's mainframe. "When I became involved with the call center operations, I saw it was archaic and inefficient," he said.
Fuchs and his team designed and built a cloud platform to support Retrieval Masters' operations, including CRM integrated with call center capabilities to handle inbound and outbound calling, a custom dialer, IVR and internal communication. The platform supports more than 8 million calls and 1 million texts per month.
Fuchs was searching for an IP communications solution that would enable the integration of calling into the application when he came across Twilio. "I was impressed with how easy it was to integrate Twilio and the straightforward pay-as-you-go pricing," he said. "That's when we decided to go with Twilio."
Twilio Voice provided the building blocks Fuchs needed for advanced call control, instant scalability, and cost-effective communications, along with a flexible API that would enable the company to drive innovation. "The web-based platform for Retrieval Masters is 100-percent wrapped around Twilio," said Fuchs.
Less idle time, more customer interaction
With the new call center application, agents can stay focused on talking with customers. Twilio Client adds WebRTC calling into the web browser, so agents can make calls without leaving their screens. Key information is automatically populated, and agents no longer have to switch among applications or copy and paste from one screen to another.
"We're finding that we're connecting with more people every day, and the more people we talk to, the more money we collect. That's our business," said Fuchs. "With Twilio, the moment the call ends, we get the agent onto the next call and eliminate the manual work. There's much less idle time."
The collection agency can adjust its outbound calling strategy as needed. "With Twilio, we can see how long it takes to answer and whether we're getting answering machines, and we can make adjustments to the Twilio dialer based on that information."
Retrieval Masters takes advantage of Twilio Local Numbers to complete more calls. "When we call you, we're calling from a local number in your area code," he said. "People are more likely to pick up a call from their own area code than an 800 number."
The Twilio API also allowed Retrieval Masters' developers to add privacy and compliance capabilities to meet customers' and government requirements. "Calls are automatically recorded using Twilio, and when a call is transferred or ended, sensitive information like credit card numbers can't be stored in the cloud," said Fuchs. The Twilio API let the development team easily remove the credit card number and create a single seamless recording.
Twilio helps agents respond to caller moods
Twilio has had a huge impact on the agents, letting them be more productive and work more closely and compassionately with the debtors. "Prior to Twilio, the agent had a zillion things to do before and after a call as they moved from one screen to another and to different systems.
"Now incoming calls automatically populate the screen and save so much time and labor," said Fuchs. "Agents have time to listen to someone's story and empathize with them. Treating people as human beings is good business and makes us more money."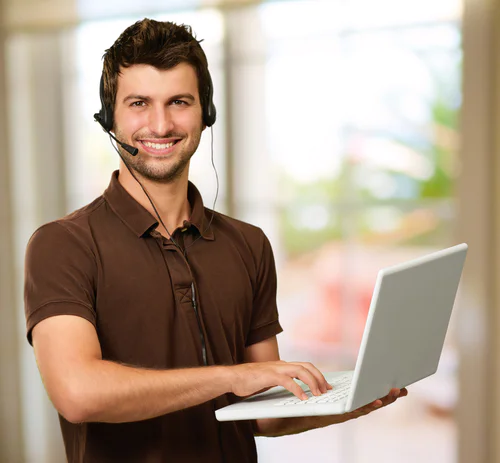 The agents even have unexpected features that help them guide their conversations.
"What the agent can do while on the phone, through the Twilio UI we created, is incredible," said Fuchs. For instance, when an agent connects with a debtor, the local weather is displayed. The agent can move a slider bar to indicate the person's mood, and the phone volume is adjusted automatically. The software listens to the customer's tone and for keywords to automatically flag a supervisor if it's an especially angry customer, so the supervisor can step in if needed.
Since adding Twilio, productivity and employee satisfaction have improved, and employee attrition rates are cut in half.
Advanced communications for the future
Retrieval Masters operates call centers in New York and Virginia and the company recently opened a third location in Colorado. The business continues to grow, and Twilio's role continues to increase.
"We're not your typical collection agency," says Fuchs. "We require very advanced communications solutions and Twilio more than supports our business needs."
Ready to get started with Twilio?