Information as empowerment: How the International Rescue Committee gives people quick access to life-saving resources
Today, one in every 100 people on the planet is a refugee or displaced person, according to the United Nations. These are people from all walks of life. They are nurses, doctors, bakers, teachers, and fitness instructors. As refugees navigate their journey to safety, access to information can mean the difference between freedom and persecution.
How do I apply for asylum? Where is there a safehouse? How can I get access to food and healthcare on my journey? What immigration laws have changed due to the COVID-19 pandemic? With answers to these questions, refugees and displaced people can decide for themselves the best path forward for their families.
The International Rescue Committee (IRC) is one of the largest humanitarian organizations providing support to refugees. The agency is dedicated to helping refugees answer these questions, and IRC relies on Twilio to power its communications.
"We like to think of ourselves as a solutions-oriented NGO," said David Miliband, CEO of the International Rescue Committee. "You'll find plenty of organizations that talk about the suffering, but our partnership with Twilio is all about solutions because the people that we help haven't got time to feel sorry for themselves. They actually teach us about resilience, courage, determination, survival and recovery."
IRC sought to expand its technology programs beyond focusing on improving internal-facing operations, such as collaborating on projects remotely, to improving how they serve the refugee community directly.
"The hill we wanted to climb was not just using technology so that aid workers can do their work better but using technology so that the people we serve can lead their lives better," said Miliband. "There's no better example of this than the work we've been able to do together with Twilio."
To better serve refugees in the Northern Triangle of Latin America, the humanitarian agency set out to build an information platform that connected refugees to resources immediately over chat. The organization faced three challenges in building its helpline: offering channels refugees use every day, reaching more people with limited staff, and integrating its helpline into existing systems. Here's how IRC addressed these challenges to support thousands of refugees and displaced people in Central America.
 
Meeting people where they are
To reach more people at risk over accessible channels, the IRC team planned to expand their website for refugee information into a chat-based hotline. The information platform, called Signpost, provides resources on legal aid, housing, food, and health care for refugees. While IRC's Signpost project website was popular in Europe, the program team identified that people in Latin America would prefer to have a conversation that felt like texting with a friend rather than navigating a website to find information.
"We've taken the notion of a bespoke user-centered information platform and turned it into a genuine two-way venue for dialogue between clients of ours and people with the expertise about how to help them," said Miliband.
When reviewing partners to work with and technology to use, IRC focused on finding software that would enable trained specialists to talk to refugees on channels they use every day. For the Northern Triangle of Latin America, WhatsApp was the ticket as it's the most popular communication channel in the region.
"The ability to use WhatsApp as a channel rather than traditional SMS or email was critical for our program given its ubiquity in Latin America."
In addition to managing conversations over WhatsApp, the team also needed a platform that made it easy to build chatbots. IRC wanted to quickly answer common questions with automated answers and route the most unique cases to trained moderators. This automation was critical to be able to scale up and down to meet changing demand levels and maintain the same level of staff.
As a third requirement, the IRC Signpost product team needed to integrate their custom-built CRM into their communication system so moderators could track cases and make referrals.
Building a conversational helpline with Twilio Flex
IRC chose to build its helpline on Twilio Flex because the cloud contact center offers a WhatsApp API, helpful tools for building chatbots, and the flexibility to integrate other systems and channels.
When a refugee or displaced person reaches out to the Signpost Twilio-powered WhatsApp number, they get an automated response back. The return message provides a series of topics the refugee could learn more about, from COVID-19 health information, to legal support, women's health, food security, housing, and more. When they ask about a particular topic, the bot responds with more information and resources for that topic.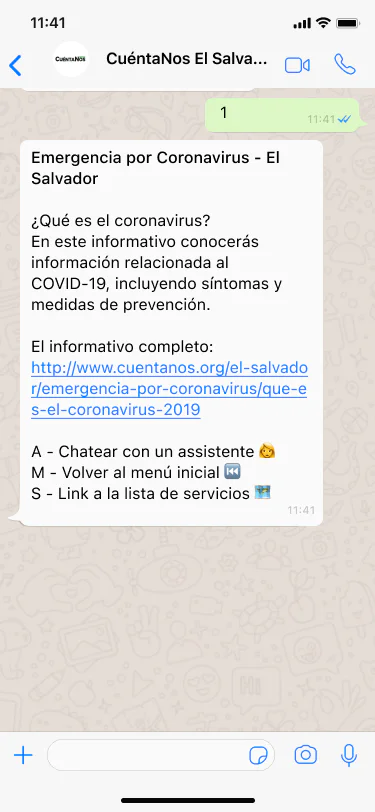 IRC created the experience with Twilio Studio, a visual editor for building conversational bots on any channel.
While interacting with the bot, a refugee could always ask to speak to a moderator or ask a question that the bot isn't trained to answer. At that point, the conversation is routed to IRC's Twilio Flex instance staffed by trained specialists.
When moderators get a new case, they have access to the previous chatbot conversation with the context they need to help right away. Clients see moderator responses within the same WhatsApp thread as their original chatbot conversation.
Because the Twilio Flex interface is completely customizable, the IRC team was also able to integrate its custom CRM system into the moderator view. Now, specialists can track case details and easily make referrals to other service providers from within Twilio Flex.
 
Reaching safety, security, and prosperity
Since launching its helpline in El Salvador, Honduras, and Guatemala, IRC has helped 3,412 people and powered 25,181 messages.
The organization was also able to scale to handle a 3X increase in inbound chats with the same number of staff during the onset of the COVID-19 pandemic. Twilio Studio empowered the team to quickly adapt their chatbot to handle virus-specific questions. Twilio Flex already enabled moderators to work remotely.
"Our crisis hotline solution through Twilio saw a sudden spike in activity at the start of the pandemic," said Martha Janicki, Signpost Product Manager "People were messaging us with concerns about mental health, physical safety, and employment opportunities. We were able to seamlessly handle a tripling of traffic with Twilio Flex. We've grateful to be available as a life-saving resource for people in times of their greatest need."
Moving forward, IRC plans to expand its WhatsApp refugee helpline from Latin America to other regions including the U.S. and parts of Europe. The team is also integrating the Facebook Messenger channel into its Flex instance, so moderators can respond to questions that come in through IRC's popular Facebook page.
For IRC, each conversation its team fields marks the beginning of a story of resilience and recovery.
"What we're able to do now, thanks to Twilio Flex, is offer real-time dialogue for a woman who's fleeing with her kid from gangs in Central America," said Miliband. "She's fleeing from El Salvador. She's in northern El Salvador. She wants to know where's safe, who can I trust, is there a safe house. We're able to respond to her."
Ready to get started with Twilio?