Making the grade: How Air Tutors succeeds in remote learning with help from Twilio
Now more than ever, remote learning is in the spotlight. As COVID-19 has forced education institutions all over the world to rethink their approach for a remote-only world, stories of struggle and triumph abound.
For many parents, this "new normal" of homeschooling and virtual classrooms has proven challenging. Students unaccustomed to learning via computer screen are struggling, and educators often find themselves at a loss as to how best engage their students.
It's clear: there's no guidebook for successful remote learning. Air Tutors, though, is one organization that's ahead of the curve.
The tutoring and test prep company provides primarily K-12 support via a remote-first platform, with customizations and considerations for students and educators specific to learning in a virtual environment—and they do it with some help from Twilio.
Empowering educators through technology
Education disparity is no secret; students across the country receive often vastly different levels of support and engagement depending on location, income level, and much more.
Air Tutors, explained CEO and co-founder Hasan Ali, was founded in an attempt to address that divide. They vet and train leading educators to not only teach via a remote platform, but also ensure educators have the strong, engaging personalities needed to captivate a student via a screen.
"Our mission is to advance global learning by bringing private school resources to our public school kids by means of online educators, in real time, using the best technology," he said. "Our educators are cultivated to be not only the most brilliant, but also the most personable, that have awesome personalities that shine through a web-based medium."
The best technology, though, didn't exist. And the most sparkling personality can't come through without the right tools. So, Air Tutors built it themselves.
"We empower educators with the best backend technology to support their teaching and to provide an interactive learning environment that caters to a student's natural multisensory approach to learning," he said. " They're not just seeing and hearing the teacher, they are 'seeing' math or whatever subject they are working on via the whiteboard, in a much more visual and dynamic way."
The Air Tutors platform lets educators and students see one another while also engaging together on a virtual whiteboard, which the educator can use much in the way they would use a blackboard in an actual classroom. Educators can pull in images, graphics, and other design elements to keep students engaged and to redirect them if they lose focus. And they are able to demonstrate concepts in a virtual hands-on way, vs. simply talking "at" a student, or asking them to hold up a paper to the camera.
When it came to building the right platform for their vision, Ali said Twilio was the clear choice.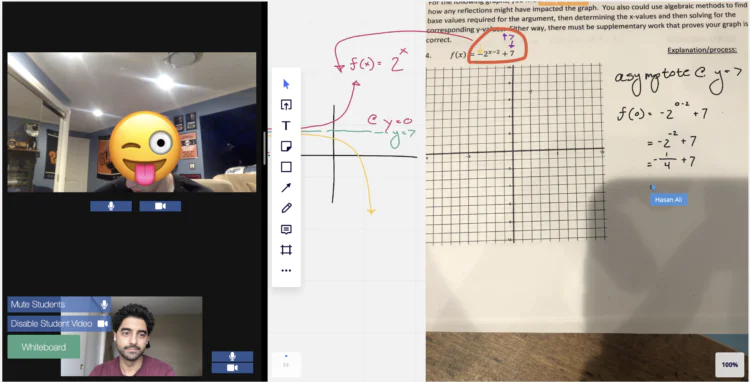 Building a distance learning platform—powered by Twilio
In addition to using Twilio Programmable Video for their video conferencing functionality, Air Tutors uses additional Twilio products to help educators and students stay connected.
Educators are able to text with students, and talk on the phone with them, via Twilio Programmable Messaging, and their phone numbers are kept secure and private thanks to Twilio's number masking service.
Students receive automated messages at regular intervals reminding them of upcoming sessions and what they'll need to bring with them, a service that cut down drastically on missed appointments and absenteeism, Ali said. Air Tutors also uses SMS to send a url to the video room to initiate upcoming sessions.
"What led us to Twilio was just the whole suite of applications that Twilio offers, which meant we didn't have to run around and try to piece together other infrastructure," he said.
The quality of the video service, Ali added, is also a huge factor influencing their decision to use Twilio.
"The quality of the video is just much, much better," he said. "And that's important for virtual learning. It's harder for students to stay engaged if they're seeing a pixelated screen or their tutor is freezing on them."
"We also have a student who is deaf, working with an educator in Vietnam, to learn English via Vietnamese sign language, so having a crystal clear picture is obviously crucial there," he added.
"The quality of the video is just much, much better. And that's important for virtual learning. It's harder for students to stay engaged if they're seeing a pixelated screen or their tutor is freezing on them."
The future of remote education
The company recently introduced other powerful features to its platform, including the ability to selectively mute certain participants, which comes in handy now that more large-group educators, including schools and colleges, are using the Air Tutors platform to navigate COVID-19.
Ali said he and his team are working to roll out Air Tutors' service to larger organizations, including an entire school district, as more educators look for better, more engaging ways to keep teaching during the coronavirus pandemic.
"We're continuing to work on creating a better, more robust solution for larger groups, and Twilio is definitely helping with that," he said. "There is no standardized approach to virtual classrooms. But with Air Tutors, educators can help students focus by making a more visual and dynamically appealing online space where students actually see the subjects come alive."
Ready to get started with Twilio?