How the U.S.'s largest music equipment supplier drives award-winning customer service with Twilio
For Sweetwater, the leading purveyor of musical equipment and audio gear in the US, getting to such incredible heights all goes back to one driving principle: providing customers with the best possible experience, end-to-end.
A lot of companies say customer experience is a priority, but at Sweetwater, it's the organization's guiding light. Since the company began in 1979 out of the back of the founder's Volkswagen bus, they've built a legacy on providing exceptional value, high quality products, and human support unrivaled by the competition, resulting in ongoing awards and accolades for unparalleled customer service and support.
But as technology's influence over consumer behavior has grown, the organization has evolved. And as the organization itself has grown, it has had to scale that one-to-one human support experience to serve literally millions of customers. To do just that, they rely on Twilio.
Personalization at scale
When the company first began in 1979, providing that one-on-one experience was a lot simpler, since the company's founder Chuck Surack was conducting business out of his own van. That personalized approach, though, and Surack's innovative development of sound design equipment, led to rapid growth in both retail, audio, and gear support.
To scale their exceptional customer support, the company trained sales support engineers to be as obsessive about customer success as Surack is today, explained Jason Johnson, the senior vice president of IT at the organization.
"Our sales engineers are completely empowered to do whatever they need to do to serve our customers," he said. "We believe an experience that's like, 'Yeah, I know somebody, they know everything,' is the best retail experience—like when you walk into a store and they know you, they know everything about what you need, what you've bought before, your favorite things, all of it. When someone calls into our company and they're transferred, we see it as an opportunity to improve, because why wasn't that first person empowered to solve that problem?"
The company had and continues to iterate on its own homegrown customer relationship management software, but as it grew, it needed a better solution for communicating with customers. Twilio was a natural partner, Johnson said.
"We have 6.5 million active customers, 30,000-35,000 calls a day, and upwards of 20,000 text messages sent in a day," he said. "We ask ourselves, how do we make sure that every single one of those experiences, from a technology standpoint, is as seamless and as personalized as it can be?"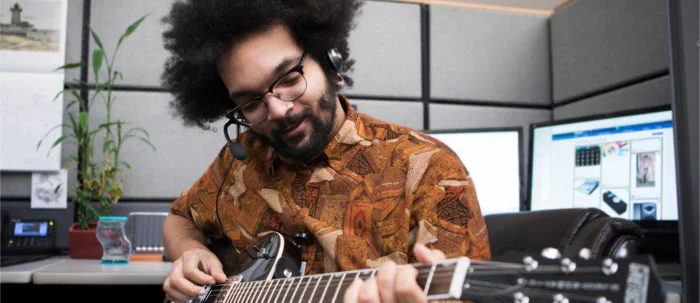 The organization began using Twilio Programmable Messaging for its text messaging channel, enabling sales engineers and customers to text back and forth with each other, then incorporated the Twilio Programmable Voice API to better routing and handle increased call volumes via IVR.
"The Twilio powered IVR did help create some efficiencies in handling time; we were able to inject special logic to get customers to the right place faster with less human involvement," he said.
It all integrated seamlessly into their existing platform, which is highly customized and nuanced. They also incorporated Voice Insights to learn more about how the system was performing and make better customer service decisions.
"Insights has made us better, and helped us better understand what's going on," he said.
Twilio Elastic SIP Trunking also proved an unexpected but huge win for the organization, Johnson added.
The organization's legacy telephony provider was going to shut down, so Sweetwater transferred part of its system to Twilio Elastic SIP Trunking, having had an excellent experience with Twilio's messaging and voice APIs. Later, when they experienced an outage with another carrier due to weather problems, they used Twilio SIP Trunking instead, and just never switched back to their previous provider, Johnson explained.
"SIP trunking was a slam dunk," he said. "We realized that we could transfer any call from Twilio cloud directly to an extension on-premise, and that was super cool."
"SIP trunking was a slam dunk. We realized that we could transfer any call from Twilio cloud directly to an extension on-premise, and that was super cool."
The company also experienced an unexpected benefit of Twilio's cloud-based platform when the COVID-19 pandemic hit, Johnson said.
When stay-at-home orders relegated the company's sales support engineers and other staff to their homes, they needed a quick and efficient way to empower those employees to still support customers.
It was difficult, Johnson said, because the organization is not built for remote work. And while stay-at-home orders meant more customers exploring their musical side—a great thing for the organization—it also rendered their on-premise contact center for their 500 support agents virtually useless.
The company turned to Twilio, and Studio, to build a bootstrapped remote call center that had agents back to work quickly, Johnson explained.
"Within 48 hours of COVID-19 really hitting, we were all asking, how are we going to get our sales engineers all on the phone?" he said. "We had a couple long nights, and we built a Studio flow that would come in, call on an API, and get a customer to the next available agent. Within 24 hours, we had sales engineers taking calls."
As the company navigates the current climate and a post-COVID-19 world, Johnson said he's hopeful that a renewed emphasis on music and the arts, driven by the pandemic, will be one of the lasting positive changes to come out of the crisis.
"To realize that we may be living in a time where, instead of cutting arts and music programs, we are starting to put them back up on a pedestal—that's incredibly exciting for me," he said.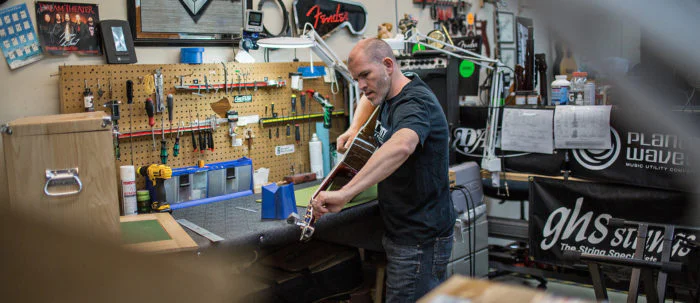 Ready to get started with Twilio?