Fighting hunger one text at a time: How City Harvest improved engagement and access at NYC food pantries
Nearly 1.2 million people experience hunger every year in New York City, more than the entire population of San Francisco. Food insecurity is not only physically painful, it's also emotionally exhausting for residents constantly trying to figure out how they're going to get their next meal and feed their families.
To provide healthy food to those in need, City Harvest rescues more than 66 million pounds of excess food yearly. They manage the intake of extra food from manufacturers, farms, restaurants and partner organizations and distribute it, free of charge, to a network of 400 food pantries, soup kitchens, and other community partners. With an emphasis on nutrition and education, City Harvest is focused on connecting families with food pantries directly to relieve hunger.
Improving access to emergency food
Since its founding in 1982, City Harvest has grown and is rescuing millions of pounds of food each year to feed New Yorkers struggling to put meals on their tables. As it grew, it found that its operational systems no longer met constituent's needs. People frequently waited in long lines, sometimes during storms, snow, and heat to access a meal.
"Treating people with dignity is a core value of City Harvest," said Rebeckah Piotrowski, Director of Institutional Partnerships at City Harvest. "Unfortunately, a lot of people were standing in long wait lines to get food at a pantry in harsh weather conditions. This meant they traveled farther away from their home, so they wouldn't be seen by neighbors. We knew we could do more to help."
Not only were people traveling long distances to reach a food pantry, they often didn't know when pantries were closed, if times had changed, or if there was excess food available. Few pantries kept their websites up to date with critical information like food service hours. As a result, many people faced extended wait times for food or were unable to access donation programs at all.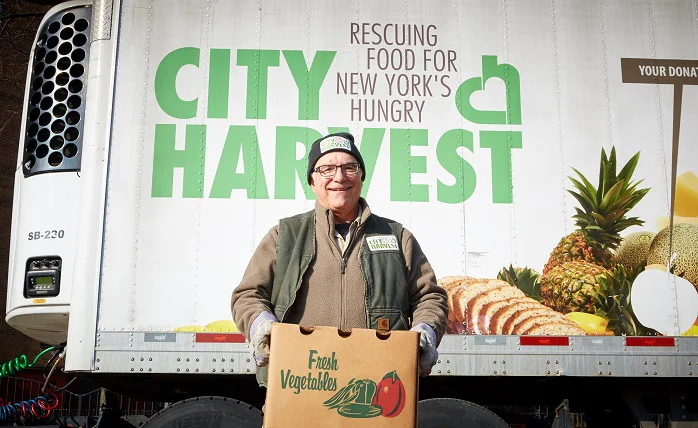 Reducing wait times with mobile reservation system
To eliminate wait times and deliver accurate information to residents, City Harvest and the United Way of New York City developed Plentiful. Plentiful is a mobile application that allows residents to schedule food pick up times with a large network of local pantries. Plentiful helps drive shorter lines, warmer participants, and happier clients.
The app was an important milestone in digitizing pantry schedules and creating a reservation system. As a next step, the Plentiful team wanted to increase participation. While some participants loved using the app, others either didn't like downloading new apps, had limited data plans for their phones, or used feature phones that couldn't access applications. For people who did download the app, enabling push notifications presented another hurdle.
Increasing participation with SMS opt-in
Bryan Moran, Director of DevOps at Plentiful App, turned to Twilio Programmable Messaging to create a reservation system using text messages as the primary communication channel.
"The people we serve are not as interested in downloading mobile applications," said Moran. "Texting is a lower barrier communication channel that has proved most effective at engaging our community."
Today, clients text FOOD to the Twilio shortcode PANTRY (726-879) for users to opt-in to schedule appointments and receive important updates from local pantries. Using the chat experience, Plentiful gives New York City residents access to information on 270 pantries' hours and the ability to manage appointment reservations in 9 different languages.
Plentiful also notifies users who have opted in when new reservations are open and when they are eligible for another meal. In addition, each food pantry can use Plentiful to send SMS messages to people who frequent their locations if they have last-minute cancellations or extra food to share.
With this simple and accessible text application, City Harvest, United Way for New York City and Plentiful now engage more people than ever before.
"Since adding an SMS experience powered by Twilio, we have increased our engagement in food pantry programs by 4X compared to our mobile app experience and have reduced wait times for food by 45 minutes per visit," Moran said.
To see how the program is performing, Plentiful uses Twilio to send net promoter score (NPS) surveys on their experience, and clients have given the high rating of a 57.
"Overall, we've saved over half a million hours people would have spent waiting to get emergency food assistance by moving our notification and reservation system to Twilio SMS," Moran said.
"Through our partnership with Plentiful app and Twilio.org, we've transformed the way City Harvest and United Way of New York City serve New Yorkers experiencing food insecurity," Piotrowski added. "Using technology and reaching constituents on the channels they prefer—SMS—we've increased our ability to serve more people while also ensuring they are treated with the dignity they deserve."
Scaling up to meet new demand during COVID-19
City Harvest, United Way for New York City and Plentiful have seen an unprecedented increase in the need for their services during the COVID-19 pandemic, as many families are struggling with financial hardship due to sudden unemployment and the closures of businesses and schools.
Their Twilio-powered technology has helped the city pantries scale up to meet the new demand with an accessible digital touchpoint. The SMS-based reservation and notification system mitigates the need for crowded lines outside pantries and empowers food pantry staff and volunteers to safely distribute food.
As a result, 62 percent more clients have texted in to schedule appointments than before COVID-19. To keep residents up to date on the latest food availability, pantry partners sent 474 percent more messages compared to their average during the peak weeks around COVID-19. To date, Plentiful has powered over 1,950,000 pantry visits.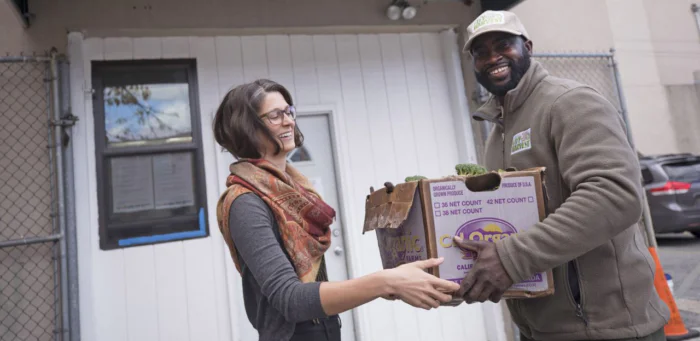 Redistributing food donations to address local needs
By digitizing the system for food reservations and notifications, Moran and the Plentiful team unlocked new insights for City Harvest and other food donors like United Way and the Mayor's Office of Food Policy. Previously, pantries tracked food distribution and requests using paper documents spread across hundreds of locations. Using data from their new digital application and SMS notifications, Plentiful can now determine patterns in food demand. Based on this information, Plentiful has helped food donors optimize their distributions to help the most people.
For City Harvest, aggregating real-time data through Plentiful also allows them to nimbly adjust their food deliveries to pantries in light of constantly changing conditions around COVID-19, ensuring that they can deliver enough food where it is most needed, as efficiently and safely as possible.
"Plentiful has been critical to how our partners adjust their service to ensure safety for their staff and clients during COVID-19," Piotrowski said. "Our Twilio messaging functionality has been instrumental in enabling partners to communicate service changes, safety protocols, resources and health guidance to clients during this unprecedented time."
City Harvest is a part of Twilio.org's Impact Access Program for social impact organizations. To receive technical help, product credits, and specialized support for nonprofits, sign up for the Impact Access Program today.
Ready to get started with Twilio?